Lunchbox lp/cc by-sa 2.0t Singer Sara Bareilles released the song "Chasing The Sun" in 2013.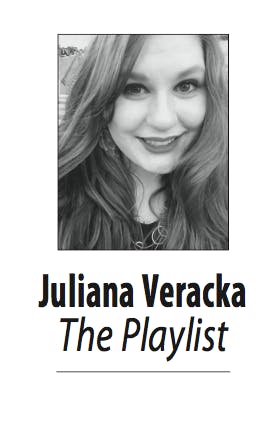 H

opefully, whether you're a returning student or a freshman, you've been settling into the new semester. The first few weeks of any semester can be either the most hopeful or the most anxious (or both), and what's better at raising hopes or keeping them up than music?

I'm back for my final fall semester here at Hopkins, and personally, I'd like it to be the best one yet. With that in mind, here are some of the songs that I've been using to keep my morale up. I hope you enjoy them too!
"Rainbow" by Kesha: "Rainbow" is the titular song of Kesha's latest album. I personally recommend the entire album to anybody and everybody. This particular song, while somewhat subdued, has the hopeful tone that I feel is perfect for this time of year. The lyrics convey a touching message of recovery and bear the reminder to keep your head up and carry on when things get tough.
College can be a stressful time for anyone, and we all have struggles outside of school that can make school stress even more difficult to deal with. I highly recommend this to anyone who feels they can relate to such a powerful message.
"Drive It Like You Stole It" by Hudson Thames: I was introduced to this song by my sister, who made my family watch the movie Sing Street this summer (it's pretty good if you're looking for something to watch).
This song encourages listeners to seize control of their lives and "drive it like you stole it," which I feel is proper encouragement for self-doubting students who may be questioning whether or not they belong at Hopkins. It's time to stop worrying about whether or not you're good enough for whatever you want to do and to just do it.
"Chasing The Sun" by Sara Bareilles: Is there ever a mood that doesn't call for a Sara Bareilles song? "Chasing The Sun"is gorgeous in that special Sara Bareilles way, both lyrically and musically. She tells a story about a cemetery in Queens, using it to tell people to live their lives now and to always seek happiness and light in their lives. It never fails to lift my spirits, so maybe it will lift yours too.
"Do Anything"by Mary Lambert: This is one of those songs that I feel is a spiritual experience. It seems relatively short, even though it's about the length of an average song, but that's probably because it has a slow build and not many lyrics. The refrain "I could've stayed and been fine," can be read as a bittersweet reflection, but the tune is tentatively triumphant. Still, it carries a deeply touching message about heading off to do what you want to do when you can truly "do anything."
"Champion" by Fall Out Boy: If you've read my column in the past, you won't be surprised by this one. Of course, I have to add a Fall Out Boy song to this list, and it turns out that they recently released a new one that fits this playlist pretty well.
"Champion" is a pump-up song. It's triumphant and emphasizes persisting through conditions that may not be ideal. It's also amazing to work out to (if I make a work out playlist in the future, I promise I'll try not to use this song again, but we'll see).
"How Far I'll Go" by Alessia Cara (from the Moana soundtrack): This song hasn't reached "Let It Go" levels of overplayed has it? Am I even allowed to compare the two? If you haven't seen Moana, go watch it and get back to this list later. This song will probably always be inspiring. Even if you've heard it a million times, this is a reminder for you to listen to it again. Why wouldn't you?
"Woman" by Kesha: This is another one from Kesha's new album (I couldn't resist). No matter who you are, this is an inspiring song. I mean, it's a fun party song, but it's also about being strong and independent. You can dance to it if you want, you can work out to it, and you can probably even study to it.
I decided to end this playlist on a lighter note. I think we all need a little lightness and fun in our everyday lives, not just in the future but in the present as well.