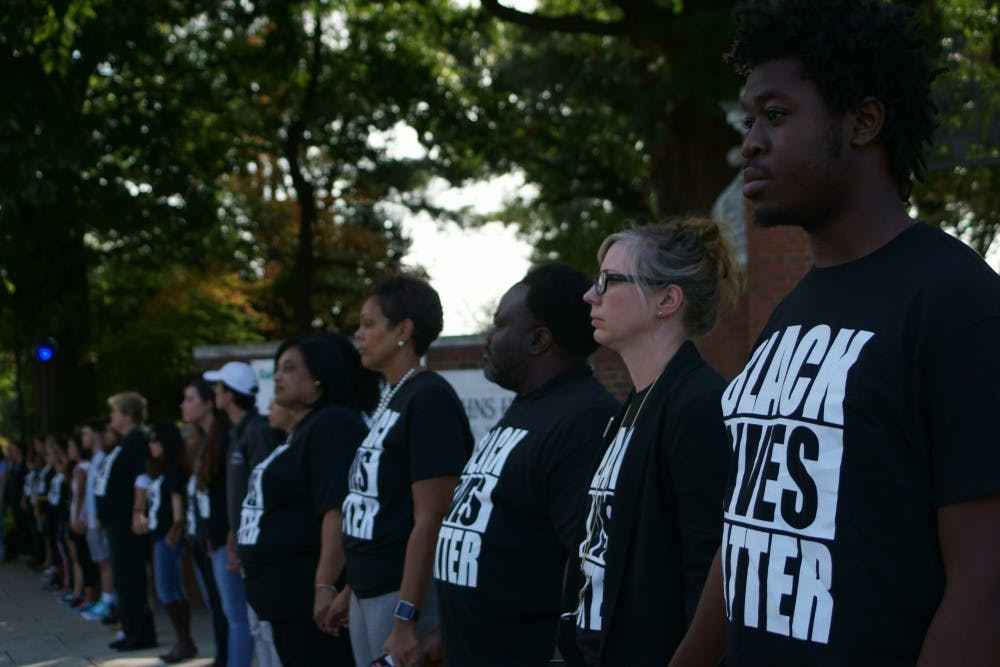 FILE PHOTO In 2016, Hopkins students and community members participated in a Black Lives Matter demonstration.
Associate Professor of Philosophy Chris Lebron spoke about his latest book The Making of Black Lives Matter: A Brief History of an Idea on Tuesday, Nov. 7 at Red Emma's Coffeehouse. Lebron will be teaching an undergraduate course titled "The Making of Black Lives Matter" next semester.
His book offers a short history of the struggles that African Americans have faced and how they relate to black empowerment today. Lebron said the book serves as a response to the election of U.S. President Donald Trump.
"If Donald Trump won the election of the biggest democracy in the world, he has won the election by re-invoking the history of white supremacy," he said.
According to Lebron, Trump's victory last November was a response to the advancement of people of color, which made some white people uncomfortable. He noted how some individuals have responded to Black Lives Matter by promoting the alternative slogan "All Lives Matter."
Although Lebron believes that Black Lives Matter lacks a cohesive message, he commended the movement for raising awareness about systemic inequalities.
"What Black Lives Matter ended up doing was to get three words in front of the American public to make a statement: that for centuries black lives have been disposable," he said.
However, because Black Lives Matter does not have a leading figure, Lebron sees the possibility for problems to arise. He feels that people get too caught up in the frequent protests and violence of the movement.
"What this movement seems to revolve around is the horror of it all," he said. "Think about Michael Brown rotting in the street. Eric Garner saying he can't breathe. Black Lives Matter, as a leaderless movement, is in danger of not having a message that everybody can understand at the same time."
In his book, Lebron describes black leaders who fought for racial equality, such as Frederick Douglass, Ida B. Wells, Anna Julia Cooper, James Baldwin and Martin Luther King Jr. Lebron said that today, racial activism is not as effective as it has been in the past.
He explained several of the techniques that black leaders have used to communicate with white people.
Firstly, Lebron called for people to be unashamed in presenting their grievances. For example, he said, in 1852 Frederick Douglass gave his speech "What to a Slave is the Fourth of July" to a white audience. In the speech, Douglass gives constitutional arguments against the slave trade.
Lebron thinks Douglass was the first black thinker to effectively articulate views about why racial equality matters against the background of white supremacy.
Another important figure, Ida B. Wells, a well-known African-American journalist, exposed lynching to the American public.
"Journalism was a technology, was a device for telling local stories that told something about the state of the nation," Lebron said.
Another technique, which Lebron called "counter-colonization of white imagination," refers to exposing white Americans to the reality of black culture.
"Part of counter-colonization of white imagination is not trying to earn the sympathy of white Americans; it is trying to see black Americans in a particular way," he said.
For example, Lebron said that Langston Hughes, a poet and a leader of the Harlem Renaissance — the growth of black culture in the New York City neighborhood of Harlem during the 1920s — counter-colonized the white imagination.
"[Hughes] was using the idioms of jazz and blues, knowing that white Americans were listening to his art. He was presenting the vitality of black life to white Americans," Lebron said.
Lebron also discussed the ideas of the scholar Anna Julia Cooper, who highlighted how different aspects of one's identity intersect and contribute to oppression.
"She, fighting as a black person, a feminist, shows that there is no hierarchy of oppression. If you oppress lesbians, you oppress black people, and if you oppress black people, you oppress lesbians," he said.
For Lebron, another important tactic used by black leaders is to respect their oppressors. According to Lebron, this view was theorized by James Baldwin and best exemplified by Martin Luther King Jr.
"How can you love when you see so much hatred in America?" he asked. "The argument for love comes down to the following. James Baldwin tells his nephew that he can't let white Americans define who he is. He says you have to love these people because they need it too."
Several Hopkins students attended the event and enjoyed engaging with the ideas presented in Lebron's talk. Freshman Ben Schneider agreed with Lebron's criticisms of the Black Lives Matter movement.
"His discussion of the necessity of a movement to have a concrete leader, a set of goals and an agenda was interesting," he said.
Freshman Sabrina Epstein appreciated Lebron's discussion of black thinkers.
"I think what I found interesting was the discussion about black authors whose works I've read in the past and how they fit in the wider movement," she said. "I wish I had been taught in school more about how they fit more into the Civil Rights Movement."