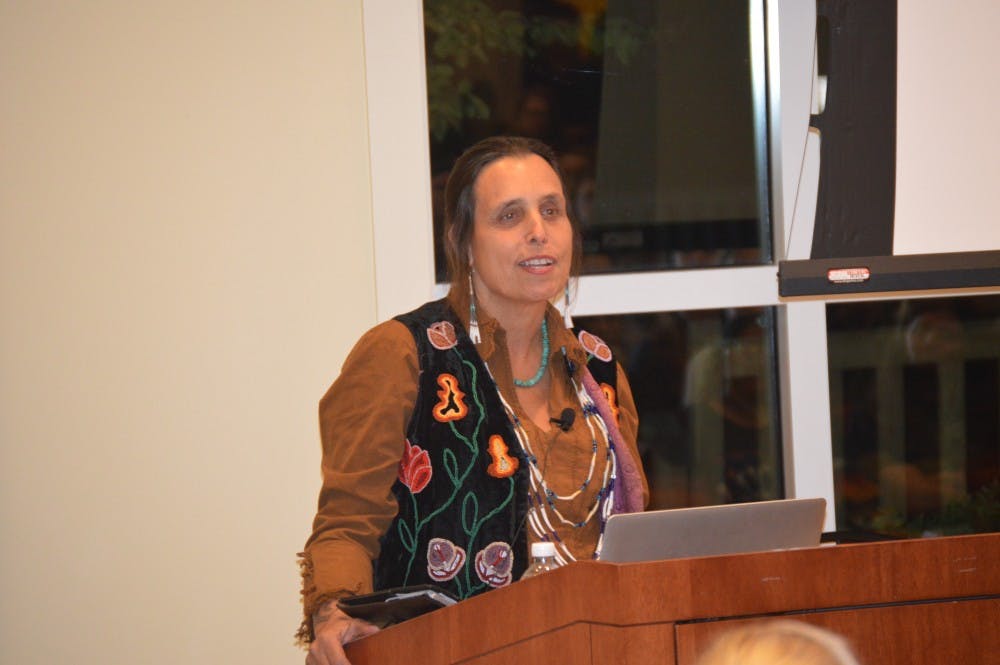 Ellie Hallenborg / PHotography editor Winona LaDuke was a key organizer during the DAPL protests last year.
Winona LaDuke, a Native-American environmental activist, spoke about creating a more inclusive democracy in the U.S. as part of the JHU Forums on Race in America on Wednesday.
LaDuke is a writer and politician with the Green Party. In the 2016 election, she became the first Native-American woman to receive an electoral vote for Vice President. LaDuke is a Harvard alumna and the executive director of Honor the Earth, a nonprofit supporting environmental justice for indigenous people.
The group played a significant role in the Dakota Access Pipeline demonstrations in 2016, in which members of the Standing Rock Sioux Tribe in North and South Dakota protested a planned oil pipeline through their reservation.
Enbridge Inc., a Canadian energy company, was a key advocate of and investor in the pipeline's construction.
LaDuke said that she is concerned that the Trump administration prioritizes corporate interests over human rights.
"That is part of the crisis that we have in this country," she said. "Neither Mother Earth nor the rest of us have the same rights as a corporation."
She said the civil rights of Native Americans in North Dakota are often neglected.
"We refer to North Dakota as the 'deep North,'" she said. "Hatred for Indian people is really high there. Every demographic, statistic for these people is very bad — incarceration rates, poverty rates. Two of the poorest towns in the country are in the Standing Rock reservation. It's really a huge justice issue."
LaDuke said that she has opposed the construction of pipelines in the state since early 2013.
She and other opponents rallied and set up camps to block construction.
They requested an Environmental Impact Assessment and, according to LaDuke, attended every regulatory hearing to make their voices heard. As a result of their efforts, they succeeded in stopping the pipeline.
"We battled them, and on Aug. 2 of last year the Enbridge Corporation announced the cancellation of the pipeline," she said. "Nobody would bet on us, and Enbridge certainly had no idea what it was getting into."
LaDuke spoke about the violence protesters faced from police and private security forces, who shot at demonstrators and set dogs on them. Despite this, the demonstrators were largely peaceful.
"I want justice to work," she said. "You will not have peace when your people are cold. You will not have peace if your people are afraid and are getting abused continuously by the police."
In addition to the Dakota Access Pipeline protests, LaDuke spoke about what she considers to be necessary changes in American society.
"This question of how we build a multicultural democracy has a lot of facets in it. It's an economic transformation. It's a political transformation," she said. "It's having the courage to be a country which recognizes the value of being multicultural."
Contrary to Trump's popular campaign slogan "Make America Great Again," LaDuke said that America was great before the arrival of European settlers.
She said that tribes like the Iroquois had embodied democratic values that were stamped out by colonialism.
"The economics of this country are predicated on the idea that you can take anything you want, you can consume a third of the world's resources, you can violate people's human rights in other countries, take their land," she said. "So long as you have this system, our rights are going to continue to be violated."
Kyra Meko, senior and president of Students for Environmental Action (SEA), a student activist group fighting for environmental justice, said that it is crucial to stand up to Enbridge's future efforts to construct gas pipelines.
"It doesn't make sense to have the rights of corporations over the rights of humans because then you have a situation where a pipeline is running through an area that is in fuel poverty," Meko said. "Her people have managed to live here for thousands of years without messing things up. We've been here for a couple hundred, and we're fucked."
She added that LaDuke's perspective was particularly important for college students.
"You can still write a Master's or Ph.D thesis, but get out of your head and actually do something," Meko said. "So much of what is produced isn't accessible to the people who actually need it anyway, to the people that that knowledge purports to benefit."
Freshman Barae Hirsch agreed that Hopkins should take a more active role in the fight against climate change.
"We use a lot of [resources] for non-constructive efforts such as contributing to drone manufacturing," she said. "We have a lot of potential at this University and we have a lot of resources, and we could use them for really constructive efforts."
She added that she finds America's treatment of Native Americans in modern society unacceptable.
"We have appropriated the entire country from Native Americans and benefitted from all of their efforts, and yet we still dehumanize them and don't value them as people," she said. "You can see that that's the epitome of colonization."
Senior Freddie McCall added that even some practices at Hopkins were appropriated from aspects of Native-American culture.
"A huge part of the school is lacrosse, it's such a big attraction," he said. "That was started by Native Americans, and that isn't emphasized very much."
Hirsch said that she had seen proof of the negative effects of climate change on Native-American people in her home state of Alaska.
"Colonization did not happen that long ago. Remote villages in Alaska live in less-than-third-world conditions that have some of the highest energy crises in the country with some of the most extreme weather conditions," Hirsch said. "Fossil fuels are not sustainable, and they're ravaging people."