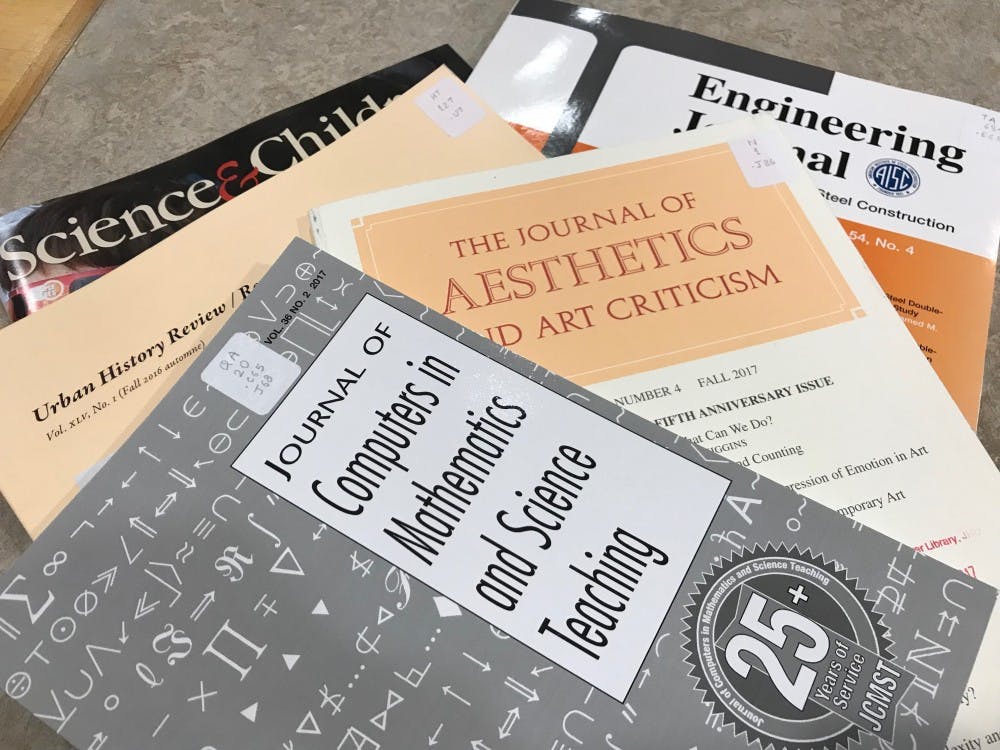 COURTESY OF JACOB TOOK Students from various majors pursue research and try to get published.
Hopkins is considered to be the first research institution in the United States. The University stresses that research projects are accessible to undergraduates; however, many students feel that Hopkins could do more to help them pursue research and, ultimately, get published.
The University was founded in the late 19th century on the principle of integrating education and research, following the centuries-old model of Germany's Heidelberg University.
Today, about two thirds of undergraduates engage in research, but they often find that publishing their results can be more difficult.
Some undergraduates also identified differences in pursuing and publishing research between humanities and STEM fields. The News-Letter spoke with three humanities and three STEM undergraduates to find out what challenges they face in getting published.
Mike Tritsch, a sophomore in the Near Eastern Studies department, researched bone remains at a slave site in southern Maryland. He said that one of his supervisors helped him get a paper on his research accepted in a peer-reviewed journal because it is typically difficult for undergraduates to get published.
"Most journals are only grad students or PhDs," he said. "In other fields, you have a lab, and everyone who works on the project gets their name on the publication — archaeology is just one or two authors."
Senior Hannah Cowley, a cognitive science major, researched how the brain perceives space by working with a young girl who is unable to differentiate between left and right.
She said that it can be difficult for undergraduates to find labs in which they can contribute to the research rather than only engaging with menial tasks.
"It's easy to get pigeonholed into washing beakers," she said. "If publication or contributing is your end goal, you have to work on not being complacent, which is hard because of the stress of Hopkins."
She added that it is difficult for undergraduates to contribute to research projects in the lab because they may lack the necessary expertise.
Caroline Lupetini, a junior in International Studies, completed an independent study researching Russian interference in recent elections in Europe. She said she has not published her paper because it is too long.
Lupetini agreed that it can be difficult to be knowledgeable enough about a project as an undergraduate. She also added that humanities research is generally an independent and individualized effort.
"My experience was finding a mentor and developing a relationship with the professor, whereas STEM research is more that you are part of a team," she said. "You have to find your passion project in humanities or social science because no one else is necessarily working on that project."
She also said that part of the University's renown as a research institution is due to the work its students publish and said that those in humanities fields should get more recognition.
"If Hopkins wants to increase its prestige, it should focus on getting more humanities [students] published," she said.
Mechanical engineering senior Sharon Maguire published a "how-to" paper after she designed a way to 3D-print a laryngoscope, a typically expensive piece of surgical equipment, for about $40.
Maguire said that she gets credit for her research and therefore can take fewer classes, which helps her manage her schedule and makes publication more accessible.
"It's not the norm to have time for [research]," she said. "That's the great thing about doing research for credit."
Cowley believes that giving credit for researching is not sufficient and that the University should make sure students receive financial compensation.
"Credits are wonderful, but it doesn't buy you food," she said. "It is hard trying to balance research and work and getting money to pay your rent."
According to Tritsch, it is easier to get credit for research in STEM fields. Taylor Veracka, a senior in Film and Media Studies, published a paper on democracy in Taiwan that she wrote for a class. She agreed that there's more support for students in STEM to get published because they are expected to do research.
"My friend — she's worked on research opportunities where she's worked in the lab and helped write the final report, and has gotten published that way," Veracka said. "For humanities and social sciences you could do that, but it's not a track that a lot of people follow."
She said that she took a class on how to complete research in social sciences and the humanities and would like to see more resources that provide students with that type of information.
"If those kinds of opportunities were offered to encourage students to think they might get published, that would be beneficial," Veracka said.
Last spring, the Hopkins Office of Undergraduate Research (HOUR) was created in order to make research and publication opportunities more accessible to undergraduates.
HOUR Director Feilim Mac Gabhann, who is a biochemical engineer, said that they want to work with students across departments, not just those in STEM.
"The classic version of research, the cells in a dish, that's one type of it, but so too is anything that involves discovery and creativity," he said. "Music composition at Peabody we think of as part of this, original writing we see as part of this."
Mac Gabhann said that students' needs vary depending on their fields of study and their personal interests.
"The experience of undergraduates is very variable," he said. "Some walk in and the first lab they knock on the door of they get a position and have a great experience, and some people find it harder to find a position or to be supported while they are in that position."
HOUR manager Tracy Smith has had STEM experience, but she also holds a business degree and said she has a more general base rather than a true science background.
Smith said that HOUR hopes to facilitate positive relationships between students and their mentors, which she described as crucial for research.
"If you're not connecting with a mentor, then you're not stuck there," she said. "We have a huge resource of faculty and postdocs and research associates across the University, and if you're having a bad experience, find one that works."
Mac Gabhann also said that the relationships students make with their mentors will follow them into their careers.
"Those mentor-mentee relationships last a very long time and they're very important, so it's helpful to get them right," he said. "Not everyone is a perfect match. There are different types of personalities. Certain people work in certain ways."
Smith said that they work to connect undergraduates with researchers in an effort to set up those relationships. She said that faculty from the medical school have contacted HOUR in search of undergraduates.
"By coming through us, we're able to target specific departments where they're going to get a better response rate," she said. "They've been successful in finding undergraduates to work on their projects."
Vice Dean for Humanities and Social Sciences Betsy Bryan, who has worked with Tritsch on some projects, said that it can be more difficult for undergraduate students to find a mentor to work with.
"What we see much less of, generally in the humanities, is a long line of names that are attributed to an article," she said. "Most papers in the humanities are single-authored."
However, Bryan said that there are faculty who are committed to working with undergraduates in the humanities.
"More people are working with undergrads and seeing that their contributions are research worthy," she said. "In the humanities, I think the whole concept of undergraduate research and publication is changing."
Students agreed that finding a mentor was helpful to their research and helping them get published.
Maguire said that her professors and advisors were supportive of her project and wanted her to be successful. She said that speaking with professors or advisors can help students get started or get their papers published.
"They remember their first time going into the lab and what it's like to be clueless," she said. "Chances are they have been published dozens of times, and they can help you. It's all about not being afraid to ask for help."
Veracka said that even though she published her paper after her class ended, she emailed her professor to ask if he thought she should try to publish it. She then continued to correspond with him during the submissions process.
"When I was submitting it, I would keep him updated, and he was like, 'That's great, send me a citation,'" she said. "It was just validation that it was a good idea, and that I should get it published."
Senior neuroscience major Sam Allen is writing a textbook chapter and works closely with his lab's principal investigator (PI).
"He's been in this field for so long, he understands more of the complexities behind it, and so he just reviewed it," Allen said. "You have to give credit to people that did a lot of the preliminary groundbreaking stuff, which a lot of the time you miss because there's other stuff built on it."
He said that their project is delayed because he and his PI have sent revisions and suggestions. He also said that managing his time has been challenging.
According to Allen, students should engage in research projects that they're passionate about, even if they cannot get published.
"A lot of people who want to publish and they can't — they see it as a failing," Allen said. "The goal shouldn't be to go to a professor and say you want to publish something. That shows that you're looking for the end goal and not the research itself."
He said that it was important to research something that interests you and added that he wouldn't have been able to finish his textbook chapter had he not been interested in the subject.
However, Tritsch said that students should try to get published so that they can show that they have experience in the field.
"If you've finished your project, you should publish it. If you don't publish it, why are you even doing it?" he said. "If you're going on after undergrad, it's even more important because it helps you getting into grad school."
Bryan said that undergraduates no longer have to write book-length manuscripts in the humanities. She added that increasingly, more weight is given to undergraduate papers.
"An undergraduate can access deep information in a way that they couldn't have done years ago," she said.
Tritsch said that the deadlines that graduate students have in their classes are more flexible than they are for undergraduates.
"It just takes a while and you have to be persistent at it or you just won't get published," he said. "It's harder to find time, even for me. I have trouble finding time to do the research I want to do."
Cowley agreed that it could be difficult to manage her time as an undergraduate but said that it is important for students to pursue something that they are passionate about.
"If you don't love it along the way then what's the point?" she said. "Going in with the mentality that publishing is the end goal is really dangerous because you miss the opportunity to show what you're passionate about."
Trisha Parayil contributed reporting.