EDA INCEKARA / PHOTOGRAPHY STAFF The Feminist Mondays series informs students on sustainable practices.
Hopkins Feminists and Students for Environmental Action (SEA) tabled an event titled "Sustainable Sex" on Monday as part of a larger series of "Feminist Mondays," which aims to call attention to the issues intersecting feminism and environment sustainability.
Bhavitha Kotha, the vice president of Hopkins Feminists, said that they want to challenge students to think about feminism in new ways. She said that she had never before considered some of the things that the "Feminist Mondays" series addresses.
"We really want to focus on the intersectional aspects [of] feminism and how it overlaps with environmentalism, because we feel like people really tend to look at these issues in boxes," she said. "To care about one is, by definition, to really care about the other."
According to SEA President Kyra Meko, the group has been looking to collaborate with other organizations promoting social justice.
"Environmentalism and feminism intersect in many areas, including concerns about access to resources and family planning, as well as the
attention they both give to the disproportionate impacts of certain policies [and] events on low-income people of color," Meko wrote in an email to The News-Letter.
At "Sustainable Sex," the groups gave out sustainably-produced condoms, which are carcinogen-free and manufactured by laborers paid fair wages.
Kotha said that members of Hopkins Feminists spoke with students about how to practice sustainable sex, by using products from environmentally-conscious manufacturers and thinking more openly about family planning and sexual health.
"Family planning has a very big overlap between environmentalism and feminism, because we have both the very important issues of women's choices and men's choices about what kind of families and lifestyles they want," she said. "That affects the environment in terms of climate change and population control."
The United Nations Population Fund, an organization working to improve global access to reproductive health resources, estimates that over 200 million women around the world lack access to effective contraceptives and other family planning methods. As a result, many women are unable to control when and how often they become pregnant, leading to increased population growth, which can negatively impact the environment.
According to the Population Reference Bureau, a nonprofit that collects statistics and other information about different populations around the world, attempts to match food production with population growth have lead to deforestation, erosion and desertification around the world. Increased consumption of fossil fuels could also lead to greater carbon dioxide build-up in the atmosphere and higher levels of acid rain.
On Monday, Oct. 16, SEA and Hopkins Feminists hosted an event called "Feminist Food." They offered cupcakes from Desserts at Jessica's, a local, female-owned business, to address the importance of both purchasing food locally and supporting minority-owned businesses.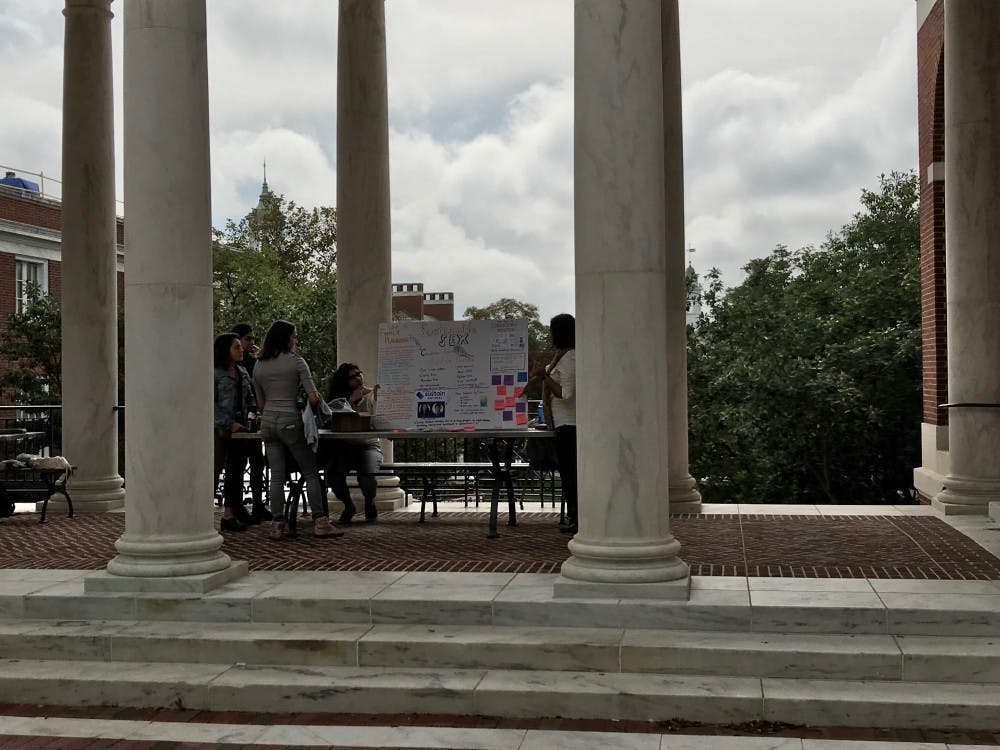 Kotha said that food typically travels 1500 miles from where it is produced to where it is prepared and sold in restaurants or markets. She added that the event aimed to encourage support for local female-owned stores.
"This has the multipurpose benefits of supporting these local, minority-owned businesses which have a harder time competing with chain stores," she said. "At the same time, you'd be eating locally, which is very beneficial for the environment. Local businesses generally tend to get their supplies locally, which supports urban farming and decreases transportation costs."
According to the Center for Urban Education about Sustainable Agriculture, a nonprofit encouraging sustainable agricultural practices, transporting a single kilocalorie of food costs about 10 kilocalories of fossil fuel. Additionally, cargo planes, which are the most common form of food transportation, produce roughly 50 times as much carbon dioxide as sea shipping.
Next Monday, the groups will host "Menstruation Monday," which will include a trivia challenge students can participate in to win sustainably produced menstruation products like pads and tampons.
Meko wrote that, in addition to spreading awareness about sustainable menstruation products, the event aims to support people who don't have access to those resources, such as those experiencing homelessness or incarceration.
"Most widely-available menstruation products are very unsustainable due to the use of plastics for tampon applicators and bleached cotton," she wrote. "The event will provide information on ways to menstruate more sustainably and an opportunity to donate to an organization that facilitates access to menstrual resources for people who would otherwise not have them."
The Feminst Mondays series is part of Campus Sustainability Month, a campaign to promote student engagement with environmental issues during October. The Hopkins Office of Sustainability, which aims to reduce the environmental footprint of the University by making its campuses more environmentally conscious, coordinates Sustainability Month.
Alizay Jalisi, the president of Hopkins Feminists, further explained the group's aims in collaborating with SEA.
"Our goal is to have people on campus informed about how environmental justice is closely linked to the fight for gender equity," she wrote in an email to The News-Letter. "Under our current presidential administration, minority groups (women, trans and non-binary individuals) are and will be disproportionately affected by climate change."
She added that the groups also hoped to engaged students on a more local level.
"Our second, related goal is to leave people on the Hopkins campus feeling informed and inspired about the ways in which they can make affordable, healthy and environmentally sustainable choices in their everyday lives, whether they're eating, having sex, on their period or doing something else entirely," she wrote.
Freshman Nikita Gupta wrote in an email to The News-Letter that she originally stopped by the table for a free cupcake but was interested to learn more about the intersection between environmental sustainability and feminism.
"I was confused at how feminism and the environment related at all," she wrote. "Not much attention is given to this intersection; in fact, I've never even heard feminism used alongside environmental conservation."
She added that the tabling was an effective way of engaging students.
"Focusing [on] this intersection is valuable as both issues can [be] addressed in a way that is mutually beneficially and can draw support from feminists and environmentalists," she wrote. "Looking at the issues together, I'm surprised by how seemingly unrelated areas can overlap and be solved together as one problem."