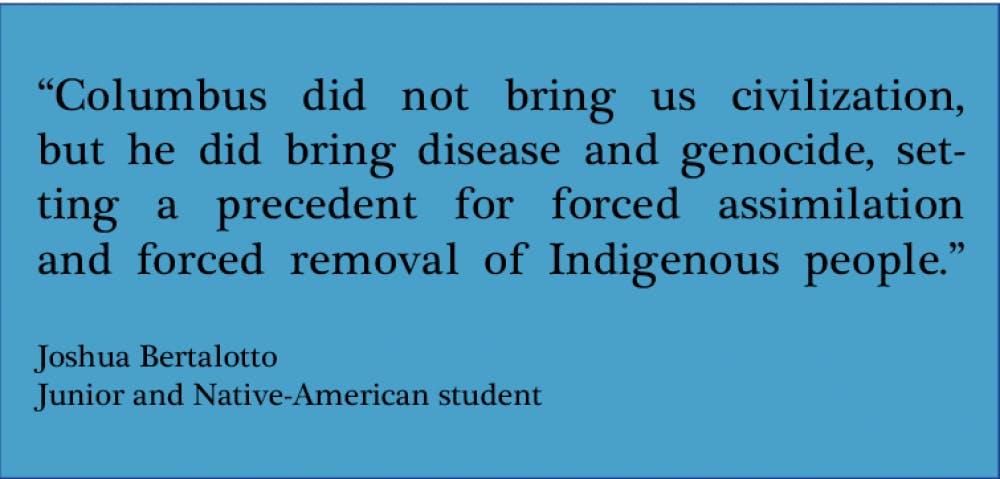 FILE PHOTO
After celebrating Columbus Day on Monday, Baltimore community members are debating whether a recently vandalized Christopher Columbus monument should be rededicated or renamed.
In August, a man vandalized the 225-year-old monument, a 44-foot obelisk in Herring Park Run, destroying the marble plaque in front of the obelisk with a sledgehammer. Originally erected in 1792 by Chevalier D'Anmour, the French Consul in Baltimore, the monument is believed to be the oldest one dedicated to Columbus in the U.S.
Eric Holcomb, executive director of the Commission on Historical and Architectural Preservation, said the city has yet to decide what to do with the monument.
"What we want to do is come back and do community outreach and consensus," he said.
Currently, City Councilman Ryan Dorsey is conducting a survey of residents who live near the monument to hear what they want to do with it.
Holcomb believes that it is important to include input from Baltimore citizens.
"When it comes to the Italian community and the African-American or indigenous people community and the different ways that they view the monument, that's when we think one of the best things to do would be to go out and create a dialogue," Holcomb said.
He thinks that monuments should serve as reminders but that they can be rededicated to better reflect the values of the current era.
"We are creating history now, especially with the repurposing or rededicating of the Columbus monument," he said. "It's very exciting, and I hope we're doing it in a thoughtful, deliberate way."
Using insurance money obtained after the monument was vandalized, the Commission on Historical and Architectural Preservation will create a new plaque. Holcomb expects that a new marble tablet will be installed in the spring of 2018. He said the destroyed plaque will be preserved in a museum.
Some members of the Italian-American community in Baltimore consider Columbus to be a hero and celebrated historical figure. According to The Baltimore Sun, Italian-American heritage groups pressured the City Council to vote against renaming Columbus Day to honor indigenous peoples and Italian Americans.
Junior Caroline Lupetini, whose grandparents left Italy for America, does not support Columbus Day.
"It's disappointing considering all the atrocities: the genocide, murder, rape, enslavement of indigenous people in the U.S.," she said. "It shames me as an Italian."
Lupetini believes there are other holidays during which Italian Americans can feel proud of their heritage, like the Feast of Saints Peter and Paul, which honors two apostles, or Saint Joseph's Day, another significant Catholic holiday.
"Any of those days would be more appropriate for Italian Americans to celebrate their culture than some arbitrary Monday in October celebrating a genocidal maniac," Lupetini said.
Critics of Columbus Day and of the Columbus monument point out that Columbus was not the first to discover America and that he contributed to violence against indigenous people.
U.S. cities have been debating what to do with other controversial monuments. Over the summer, Baltimore removed its four Confederate monuments.
Junior and Native-American student Joshua Bertalotto believes Columbus Day perpetuates historical inaccuracies.
"Honoring Columbus for discovering America is simply false and offensive," he wrote in an email to The News-Letter. "By honoring Columbus as the founder of America and by not speaking the facts about Columbus, many people will just revert to believing what they learned in elementary school."
Bertalotto, who is a member of the Tunica-Biloxi Tribe of Louisiana, hopes that people recognize the pain and suffering that Columbus' exploitation caused.
"Before Columbus, our civilizations thrived," he wrote. "Columbus did not bring us civilization, but he did bring disease and genocide, setting a precedent for forced assimilation and forced removal of Indigenous people."