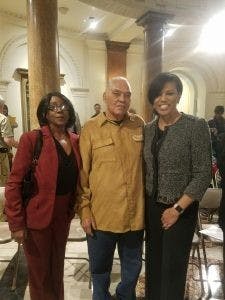 COURTESY OF HOPE LACKS Lacks' son and his wife pose with former mayor Stephanie Rawlings-Blake.
Four panelists with experience in the Middle East shared their views on the humanitarian crises in the region at a discussion titled "Unexpected Challenges in the Post-Islamic State Era" on Thursday, October 5.
The panelists included Robert Ford, former U.S. ambassador to Syria and Algeria, Caitlin McNary, a humanitarian aid specialist who has served in multiple Middle Eastern countries, and Amineh Safi, a Syrian human rights advocate. Sarah Parkinson, an assistant professor of International Studies and political science at Hopkins, was the fourth panelist and served as the moderator.
Before the panel discussion began, the Hopkins Alumni Association presented Ford with the Woodrow Wilson Award for Distinguished Government Service.
When the panel got underway, Safi explained that Americans underestimate how much bravery it takes for Syrian citizens to stand up to their regime.
"Coming from that type of scenario, for them to actually come out and exercise this protesting and free speech and demanding human rights is something that really is a triumph in itself," Safi said.
McNary feels that Americans do not pay enough attention to Yemen.
"The Yemen conflict is something that outside of Yemen people have very little understanding of," McNary said. "A lot of it has to do with the challenges of getting to the country or speaking from the country since the infrastructure has been so damaged."
McNary also explained some of the more specific challenges Yemenis face with regard to nutrition and health care. She said that the country has seen a severe cholera outbreak and also faces an ongoing nutrition crisis. According to McNary, malnutrition is the leading cause of death for children under five in Yemen.
She explained that, due to their state of poverty, the country lacks the infrastructure to deal with these issues.
Ford felt that it was important for Americans to understand how U.S. bombings unintentionally affect civilian lives.
"Everyone is upset about what we saw in Las Vegas, right? It's horrible," he said. "Did you know that an American bombing strike killed double that number of civilians in a Syrian school in the city of Raqqa a couple of months ago? How many of you heard about the 110 civilians? How many of you heard about Las Vegas?"
Ford explained that the American mentality is that these civilians casualties will ultimately be worth it to the Syrian people if it helps get rid of the Islamic State sooner rather than later. However, Ford believes that this perspective was problematic.
"Who are you in the U.S. Air Force to make that decision for Syrians? There are Syrian organizations, committees and councils who want to have input," Ford said. "We are going to deal with resentment from having made these decisions for generations."
Safi agreed with Ford that Syrians are becoming resentful of Americans for acting against the interests of the Syrian people.
"When we are choosing to act, it's not for the best interest of the Syrian citizens, and it is more for political benefits," Safi said. "They see that [Americans] are not acting upon what [Syrians] want. We're acting upon what somebody else wants."
She explained that she believes the Assad regime hurts Syrians more than ISIS does. According to Safi, the regime has greater control over society in the area than ISIS. She said that unlike Assad's regime, ISIS does not cut off the electricity or kidnap and torture young men.
Many students and faculty said that the event shed light on important issues. Dr. Robert Freedman, a visiting professor of political science, thought that Ford gave particularly interesting insights.
"It was a first rate event of multiple perspectives, and it gave us a really good feel for the dynamics and the problems dealing with the Syrian problem," Freedman said.
Freshman Layla Al-Zubi said that she appreciated the panelists for emphasizing issues that Americans may not know much about.
"I definitely think it's thought provoking," she said. "I think a lot of people are not exposed to the entire story of things... It's all human rights, and I think we disregard that unless it's happening close to home."
Sophomore Sumera Yego said that she appreciated Safi's perspective.
"We saw through [Safi] the really humanizing aspect of what it actually means to be in a civil war," she said.