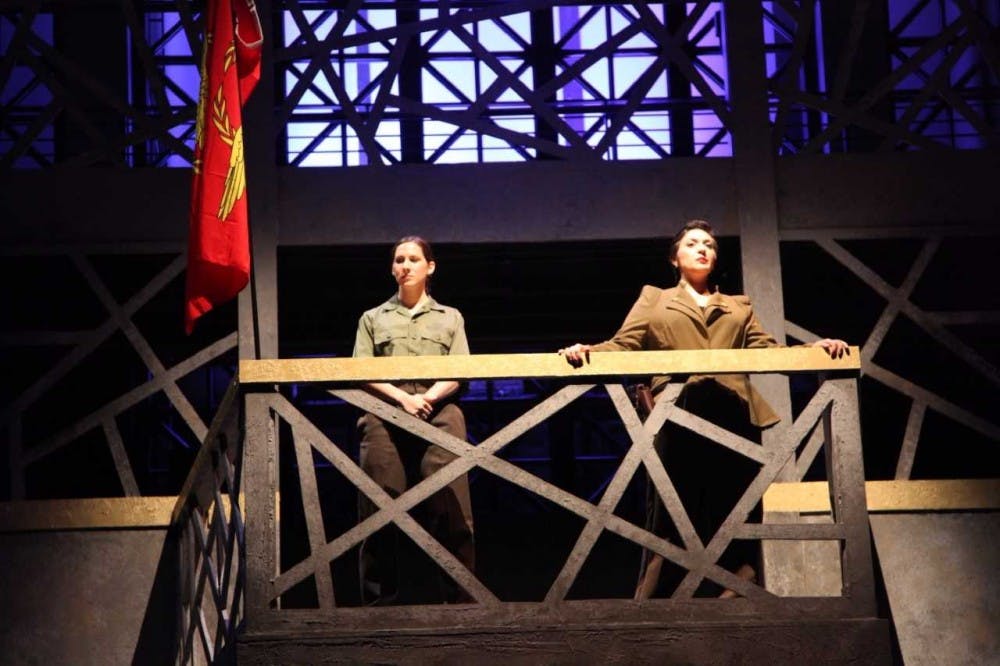 COURTESY OF CHEASAPEAKE SHAKESPEARE COMPANY Caitlin Carbone as Octavia Caesar joins forces with Mar Antonia, played by Briana Manente, to avenge Caesar.
A politician with red lipstick and a peplum blazer looms over a crowd of supporters. Anxiously, officers in brown, 1940s-style army uniforms strategize over their next tactic. With a gentle sigh, a young boy reclines against a bed, softly strumming his ukulele.
While the moments may seem unrelated, Chesapeake Shakespeare Company (CSC) manages to weave them together in its fall production of Julius Caesar.
Originally, the play (written by William Shakespeare around 1599) surrounds the downfall of the famed Roman general Julius Caesar and the messy political dynamics following his death.
However, in this adaptation, directed by Michael Tolaydo, Baltimore's CSC took a new approach.
"We wanted to create a really timeless production," Kristina Martin, the show's costume designer, said according to The Baltimore Sun.
Martin compared this production to her past experiences with the piece.
"I've worked on Julius Caesar before, but I think we [at Chesapeake Shakespeare Company] were able to do something different — that's really its own unique experience," she said.
So although the actors still speak in classic Shakespearean tongue, many of the production's other elements, from its casting to its costumes, are drastically different.
Mar Antonia, Caesar's loyal friend (played by Briana Manente), replaces Mark Antony. Octavia Caesar (played by Caitlin Carbone), rather than Octavius, is Caesar's heir. Instead of donning togas and laurel wreaths, the characters sport power suits and neckties.
"All of [the costumes] were a little different. Some were a little 70s. Some were a little 40s. The goal was to integrate them into a more modern feel," Martin said.
While at first the mix of eras seems disorienting, it ultimately lends visual texture to the show. Antonia's retro red blouse and high heels convey her sense of confidence.
The conspirators' matching green scarves, shirts and ties suggest their unity. Caesar's bright white suit makes his violent demise that much more powerful.
Hopkins junior Jessica Liu attended the opening night performance. She thought that while the addition of female senators and political figures certainly adds depth and modernity to the show, there are certain points where the casting conflicts with the script.
"I liked that they made an effort at gender diversity by making some of the characters female, but I also thought it didn't make sense plot-wise," she said."Some of the most powerful characters in the play, like Caesar's heir, were women, but at the same time Brutus' wife talked about the inherent weakness of women."
Liu argued that while she appreciated the intent, she was not convinced by the execution.
"I understand that the director didn't want to change the original [text], but it just seemed a little clumsily executed," she said.
Nevertheless, many of the show's best moments occur because of the contemporary twist. In an especially poignant encounter, Brutus, on the battlefield, asks his servant Lucius (played by Imani Turner) to play him a song.
Lucius gently begins to strum his ukulele, singing the words to Bob Dylan's "I Was Young When I Left Home."
"What I liked about [the production] is that it was so contemporary. It feels like House of Cards meets William Shakespeare," Mike Smith, who also attended the show's opening night performance, said.
Chesapeake Shakespeare isn't the first company to stage a recent, modern adaptation of Julius Caesar.
This past summer, the Public Theater's production of Julius Caesar, in which the title character was dressed to look like Donald Trump, spurred protests in New York City and attracted national attention from major news outlets.
Still, Toylado has expressed a desire to keep the CSC's production from "superimposing" the story onto particular political figures.
"The play deals with protecting a form of government that worked (for some) and is suddenly threatened by change," he said.
Remarking on the applicability of the show's message to today's political development, Tolaydo said simply, "Let the audience decide for themselves."
Julius Caesar runs from Sept. 19 through Oct. 29, 2017. Tickets are priced from $16 to $50, and student tickets are available. Visit ChesapeakeShakespeare.com or call the box office at 410-244-8570 for more details.