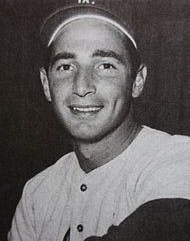 Public domain Sandy Koufax, former star pitcher of the LA Dodgers
---
Sports often do not make sense. When statistics are supposed to be a sure thing, sports continue to defy them. Here are some of what I think are the most interesting sports stats of our time.

1. Since each of the "Big Four" professional sports has expanded the length of its regular season, the team with the best regular season record in that sport's history has failed to win the championship. This includes the 2001 Seattle Mariners (116-46) in the MLB who lost in the American League Championship Series, the 2016 Golden State Warriors (73-9) who lost in the NBA Finals, the 2007 New England Patriots (16-0) who lost the Super Bowl and the 1996 Detroit Red Wings (62-13-7) in the NHL who lost in the Western Conference Finals.
2. In 1997, Desmond Howard became the first, and still only, player ever to win Super Bowl MVP while only being part of the special teams unit. After the New England Patriots cut the Green Bay Packers' lead to six, the return specialist secured the Packers' victory with a 99-yard kickoff return for a touchdown, which would turn out to be the last score of the game.
3. Starting in Week 5 of the 2000 NFL season, the Baltimore Ravens failed to score a touchdown for five consecutive games. They nevertheless managed to go 2-3 during this stretch, in which all of their points were scored by kicker Matt Stover. In an even more baffling twist, the Ravens went on to lose only one other game all season, making it to and winning Super Bowl XXXIV.
4. Sandy Koufax, also known as "The Left Arm of God," is a former MLB left-handed pitcher, who pitched 12 seasons for the Los Angeles Dodgers. Throughout the course of his career, Sandy Koufax won three Cy Young Awards, two World Series MVP Awards and one regular season MVP Award, making him the only player in MLB history to be awarded with all three of these honors. His Cy Young Awards are particularly impressive due to the fact that only one such award was handed out amongst both leagues — the American League and the National League — and Koufax won all three unanimously. In 1972, at the age of 36, Koufax became the youngest player ever elected to the Hall of Fame.
5. Despite his shortened career due to an elbow injury, the legendary Koufax had a postseason ERA of 0.95, which is good enough for seventh all time. While impressive, Koufax's ERA was not enough to outdo arguably the greatest hitter in baseball history, Babe Ruth. Ruth dedicated four and a half seasons to pitching and it was not until 1919 that he transitioned into a hitter. Though it was a different time, Ruth posted an impressive 0.87 ERA over his postseason pitching career, including a 14-inning complete game against the Brooklyn Robins, in which he led his Red Sox to a 2-1 victory.
6. Mariano Rivera, a former professional baseball pitcher who played 19 seasons in the MLB for the New York Yankees, is widely considered one of the most dominant pitchers of all time. Rivera has the most saves in MLB history (652) and he holds the MLB record for the lowest playoff ERA over a career (0.70). However, there was one player who had his number: Edgar Martinez. The career-long Mariner posted a .579 batting average against Rivera and had an OPS (on-base plus slugging) nearly 700 points higher than that of anyone else with the same amount of plate appearances against Rivera.
7. José Calderón, currently a point guard for the Cleveland Cavaliers, missed only three free throws during his 2009 NBA season with the Toronto Raptors. What makes this so incredible is that he did so in 154 free throw attempts. These numbers led to a 98.1 free throw percentage, which is by far the best single season percentage in NBA history.
8. In 1987, Michael Jordan averaged 37.1 points per game, leading the League in only his third NBA season. Jordan's remarkable scoring numbers resulted from him having more games of 50 or more points (eight) than games of 25 or less points (seven). The next highest points-per-game leader that season was Dominique Wilkins, who finished the year with an average of 29.0 points per game.
Hopkins Sports
9. During the 2016 Hopkins football season, sophomore quarterback Zack Baker set a school-wide record with 27 consecutive completions. Baker's streak came to an end against Gettysburg and fell two completions short of the D-III national record.
On This Date
10. On September 7, 1980, John McEnroe defeated Björn Borg in the 100th Men's U.S. Open. McEnroe's win came just two months after Borg had taken the Wimbledon title from the American in five sets.