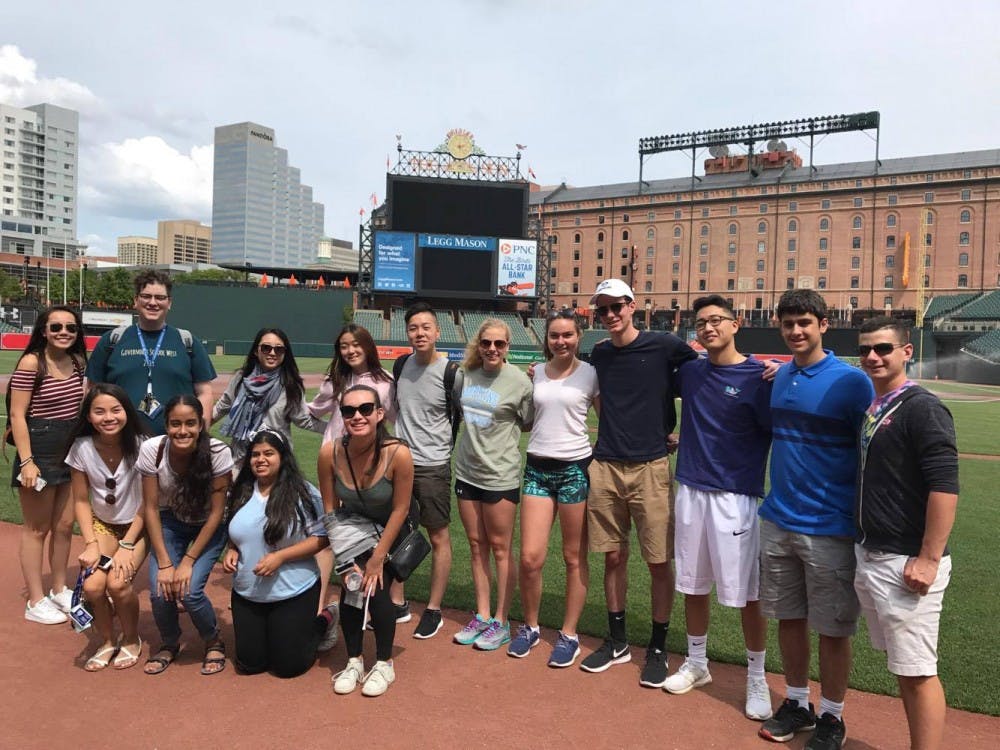 courtesy of diva parekh Orientation week is meant to ease the transition for incoming students.
After months of planning, New Student Orientation for the Class of 2021 kicked off on Saturday, Aug. 26 on Homewood Field. A Core Team of undergraduates as well as a number of staff and graduate interns worked to coordinate the student and parent programming that occurred through Wednesday, Aug. 30.
Last spring, Coordinator of Orientation and First-Year Experience Justin Beauchamp left his position at Hopkins and was replaced by Brittany Claridge in July. Sophomore Vicky Wang, logistics coordinator for orientation, said that the staff vacancy created difficulties for the rest of the team members.
"The biggest challenge was when Justin [Beauchamp] left," she said. "So until Brittany [Claridge] officially got hired, which was sometime in July, we had a little more than a month where we worked with [Associate Dean of Student Engagement Tiffany] Sanchez, but she was busy with her own stuff."
Wang also discussed challenges in communicating with multiple people and making last-minute changes, though she said that the hard work she put into the planning process paid off in the end.
"[It] was pretty stressful, but then once it starts happening, it's both satisfying and relieving," she said.
Claridge commended the Core Team on their hard work over the summer following Beauchamp's departure.
"Personally, I was only actually physically there in that role for a shorter period of time," she said. "But I do know that our Core Team and our student interns were really hard at work even for the time that I wasn't in that role where there was a vacancy in our staff."
The planning process included a number of changes from last year's orientation, including implementing waste-free events, greater focus on transfer students and moving the alcohol and drug programming to Sunday.
Claridge noted that although she believes it is important for students to receive alcohol and drug information as early as possible, moving the programming to Sunday this year may have made the schedule too full.
"We learned pretty quickly that we're asking a little too much of students after such a long day," she said. "I think that we can do a better job of moving some [programming] around so that the students are experiencing the same programming... but are doing so in a way that doesn't tax them quite as much."
Freshman Katy Wilner agreed that some days were especially tiring.
"I don't really understand why everything had to start at eight in the morning, especially because I'm from the west coast, so it's like I had to wake up at five in the morning," she said.
Wilner also expressed confusion over which events during Orientation were required and which were optional.
"I understand why they didn't tell us what was mandatory and what wasn't mandatory so everyone showed up for things, but maybe if they made that clear it would be a little better," she said.
Freshman AJ Ferrara felt that there was a good balance of mandatory and non-mandatory events, although he said that some required events merely repeated the same information.
"A few of the talks that they had were good, but a few kind of expounded on each other with a lot of the same information," he said. "It's good to reinforce it, but it was almost too much."
Despite the scheduling and logistical challenges, both Ferrara and Wilner enjoyed their overall experiences during Orientation. Ferrara cited his First-Year Mentor (FYM) as one of the best aspects of the week.
"My first-year mentor did a really good job of showing us around, and I got to know the campus a lot better," he said. "[She] did a really good job of keeping people occupied."
Claridge emphasized that the 75 FYMs, who each lead a group of incoming students throughout the week, are a critical part of ensuring that Orientation runs smoothly. FYM training began a week before new students arrived and focused on familiarizing the upperclassman mentors with campus resources and teaching them how to engage with their mentees.
Sophomore FYM Reah Vasilakopoulos said that although keeping track of 20 different students could be logistically challenging, the experience was overwhelmingly positive.
"It gave me a whole new group of people that I can be friends with," she said. "For my mentees, they were all so incredible and so excited, and it made me just as excited to come back to Hopkins and to be starting school again."
Vasilakopoulos also noted how excited and passionate the freshmen were during Orientation, despite the difficulties of transitioning to college. Sophomore FYM Emily Franco agreed, remarking that things got easier as the week progressed.
"It was difficult to connect with my mentees at first," Franco wrote in an email to The News-Letter. "It was their first day away from home, away from their families, and everything was so new for them. Most were shy at first, so it was hard to get things going, but once they began to warm up and get to know each other, everything went very smoothly."
Claridge stressed her commitment to ensuring that incoming students feel welcomed and have all the resources they need. She discussed the role of Orientation and First-Year Experience in creating a welcoming, inclusive and safe community at Hopkins as soon as freshmen arrive on campus.
"I think we're starting to see that the earlier we talk about the community, we'll start to see a cultural shift in the Hopkins community towards a more inclusive and welcoming community," Claridge said.
Wang, Franco and Vasilakopoulos also acknowledged the importance of Orientation in ensuring the success of incoming students. Vasilakopoulos cited her own New Student Orientation as a reason for becoming an FYM this year.
"Orientation really gave me a lot of different connections, but it also showed me a lot of resources around campus and guided me to a lot of different opportunities and really gave me friendly faces around campus," she said. "So after doing that... and having a wonderful FYM during my orientation, I was like, 'I want to do this for other people.'"
Ferrara felt that Orientation was a great introduction to Baltimore and the Hopkins community.
"Coming out of Orientation I know where everything is now," he said. "It's just good to have a base of people you know to have a friend group and also to learn more about the campus."