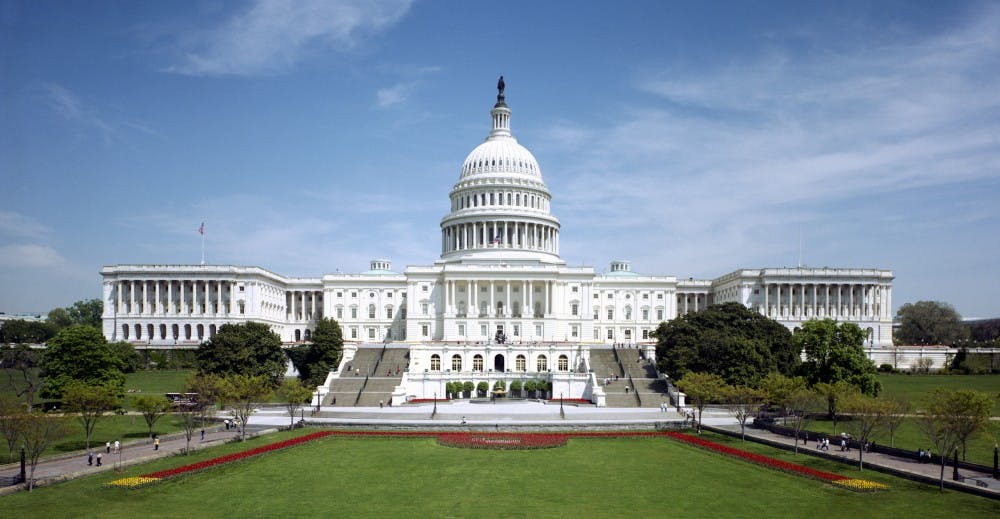 Many Hopkins students choose to spend their summers in the nation's capital working with Congressional representatives to jump start their own careers.
The News-Letter asked five students who interned on Capitol Hill about political partisanship, the healthcare debate and their experiences as interns.
Political divisions
Some students were surprised to find that politicians were more willing to work across party lines than they expected. Sophomore Will Klink, who interned with Congressman Brad Sherman, observed a more respectful environment than he anticipated.
"There certainly is the partisanship that is present in D.C. but there is more collaboration than people would think," Klink said. "If more people would watch floor debates, they would see that the politicians are very courteous with each other and it's not all campaign rhetoric."
Senior Marisa Brand had an internship with the National Republican Senatorial Committee helping to elect Republican senators. She was disappointed that Republicans in Congress were unable to pass legislation and that political divisions have prevented government from functioning well.
"Too much focus has been put on the partisanship and the differences to the point where no one even wants to work together for the good of the country," she said. "I understand standing with your principles and not wanting to agree with a policy you disagree with, but there comes a point where something should be passed and reformed."
She is hopeful that Democrats and Republicans will be able to move forward together in the future.
"This hyper partisanship has created a new need and want for a center," she said.
Colleen Anderson, a junior who interned with the House Committee on Energy and Commerce, noted that committee members shared a sense of community despite their different political beliefs.
"When you work in a committee, you get to see if bipartisanship can actually happen," Anderson said. "In some ways, it was interesting to see there is a lot more bipartisanship that goes on but in other ways it is still split, and there is a lot of gridlock."
She especially noted the camaraderie on her committee following the shooting of Congressman Steve Scalise at a baseball game this summer.
"Steve Scalise was in my committee. The whole committee came together, and you could sense they were a family. There's not personal hate politics," Anderson said.
Daily responsibilities
While many students choose to take internships in D.C., senior Mia Berman served as a casework intern for Senator Al Franken's district office in Minnesota.
Last semester, Berman interned with Senator Amy Klobuchar on Capitol Hill and noticed several differences between the two positions.
"Life just moves a lot slower outside of D.C.," she said. "In D.C. everything is fast paced and everything is a pressing issue. Being home, you're focusing on the people. You're working to improve their lives."
She appreciated working in the district office because it allowed her to understand how her work influenced the office on Capitol Hill.
"We would see an issue that was really prevalent among a lot of constituents," Berman said. "Then we would pass that issue along to the D.C. office where they would create legislation to address [it]. It was cool to see how the district office matters."
Common duties amongst interns included conducting legislative research, answering phone calls and giving tours.
Several students, like Klink, highlighted their experiences connecting with constituents.
"It's nice to know [constituents] have a direct line to the congressman and that they're able to air their concerns out," he said.
While the tasks were not always glamorous, Brand understood their importance and found her responsibilities fulfilling, from aggregating data to writing biographies.
"Obviously phone banking is never anyone's favorite thing to do, but it's necessary for winning an election," Brand said. "It's still rewarding because you get to talk to people."
Junior Elizabeth Duncan, who interned with the majority office for the Senate Committee on Environment and public Works, echoed Brand's comments. She added that while she has learned about the government in the classroom, experiencing it in person was a very different experience.
"As an intern you don't always get to do the most interesting research or work, but it was definitely an incredible experience because I got to see the inner workings of the government," Duncan said.
Anderson added that simply being in D.C. was a worthwhile experience.
"Being around people who are similarly driven and care about what's going on around the country was great," she said. "Standing in the hallway seeing people you've seen on TV thousands of times is surreal."
The Healthcare Debate
Healthcare once again became a subject for debate for Congress this summer. Republicans have spent over seven years trying and failing to repeal the Affordable Care Act (ACA), which supplemented the private healthcare industry with federal coverage. The Congressional Budget Office estimated that over 32 million people would lose coverage if the ACA was repealed without any replacement legislation.
Duncan said that being in the capital was exciting, because she witnessed protests during the healthcare debates.
"One of the senators in the office across the hall was Senator [Susan] Collins, who was one of the Republicans who voted no," she said. "Before she decided, there were protests outside her office very frequently."
In Minnesota, Berman remembered answering hundreds of phone calls from concerned constituents.
"At one point, Ted Cruz shut off his phones so we were getting calls from people in Texas," she said. "We felt the urgency of it from the phone calls. We constantly had the TVs on, trying to figure out what was going to happen next."
Klink said that the opportunity to watch debates on the senate floor was a valuable experience.
"When the healthcare debate was in its big moments, a bunch of interns and I went to the senate floor to watch," he said. "That happened to be the day that John McCain came back to congress. I actually left the gallery to go run to the bathroom and I took a wrong turn as he was walking down the hallway. I said 'hi' to him."
The price of an unpaid internship
Although students acknowledged that their internships provided them with valuable experiences, some believe that they should be financially compensated for their work.
Only one of the five students that The News-Letter interviewed had a paid internship.
Anderson was grateful that she was able to learn more about topics like energy and cybersecurity but wished that the internship had been paid.
"The experience and knowledge I gained pays for it, but especially for someone who has to commute — I had to take on that expense myself," she said. "It's not fair to people who can't afford to not have a job. I was able to work at the Rec Center on the weekends to help pay for it."
Brand could afford her internship by staying with family in D.C. and using an internship grant from the Second Decade Society, a Hopkins program that connects current undergraduates with alumni.
She stated that unpaid internships are typical for people beginning careers in politics.
"All of our directors sat down with us for lunch and talked about their start. Everyone of them started as an unpaid intern. It's D.C. tradition," Brand said.
Berman took issue with the fact that many Democrats in Congress don't pay their interns, especially since they support higher minimum wages.
"While I love the work that I'm doing, and I would do it regardless of whether I was paid, it makes more sense to pay interns," she said.
Berman said that since the Senate offices rely on interns for important work like giving tours, answering phones, delivering legislation and gathering signatures, they should pay a minimum wage.
Many of her fellow interns had part-time jobs and worked nights and weekends in addition to interning full-time.
"Luckily I was able to live at home and my parents were able to support me, but trying to make those ends meet is really difficult," she said. "It's coming from a place of privilege to be able to do one of these internships."
Correction: In the original version of the article, junior Elizabeth Duncan was not introduced. Also, the Affordable Care Act was misidentified as the American Healthcare Act.