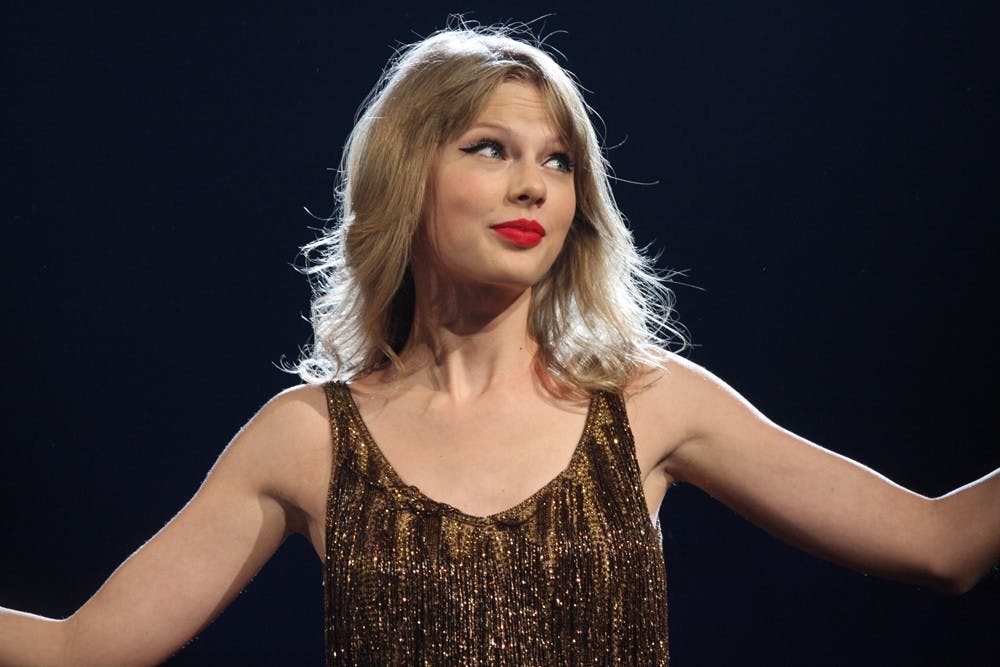 Eva rinaldi/CC BY-SA 2.0 Taylor Swift could easily pass for a member of Gossip Girl's inner circle.
This past week marked the beginning of a new era in Taylor Swift's career with the release of the first two singles off of her forthcoming album, Reputation. It was also a historic moment for fans of what is arguably one of the best and most controversial teenage dramas of all time, Gossip Girl, as it marked the 10th anniversary of the series premiere.
While these two events may seem like they have absolutely nothing to do with one another, as I contemplated my feelings about Swift's new releases, a connection between her and the infamous New Yorker Blair Waldorf took hold in my head. Without further ado, here are 10 ways Taylor Swift and Blair Waldorf are essentially the same person.
Both Taylor Swift and Blair Waldorf know the power of a great headband. While Blair initially used them as a means of exhibiting her high sartorial tastes and accessorizing her Constance Billard School uniform, as she matured, they remained a staple in her wardrobe.
When Swift went through her Red-era preppy phase, she embraced a variety of different hair accessories. There was the pair of "adorkable" wire cat ears, the Old Hollywood glamour yellow printed bandana and the bohemian yet red-carpet ready crystal-studded floral designs.
Blair Waldorf is adored and feared by her rotating squad of "minions." They back her up, do her dirty work for her and attend to her needs. They're like friends, except her social standing allows her to boss them around in a tone more similar to how a queen might address a maid.
While I unfortunately can't attest to what it's like to be a member of Swift's squad (I'd love to know what kind of romantic advice she gives), her group of gal pals is equally infamous and an integral part of her image. I'd also imagine that whatever she asks, you probably do.
Blair Waldorf and Taylor Swift both have no problem swapping boyfriends with other members of their friend circle. The number of people that both Blair and her best friend Serena van der Woodsen have both hooked up with would be slightly alarming in any other world than that of Gossip Girl.
While it may initially cause a dash of awkwardness and perhaps even some tension, both of them always get over it eventually and wind up partying it up with their significant others beside them.
That, of course, makes me think of the infamous pic of Swift casually riding on a boat with her ex Joe Jonas, his then-girlfriend supermodel Gigi Hadid, Karlie Kloss and Swift's boyfriend of the moment, Calvin Harris. The more the merrier!
While both Blair Waldorf and Taylor Swift aren't afraid of burning bridges when push comes to shove, they have at least one ride or die crew-member that has always been by their side. For Swift, this is Abigail Anderson, whom she referenced in her song "Fifteen" as the "red-headed girl" she met in high school that "gave everything she had to a boy who changed his mind."
Swift's most recent public spotting was actually this past weekend at Anderson's wedding in Martha's Vineyard, where she served as a bridesmaid. Of course, Gossip Girl wouldn't have been the same without Blair and Serena's friendship, which, although challenged, always prevailed in the end.
Blair has "Gossip Girl" documenting her every move; Taylor Swift has the paparazzi. Neither of them can make a move without often vicious and intrusive narratives being constructed out of their actions. They are objects of public interest, which often means they have a target on their backs.
Yet, at the same time, they know how to manipulate others' fascination with their personal lives to their advantage as well and can use it to build up more buzz around their name, improve their reputation or allow them to give their own account of what really went down.
Blair and Taylor Swift are more than okay with a little revenge. While Blair often pursues subtle means of sabotage so as to make her actions untraceable, Swift prefers to publicly call out those she feels has wronged her.
"Look What You Made Me Do" is widely figured to be essentially a Kimye diss song, but it's far from the first time she's used her music as a means of retribution. Just listen to "Better Than Revenge," aka her takedown of Camilla Belle for stealing Joe Jonas away from her, "Dear John" her brutal criticism of John Mayer in the wake of their failed relationship or even to go way back, "Picture to Burn."
Although just a few years ago it may have seemed unimaginable, nowadays both Blair and Swift call Manhattan home.
We can only imagine the kinds of fabulous brunches Swift must have with her friends, definitely worthy of Blair and Serena's infamous gatherings at Sarabeth's and — sitting on the steps of the Met Museum — how about attending the Met Ball? Swift has transformed herself into quite the city socialite; She's doing Blair proud.
Perhaps the most important thing that Blair Waldorf and Taylor Swift have in common is that they both have an impressive and empowering amount of agency.
I think Swift would agree that Blair put it best when she said "Destiny is for losers. It's just an excuse to wait for things to happen instead of making it them happen."