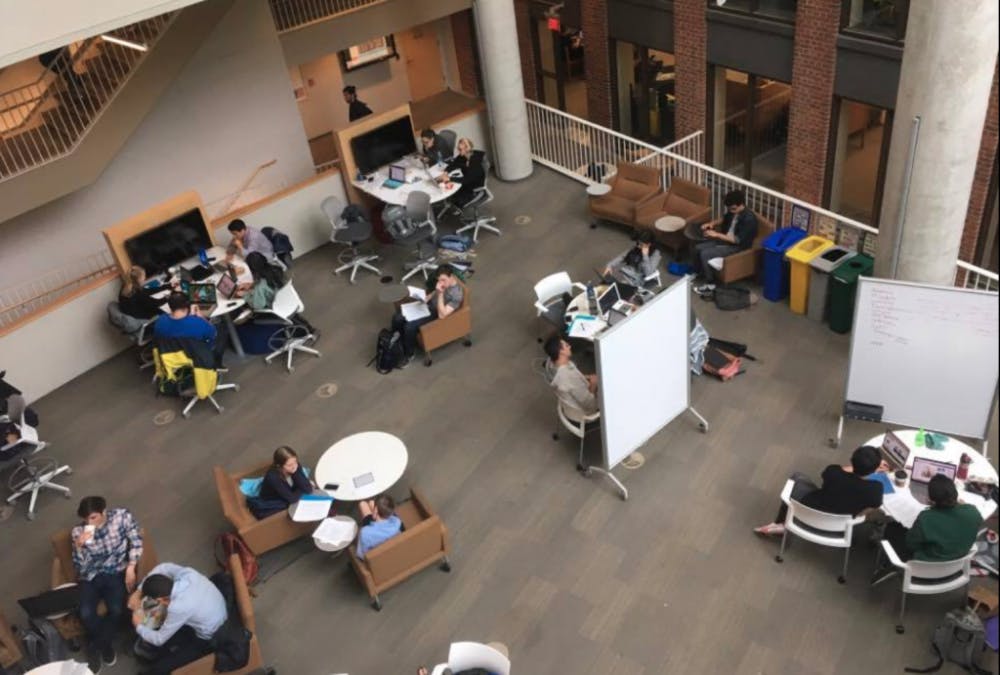 COURTESY OF ROLLIN HU Students cite that their academic workload is a contributor to stress.
The University's Task Force on Mental Health and Wellbeing has worked for over a year to assess mental health resources at Hopkins and address student concerns about high stress levels on campus. The Task Force released a draft of its recommendations for improving mental health and wellness on Wednesday, May 3.
The draft recommendations detail plans to promote a supportive culture on campus, improve student health care and provide training on mental health awareness for students, faculty and staff. This applies to students across all divisions of the University.
University President Ronald J. Daniels decided to create the Task Force partially in response to the resignation of former Student Government Association (SGA) Executive President Jason Plush in October 2015. Plush cited his struggle with mental health as the main reason for stepping down.
The newly elected SGA Executive Vice President AJ Tsang, a member of the Task Force, explained how this led to its formation.
"When [Plush] resigned, it was about the same time we had our annual SGA dinner with President Daniels at his house, and mental health really became the defining factor of that discussion," Tsang said. "He promised that night to form a task force on mental health, and within a couple of months, he did."
The Task Force, made up of 28 students, faculty and staff, first convened in March 2016. Since then, the group has gathered data from over 2,300 students in a survey conducted last September.
Dean of Student Life Terry Martinez serves as a co-chair for the Task Force. Martinez commented on the challenges of providing mental health resources to students in all University divisions.
"Finding information is not easy for students, depending on what school you're in," she said. "There's a lot of misinformation about the services and resources that we have available."
To facilitate the implementation of the recommendations, the Task Force suggests creating the JHU Mental Health Committee to oversee and organize University-wide efforts to address mental health. The Task Force also calls for a centralized website with health and wellness resources, partnerships with student organizations and more student-faculty interactions, among other proposals.
Freshman Hannah Korslund said that the recommendations are a sign that the University is willing to prioritize the health and wellbeing of its students.
"The intentions are all in the right place," she said. "I think some will be tough to implement, like the faculty being open to talking to students. All of our faculty and students are so busy already, but it certainly could be possible."
Korslund noted that for professors who teach larger introductory-level classes, fostering personal connections with their students may be difficult.
The Task Force requires faculty and staff to take part in mental health training, although Martinez said that details of such training are still being determined. The draft recommendations state that "training should be an online module."
Sophomore Marcia Zimmerman co-founded Yesplus, a student organization that seeks to reduce stress and promote positive thinking. She believes that online training modules would be ineffective.
"People often just take those and don't really put a lot of attention into them," she said. "Anytime you can get person-to-person communication is going to be much, much more effective than an online module."
Zimmerman, like many students, cited the academic environment as a major stress factor.
"A lot of the stress culture does come from grade deflation and taking away covered grades and a lot the other things that the administration has done in recent years," she said.
Martinez explained that while the University will not reinstate covered grades, it is committed to providing other resources to improve student mental health.
"What we need to do, regardless of whether we have covered grades or not, is to make sure we have support systems in place," she said. "I do think that putting in place good resources, access and information to mental health will help everyone, not just first-year, first semester students."
Another concern that the recommendations address is insufficient campus resources for those struggling with mental health issues, particularly in reference to the Counseling Center.
Senior Ally Hirsch criticized the Center's long wait times.
"I have had firsthand experience with that, and I do know that that is certainly a deterrent for people," she said. "Particularly when you are in a place where you finally are ready to seek help and then you can't get the immediate assistance, it just really pushes you away."
Director of the Counseling Center Matthew Torres, also a member of the Task Force, addressed the complaint of long wait times for students seeking the Counseling Center's services. He noted that it can take up to two weeks to get an appointment.
"I'll emphasize that if a student indicates that they can't wait that long or that they are in crisis then they can be seen on a same-day basis," he wrote in an email to The News-Letter. "Nevertheless, we are aware that the wait time can be discouraging to some students seeking help."
He also cited finding acceptable referral resources as a major challenge the Counseling Center faces. In addition, Torres addressed student complaints that the Counseling Center is too small to accommodate the student body.
"Concerning staffing size, utilizing national standards, we are not understaffed," Torres wrote. "Given our intention to continue to expand the kinds of services we offer, and the interest in expanding student access to our services, I believe Counseling Center resources will need to grow to accommodate this expansion."
Zimmerman commended the University for working to address the mental health needs of its students, since it applies to students across all the campuses.
"Mental health is something that affects everyone, not just people with mental illnesses," she said. "Everyone can benefit from self care, mindfulness, breathing techniques, eating right and making time for the things that they're passionate about."
Hirsch agreed with the Task Force's suggestion that mental health resources be made public on a website and in other forms around campus.
"I think that having one place where people can look and also having websites and various other… advertising initiatives so that people just are made more aware is going to be huge in terms of getting people to act and seek help," she said.
She believes that while some guidelines are more vague than others, their implementation is feasible.
"If we can garner awareness from everyone, from faculty, from staff, from administration, from students, I think that that will allow us to prioritize [mental health] because that will be something that we all care about," she said.
The Task Force is seeking feedback on the recommendations until June 2.