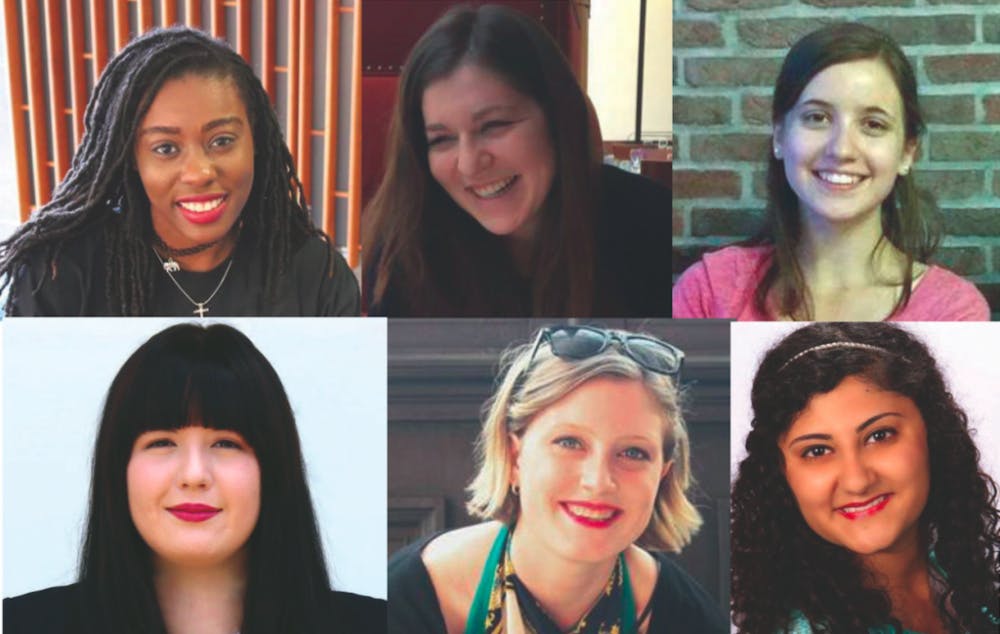 COURTESY OF THE FOLLOWING: Clockwise from top left: Isis Dwyer, Lauren Altus, Becca Black, Astha Berry, Piper Sheren and Candice Gard.
In just a few weeks, hundreds of women will be graduating from Hopkins and preparing to take the next steps in their academic and professional lives.
One concern that many of these students share is how gender may affect their futures. The News-Letter sat down with six women who are graduating this year to discuss their time at Hopkins, their career aspirations and the prospect of work and family.
Life in the Arts and Sciences
Senior Lauren Altus is a Writing Seminars major and English minor and plans on taking a gap year to apply to law school. She reflected on her time at Hopkins, emphasizing how she has had a good mix of male and female professors who were not afraid to analyze gender issues in literature.
"I've really loved my professors," Altus said. "I've gotten to have really interesting conversations... [about] how are they treating the female characters as an author versus other characters."
Senior Piper Sheren, an International Studies and political science double major, and women, gender and sexuality studies minor, will be attending Columbia Law School next year.
Though she has felt supported by her professors and fellow students at Hopkins, she points out that gender discrimination remains a pervasive problem.
"I think in any field that's not primarily dominated by women, there's going to be that moment where you're like 'that's not quite right' about something," Sheren said.
Senior Isis Dwyer, an anthropology and cognitive science double major who will be starting New York University's Master's Program in physical anthropology in the fall.
Looking back at her time at Hopkins, she appreciated her department's diverse faculty.
"I've only had professors of color. I've had professors who are Latino and South Asian during my time here as well as Middle Eastern," Dwyer said. "
Junior Astha Berry, a Medicine, Science and the Humanities (MSH) major, is graduating early to begin a Master of Health Science immunology at the Bloomberg School of Public Health. She entered Hopkins as a Writing Seminars and neuroscience double major, but transferred into MSH after its creation in 2015.
"It seemed like a really great consolidation of my two interests... in a more streamlined fashion," Berry said.
Engineers' Experiences
Senior Becca Black is a molecular and cellular biology major who has worked under Professor Sharon Gerecht of the chemical and biomolecular engineering department for three years. Next year, Black will begin a PhD program in biological engineering at the Massachusetts Institute of Technology (MIT).
She believes Hopkins was a good fit for her interests, and as a female student, she has found the engineering faculty to be very supportive. In particular, she cited Gerecht and her research supervisor, a post-doctoral candidate.
"I've just had this strong mentorship from these two incredibly strong women," she said.
Black also cited her high school chemistry teacher, who was a woman, as the reason she decided to go into a STEM field.
Senior Candice Gard, a biomedical engineering (BME) major who will be attending Tufts University School of Medicine next year, said that while she has had significantly more male than female professors, she has felt particularly supported by women leaders in the Whiting School Engineering.
She particularly admires Interim Director of the BME department Eileen Haase.
"She's a go-getter, and she will fight to make sure that everything is equal amongst the students," Gard said.
Effects of the Election
For Altus, U.S. President Donald Trump's election profoundly affected her career plans and was instumental in her decision to attend law school.
"My problem before the election was that I liked too much stuff," she said. "I'd been toying with the idea of law school, but I didn't have the passion that I feel like you need for it."
The election proved to be just the incentive she needed.
"I was freaking out. I was like 'So many people right now need so much help,'" Altus said. "It really just felt like the most tangible thing I could do [was to] go to law school."
Sheren has been planning to go to law school for years. However, she was even more inspired to do so after seeing lawyers working together in airports to combat Trump's travel ban.
"It's made lawyers popular again, which is nice," Sheren said.
The election also reaffirmed her passion for serving her community.
"I've always had a leaning towards public interest law and doing more community-minded work, especially because I'm from New York, and I'll be in New York, so I want to give back to that community," she said. "[The election] has only pushed me to go further."
Gard is concerned about how Trump's election will affect her ability to treat patients, particularly given the possible changes in healthcare legislation.
"I think right now it's a very uncertain time in medicine because who knows what Trump will do next," Gard said. "Right now a lot more people are insured and there's a great benefit to them. And I feel, as a physician, I want to cover more people than... turn people away because of insurance issues."
Salary Equity
Since she will be in school for another six years, Black is somewhat hopeful that pay discrimination will not be as much of an issue by the time she enters the workforce, but she feels prepared to address it if need be.
"I would really be annoyed if I found out that my co-workers were making more than me," Black said. "I'm ready to fight for that and say, 'I deserve to make as much.'"
Altus believes disparities between men's and women's salaries are complicated.
"There's obviously not an institutionalized pay gap, which makes it harder because there's always the question of how many things have to accumulate before it becomes discrimination," Altus said.
She emphasized the importance of knowing one's value in the workplace.
"We all have to find that line of knowing what we're worth and when we're worth it and when to ask for it because obviously not getting paid what we're worth isn't an option," she said.
Berry said she isn't as concerned about potential pay gaps as she is about gender polarization in certain medical specialties.
"There is a huge shortage in female surgeons, which I think again could be [because of] the fact that it requires so much specialization," Berry said. "I'm extrapolating here but I think it might have something to do with trying to have a family. [It] is just sad that roles that require large amounts of time for specialization or further education are primarily dominated by men."
Dwyer agreed that potential salary inequity is not her primary concern. She is most worried about feeling isolated as a black anthropologist.
"A lot of anthropology was kind of like pseudo-science in the beginning to kind of justify things [like] slavery and discrimination, saying that people who weren't white were basically inferior to white people based on any number of skeletal or cranial or bodily traits," Dwyer said.
She said while anthropology as a whole has improved, she still notices racial disparity in her field.
"I haven't seen any people of color in physical anthropology versus other fields of anthropology... even when I visited the program [at NYU], I didn't see any people who looked like me," she said.
Dwyer also believes her area of focus will also set her apart. She plans to explore racial identification in physical anthropology.
"I'm already black, and now I want to talk about race. So I can definitely see that not necessarily being an obstacle but being a challenge for me to make sure that it's not getting tokenized," she said. "That's probably my biggest concern is making sure people don't assume I'm only talking about this because I can't talk about anything else."
Work-Life Balance
Altus cited her mother, who is a lawyer, as a role model for how to manage both a career and a family.
"She always says she had three babies... me and my brother and her job. And so a different baby needed her more at different times," Altus said.
Black agreed that balance is possible, but she believes it can be difficult to achieve.
"These opportunities definitely do exist. It's just about finding them," she said. "That's something you have to look out for. It's not something that's guaranteed."
Sheren stressed how happy she is to have a partner who supports her.
"My boyfriend knows I'm going to go to law school and be a professional woman, and he's fine with that and supports it a thousand percent," Sheren said. "It's because we constantly talk about it and are really open, and so I think that's really important."
Berry was surprised by how early she had to starting planning for balancing a career and family. She had thought about pursuing MD-PhD degrees when she started at Hopkins but decided against it after realizing how long that process would take.
"[Those years are] in the middle of, for a woman, the time that she would be able to have kids," Berry said. "And thinking about whether or not I wanted to prioritize my future family or my career is a really big decision to have to make at 19."
Berry said she was particularly influenced to make a decision after hearing a female MD-PhD talk about her experiences.
"She said she had three kids. She had one during her PhD, one during her [time in] medical school and one during her residency," Berry said. "That is great for her. She must be some sort of superwoman, but I didn't think that was very feasible and I didn't want to enter an education or a career path with the possibility of dropping out."
After completing her Master's at Bloomberg, Berry plans to attend medical school and potentially specialize in pediatrics.
Gard concurred that work-life balance will be a factor in her decisions going forward. She said she might consider entering a more female-friendly medical specialty.
"I hate to say it probably will be [a consideration] because I don't necessarily want to compete all the time... like in surgery it's definitely a lot more competition than necessarily general [pediatrics]," she said. "I do want to have a family life."
Altus emphasized that women today should not have to choose between having a family and pursuing a career.
"I really hope that every woman at Johns Hopkins can know that there's a way to make [a balance] work, and that we don't have to make sacrifices in one way or another," she said. "I don't want any of us to have to say 'no' to things that we want."