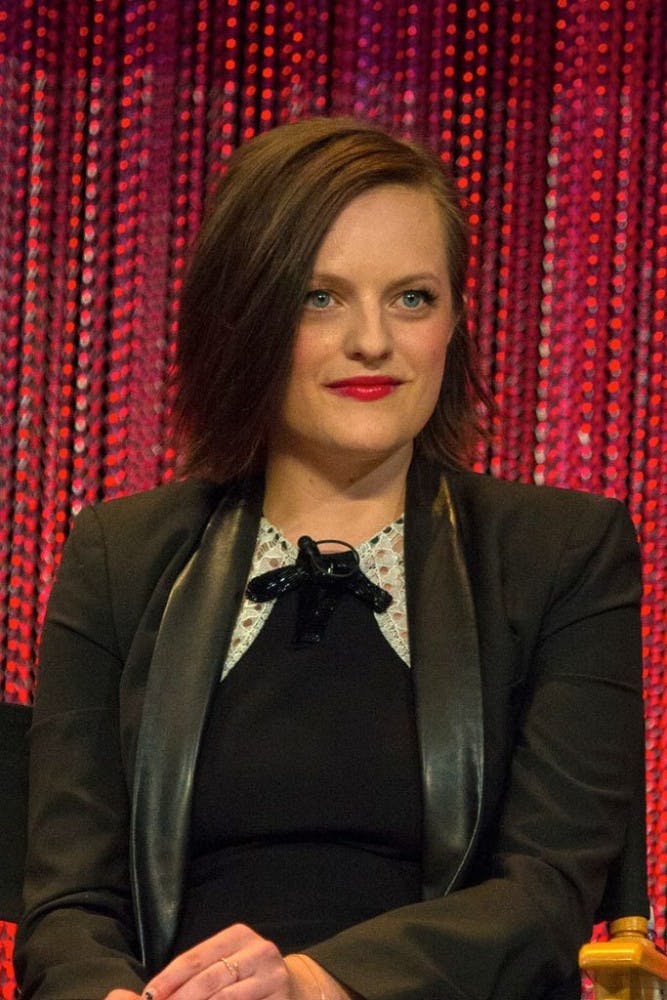 Dominick d/cc by-s.a. 2.0 Actress Elisabeth Moss plays the lead role in The Handmaid's Tale.
Back in April of 2016, when it was first announced that a TV adaptation of The Handmaid's Tale was coming to Hulu, no one had any idea how culturally relevant it would feel after its release.
Here, I want to pause and emphasize the word "feel," because although issues of women's rights have gained more traction in the news cycle of late, they were equally relevant when the novel by the acclaimed author Margaret Atwood was published in 1985.
In fact, you would be hard pressed to find a time in history when women's bodies weren't in some way or another under threat.
The Handmaid's Tale tells the story of Offred (Elisabeth Moss). The story takes place after a theocratic military dictatorship — founded by a fundamentalist Christian group called "Sons of Jacob" — has overthrown the government in a coup d'état, transforming the United States into a dystopian society called Gilead.
Additionally, after years of being exposed to contamination from chemicals, fossil fuels, pervasive sexually transmitted diseases and more, infertility rates have risen among women.
As a result, the men in power dictate that all of the remaining fertile women be forced into the role of "handmaids," bearing children on behalf of the upper-class, barren women. This is directly tied in with the story of Rachel and her handmaid Bilhah, who bore Jacob's children in the Old Testament's Book of Genesis.
A disappointing but all too familiar debate over the infamous "f-word" — feminism — arose during the show's Tribeca Film Festival discussion panel, when the cast emphasized the show being a "human" rather than feminist story. This was only heightened by Moss's comments that, "For me, it's not a feminist story. It's a human story. And women's rights are human rights."
While the language surrounding the promotion of a show may seem like a minor issue, the way we discuss culture matters. Yes, women are human, but we face different societal pressures and threats that men don't.
Creators need to embrace the feminist label, even if that risks ostracizing some viewers. Otherwise, the stigma and stereotypes surrounding the word will continue to be perpetuated.
That said, if anything, this misstep only generated more buzz for the show, and admittedly, the first three episodes of the limited series lived up to the hype. Elisabeth Moss's performance as Offred is compelling.
Even in her quietest moments, the viewer can understand her struggle to maintain a composed and collected outward appearance while internally holding out hope that she will one day be reunited with her young daughter.
There is a dissonance in her emotional state, a kind of self-preservative effort that is virtually impossible not to connect with on some level.
However, it's the minor players — Alexis Bledel and Samira Wiley as fellow handmaids Ofglen and Moira — that really make these episodes great. What might Bledel have been capable of outside the relatively "fluffy" realm of Gilmore Girls and The Sisterhood of the Traveling Pants?
Her fans know, and their wildest dreams have been realized. She is a fantastic actress. In the third episode, "Late," she doesn't utter one line but portrays the widest array of emotions yet.
Meanwhile, there have never been any doubts about Wiley's talents, but her portrayal of Moira in the show's flashbacks adds a much-needed degree of levity — however dark — to The Handmaid's Tale. Both characters also serve the vital role of emphasizing the importance of female connection.
As some reviews have pointed out, a key aspect of this adaptation of The Handmaid's Tale is that it refuses to let its male players and bystanders off of the hook. The Commander (Joseph Fiennes) can bend the rules and play Scrabble all he wants, but at the end of the day, he is still methodically raping Offred each time "The Ceremony" is performed.
Ultimately, he is using her as a means to an end: a baby. Nick (Max Minghella) can say he wishes he took Offred away rather than bringing her back to The Commander's residence where the Eyes (the government police force) await to interrogate her, but at the end of the day, he didn't, and that inaction matters. Apologies and hypotheticals don't amount to anything in Gilead.
In another great feat, we as viewers find a way, however difficult it might be, to sympathize with Serena Joy, The Commander's wife. Without forcing us to like her, The Handmaid's Tale allows us to recognize that she too is, in her own way, suffering. Her failure to conceive has wrought its own emotional trauma on her, as has seeing women like Offred have sex with her husband time and time again in hopes of providing him what she couldn't.
Her relationship with her husband has also been fundamentally changed. A chasm has been created between them and, in many respects, she has also been placed at a disadvantage by the new laws regulating the lives of women.
Without revealing any spoilers, I can tell you that The Handmaid's Tale is disturbing. If you're sleeping soundly at night with no worries for yourself or future generations of women, then brace yourself for a rude awakening. All of the acts women are subject to in both the show and Atwood's original novel are things that have actually happened over the course of history.
The narrative of The Handmaid's Tale functions as a cautionary tale. If we get complacent, if we allow those with power to abuse it, especially in regards to the regulation of women's rights, then we are allowing ourselves to continue down a treacherous path from which there's no going back.
In a bold guerilla marketing move, Hulu hired groups of women to dress in the symbolic red dresses and white hats of the handmaids and walk the streets of Austin, Texas in silence throughout the SXSW festival. The streaming company also covered a wall on the High Line in New York City with 4,000 free copies of the TV tie-in edition of the novel, which they encouraged passersby to take.
Unlike Netflix, which releases its series a season at a time, Hulu is one of few digital platforms to hold onto the suspense-building tactic of releasing one episode per week. For a show like The Handmaid's Tale, which is often fairly grotesque and takes time to digest, this seems suitable, but only time will tell if fans are willing to commit to the show, keeping up with it Wednesday after Wednesday.
Interestingly, Atwood has already signed off on a season two, despite the fact that she never published a sequel to The Handmaid's Tale. She has reassured any concerned fans that she plans on being more heavily involved in the creative process behind the show in the future, once it departs from the source material. There's no telling where the show will go next.