COURTESY OF ROLLIN HU Chinese artist and activist Ai Weiwei designed the posters and layout for the FAS exhibition.
For its final event of the semester, the Foreign Affairs Symposium (FAS) held a pop-up exhibition of 20 posters designed by Chinese artist and activist Ai Weiwei. The posters, which depicted scenes from the global refugee crisis, were displayed in the Mudd Hall Atrium from Sunday to Monday.
The exhibit featured photographs Ai took from late 2015 to 2016 in 22 different countries for his latest documentary about the refugee crisis, "Human Flow." Ai also chose a relevant quote or statistic to caption each photo.
When FAS released its schedule of events at the beginning of the semester, they had not yet determined the date of the exhibition. Executive Director Mollie Cueva-Dabkoski explained why.
"It was about working with administrators and different people to find a niche where this could be fostered," she said. "We don't have that many public spaces on campus, or large spaces for art to exist. Hopefully that's something we can work on in the future."
She also explained that Ai had specific criteria for the location of the exhibition. While he did not participate directly in the setup of the exhibit due to his schedule, FAS worked with his lead studio designer, who kept in touch with Ai throughout the planning of the exhibit.
"[Ai] was interested in where the flow of people were on campus, how were people interacting with this space," Cueva-Dabkoski said. "What was the lighting, what did it look like, what was the furniture in the space."
In addition to Mudd Hall Atrium, FAS also considered the Glass Pavilion and the atrium in Gilman Hall. Executive Director Tim Shieh explained how the final decision was made.
"In terms of location, we wanted to get it as central as possible to campus," he said. "For aesthetic reasons we thought the [Mudd] Atrium would be better than the Glass Pavilion, and with Gilman it was really in terms of scheduling."
FAS also did not know what works they would be able to display until later on in the semester.
"[The posters were] definitely a later development, as late as a month ago," Shieh said. "There was a reason why we put this as the last event of our year in terms of logistics. And obviously this is our first time doing something like this."
The posters, he explained, were a safer choice because they were easier to handle than other works by Ai.
"The difficulty of putting together something like this without much expertise on our end is just making it as easy as possible," he said. "Typically Ai Weiwei's work is really physical, immersive. The studio made the decision that this would be the best way to carry this out."
FAS, which typically hosts lectures, wanted to invite Ai to speak, but he was not available. Cueva-Dabkoski felt the exhibit presented a new way to foster political discourse amongst students, and was relevant to the symposium's chosen theme of "Undercurrent" for this semester.
"This idea of undercurrent, it's this idea of upwelling," she said. "This upwelling of thought that is counter to the mainstream. That seems to be Ai Weiwei to me. This fervor against the status quo."
Cueva-Dabkoski, who is a senior, added that when she applied to FAS as a sophomore she wanted the symposium to host an exhibit by Ai.
"I like to say this exhibit is my Hopkins journey coming to an end," she said. "This was my brain child."
Shieh said that the posters will be handed to Jacqueline O'Regan, curator of cultural properties at the Sheridan Libraries, though he is uncertain of what will be done with them.
"Our understanding is that in Special Collections, this will be part of FAS' art history basically," he said.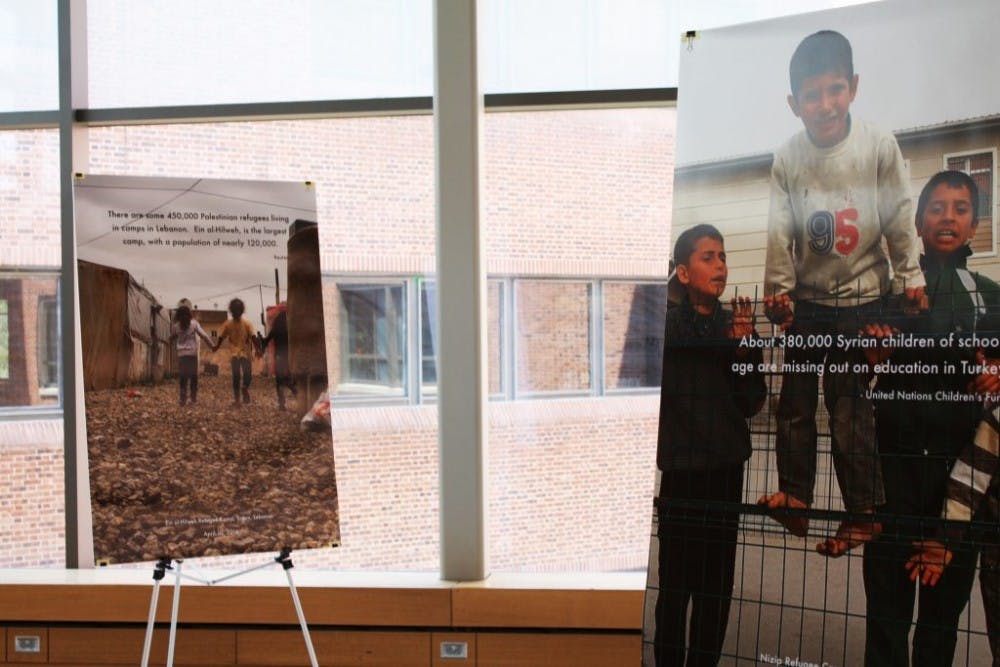 Students were surprised by the format as well as the content of the exhibition. Yuqi Tan, a graduate student from China, felt a connection with the content of the photographs.
"I'm very moved by all these pictures," she said. "[These photos are about] refugees yearning towards finding their new home, new place. That kind of longing echoes what I feel as an international student. I cannot imagine what [refugees] are going through, but I can partly."
Freshman Nancy Wang said that while she had been expecting an installation, she still appreciated the photographs.
"You want to make it natural and convey the importance of this kind of topic," Wang said. "You don't need to have the best photographs to show that. I think that some of these seemed kind of raw in that they're just glimpses of time."
Graduate student Yousra Yusuf commended FAS for having an exhibit as opposed to a lecture.
"We are always in our books, our academia, thinking of theories, abstract worlds," she said. "To see these pictures and understand that there is more than books and theories, that these are real people, is important."