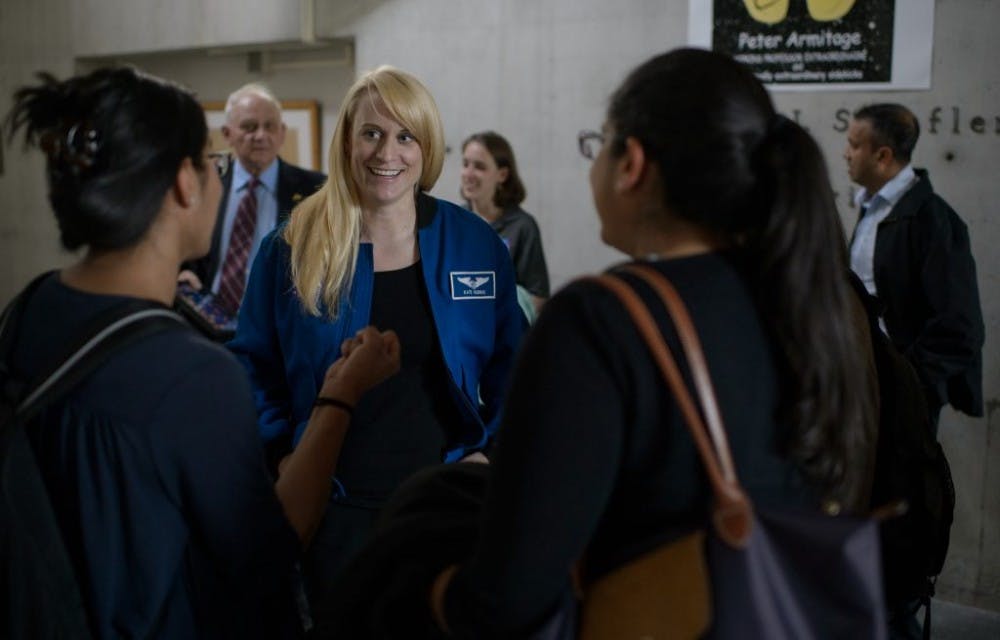 NASA/JOEL KOWSKY Astronaut Kate Rubins also worked as a microbiologist in space.
Astronaut and microbiologist Kate Rubins, the first person to ever sequence DNA in space, gave a talk at the Bloomberg Center on her experiences aboard the International Space Station (ISS). The talk, titled "Science in Extreme Environments," took place on Monday.
Rubins discussed the progression of her career as an astronaut, which began in 2009 when she was accepted to work at the National Aeronautics and Space Administration (NASA).
Originally a molecular biologist, Rubins recalled being surprised about her acceptance. She said that, historically, NASA does not hire many biologists.
"You go through the interview process, and there were so many qualified people," she said. "I sort of would look around the room and say 'oh, these people are great. They really should hire these guys.'"
Rubins has wanted to be an astronaut since childhood, but throughout college and graduate school, she did not consider it as a potential career.
"It seemed like this thing that people do but not a real job," she said.
Though she could not remember what first inspired her to get involved in science, Rubins felt that exposure to science from an early age played a role.
"It's hard to explain why anybody gets an idea in their head about what they want to do as a career," she said. "I certainly know that I got exposed to a lot of science museums, star-watching parties with telescopes. Those kinds of things get people excited about science as a career."
Rubins advised aspiring scientists to focus on an area of study they are genuinely passionate about.
"I had this burning question about how viruses behaved or interacted with the immune system, and I wanted to go find out the answer to this question," she said.
Rubins said the progression from being a molecular biologist to an astronaut required her to transition from specialized academic research to more general training.
"You're very focused on a single question or a set of questions and the research enterprise, and you end up being very specialized in that one particular field," Rubins said. "Whereas astronaut training is more of a general sport, so you have to learn a little about everything you're going to be doing."
She also discussed her project, which focused on proving that DNA sequencing was possible in space as well as improving our understanding of how to address the medical needs of people in space.
"Originally I was questioning: Why would you want to sequence DNA in space?" she said.
Though uncertain of whether the sequencers would function in microgravity, Rubins and her team were able to sequence over two billion base pairs of DNA during their 115 days in space.
"There's a lot of technological hurdles in terms of getting the equipment up to the space station, making sure it would survive launch vibrations, thinking about the fluidics of the experiment and if that was going to work," she said.
When she launched on the Soyuz MS-01 last July, Rubins became the 60th woman to go to space. She said that while she felt it was important for women to encourage girls to pursue careers in STEM, she never felt there was a significant gender gap at NASA.
"I don't think about it too much honestly in terms of female and male," she said. "We say 'male dominated field,' but I'd say it's just a statistical percentage that's slightly higher. When I work with my crewmates, they're never thinking about it as: 'Oh, we're men, you're not going to do as good of a job.' I haven't seen that at NASA and I haven't seen that in our crew."
The morning before she visited Hopkins, Rubins met President Donald Trump and his daughter Ivanka Trump at the White House to congratulate astronaut Peggy Whitson for breaking the record for most time spent in space by a NASA astronaut.
"We were talking about her accomplishments and her work in the area," Rubins said. "She's been a really long-serving NASA astronaut, so that was really fun to get a chance to call space and congratulate her on that."
Rubins described some of what she spoke about with the Trumps.
"We talked about NASA's future exploration goals... and going to Mars someday," she said. "Also the scientific possibility of the [International] Space Station, the technology demonstration and the research that's being accomplished."
However, Rubins said there was not much time for an extensive discussion.
"The point of the call was to congratulate [Whitson]," she said.
During her talk Rubins shared her discoveries, as well as photos, charts and a video documenting her 115 days in space.
She took the audience through the procedures of launching day, pointing out how a real rocket launch differs from simulated launches during training. Rubins said they wake up early in the morning and go through a series of tests with their space suits and then report to the Russian commission.
"[We] walk up the stairs to our rocket. And this is where all the similarity to our training ends," she said. "We actually are sitting on something that feels very much like a [simulation] but all of a sudden has the G-force of a rocket launch."
After orbiting the planet for two days, Rubins and her team docked ISS.
"This was an incredibly exciting moment for me, because I'd trained in these modules and lockups for years, but I've actually never seen the real space station," she said. "It was truly amazing coming up to approach this vehicle in our spacecraft."
Shortly after docking, Rubins went on several spacewalks, which she described as a rewarding but intimidating experience.
"Even the most mundane tasks in the space block are incredibly challenging, moving cables around, putting a connector together," she said.
Rubins and her team also studied views of the planet from the ISS.
"This was one of the most amazing things that the video and the pictures can't convey," she said. "The sense of what you see when you look down on the planet... we see whole continents pass by."
Freshman Sharada Narayanan was particularly impressed with the photos and video Rubins showed, describing it as a surreal experience.
"It's kind of a dream," she said. "Seeing what it's really like to be in space on the ISS was amazing."
Rubins spoke enthusiastically about getting the opportunity to interact with students.
"It's very fun to be at an academic center where people are interested in research and exploration and talk to folks about what we're doing and the kinds of things we're doing on ISS," she said.