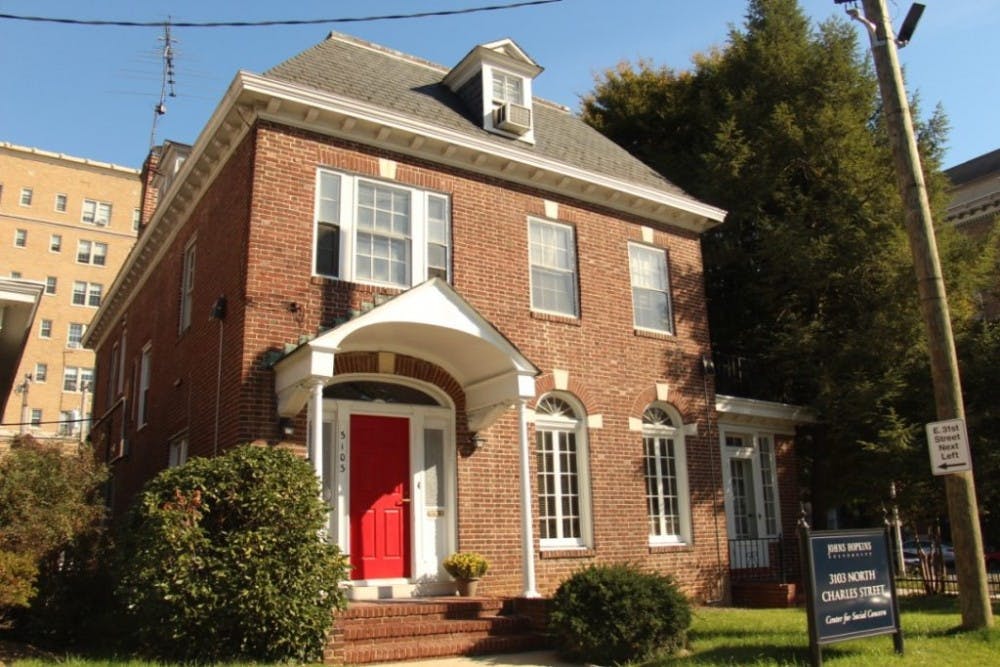 FILE PHOTO Since 1992, the CSC has supported volunteering in local communities.
Over the past 25 years, the Center for Social Concern (CSC) has served as the University's primary resource for students interested in community service in Baltimore.
While there are currently a number of programs designed to engage students with the community, the University has historically had a tense and complicated relationship with Baltimore.
Senior Assistant Director of Neighborhood and Community Programs at the CSC Abby Neyenhouse explained that Hopkins can give back to Baltimore in a respectful way.
"We have to be mindful and cognizant of the reputation of the University and people's opinions," Neyenhouse said. "I think we try to be as intentional and mindful as we can in developing our programming so we're not reinforcing the stereotypes of the institution."
Junior Tarah Fitzgerald, the vice president of Alpha Phi Omega (APO), a community service co-ed fraternity, said that students and the University have a responsibility to use their privilege for a greater cause.
"We have a duty to do what we can," Fitzgerald said. "And that doesn't mean we are going in with a savior complex. It means we are going in as community partners. We're going in as educated and open-armed."
Neyenhouse added that the CSC attempts to create positive relationships within Baltimore. She said that it tries to build its programming around the idea of "mutually beneficial relationships."
"Volunteerism shouldn't just be about our students gaining things, but it should be about... making an impact where we can, and both sides are gaining from the experiences," Neyenhouse said.
The CSC oversees more than 50 student community service groups, a community-based federal work-study program, a competitive paid summer Community Impact Internship Program (CIIP) and Alternative Break programs.
Recently, the CSC has been implementing more student reflection sessions for group leaders. Neyenhouse said that these reflection sessions provide an opportunity for students to discuss the challenges involved with working in Baltimore.
"That's one of our main elements, to make sure there is... training in the front but also opportunities for reflection after the service," Neyenhouse said.
Some community partners that interact with Hopkins described their relationship with the University positively.
Rosalyn Stewart, the volunteer and community outreach manager at the Keswick Multi-Care Center, said that she found Hopkins students to be reliable volunteers.
"We are blessed to have the students volunteering here," Stewart said. "They've done a great job helping the residents."
Jayna Powell, a volunteer coordinator at Paul's Place, said that the volunteers from Hopkins have a good mentality and are willing to help.
"They do whatever needs to be done. And that's the perfect kind of volunteer group, because a lot of times groups come in and they want to do what they want to do," Powell said.
Powell expressed that she would like to see Hopkins do more to help educate students in Baltimore. In particular, she would like to see more students mentor the city's youth.
"I think if Hopkins really wants to say they are making an impact on our community, anything they can do to help young men and women get out of those neighborhoods and into college is a good thing," Powell said.
Alison Young, the volunteer manager for Blue Water Baltimore, a nonprofit that runs community service projects aimed at cleaning up the city's waterways and communities, stressed how engaged Hopkins students are when volunteering.
Nevertheless, she did also said that encouraging students to remain in Baltimore when their studies are over would help strengthen these communities.
Although many community partners and students believe the CSC is having a positive impact, they noted that there are still areas for improvement.
Fitzgerald expressed that while she admires the CSC, a lack of resources and staff makes it difficult for the CSC to adequately oversee all of the student organizations and programs.
"I think there is a lot of follow through that needs to be going on that is still lacking, mostly because the CSC just is not given the support and resources that it needs to do the job that it is doing," Fitzgerald said.
According to Fitzgerald, most of the responsibilities for organizing APO activities are placed on the students. The group has approximately 300 members and about 50 community partners, with approximately five to six projects every day.
As APO expands, Fitzgerald thinks that the CSC needs to be more proactive.
For example, APO organizes many tutoring efforts in Baltimore. Still, Fitzgerald believes some APO members may not recognize the needs of the students they tutor.
She responded to this concern by implementing mandatory trainings for volunteers working with children. She has also led an initiative to have more reflection sessions for APO members to discuss the challenges they face.
"I think what I realized when I came in is that there wasn't a lot of discussion around why we do the service that we do," Fitzgerald said. "I realized that education wasn't coming to the service project. It was staying in the classroom."
Junior Angad Uppal, APO's current pledge master, also feels that many initiatives to improve the organization came from within rather than from the CSC.
"There's no real faculty that's involved, or support," Uppal said, "Our service budget is kind of small, and that's like our bread and butter."
Uppal emphasized the need to communicate with the people that the group serves.
"You should always be asking the people you are serving, what can I help you with? What can I provide for you? Not 'I know what you need, here you go,'" Uppal said.
Uppal shared a number of positive experiences working on service projects, like planting gardens in the city, cleaning up trash in the harbor, and GED tutoring.
"A lot of the projects that we do are very rewarding, and it's just like the kind of work and the kind of exposure that you want to be getting that you don't get at this school," Uppal said.
Other students like senior Lucinda Chiu also found her community service work to be rewarding. Currently, Chiu serves as co-president of the Jail Tutorial Project, a group that tutors inmates in the Baltimore city area.
At times, though, Chiu has struggled to understand the importance of the work she has done, although she ultimately believes her service efforts are worthwhile.
"It was really hard to see the impact I was making," she said. "Not every single inmate I help with GED tutoring gets a GED. At least I don't see them get their GED, or once they leave, I have no idea where they go after that."
Senior Maggie Weese, a member of APO and a three-time CIIP intern, has also found it difficult to appreciate the impact of her work, as there are still larger systemic issues that are difficult to address.
"Unless you are making large policy changes, it can feel really hard to feel like you're making an impact," Weese said.
One place where Weese worked as a CIIP intern was a recreation center in west Baltimore. Although the people who ran the center were from the neighborhood and were familiar with the needs of the community, they faced financial barriers.
When she left, Weese realized that those challenges would persist.
"The frustration came from knowing that at the end of the summer, my internship was going to end, but the difficulties that they face as an organization wouldn't end once I leave," Weese said.
She cautioned students against assuming they know what a community needs.
"A lot of people here at least believe they are an expert on something. When they enter the community, they are no longer the expert," Weese said. "The people who live there and who are from there and who run these organizations, they're the experts."
Young Song, the director of the Tutorial Project, also discussed the need for students to understand the community they serve.
The Tutorial Project matches Hopkins students with Baltimore elementary school students, who they then tutor in reading and math two days a week after school.
Song explained that children in Baltimore and Hopkins students often come from different backgrounds and as a result have different attitudes and experiences.
She believes that working with Tutorial Project can be an eye-opening experience for many Hopkins students.
She also said that with the different commitments and workloads of most Hopkins students, it can be difficult to find people willing to commit.
"It's difficult at Hopkins, because this environment is not conducive to that kind of community service commitment," Song said.
She also sees a difference in the students who are actually committed to Tutorial Project.
"You can definitely tell the ones that are just doing it to put on their resume versus the ones who are committed and really want to work with kids," Song said.