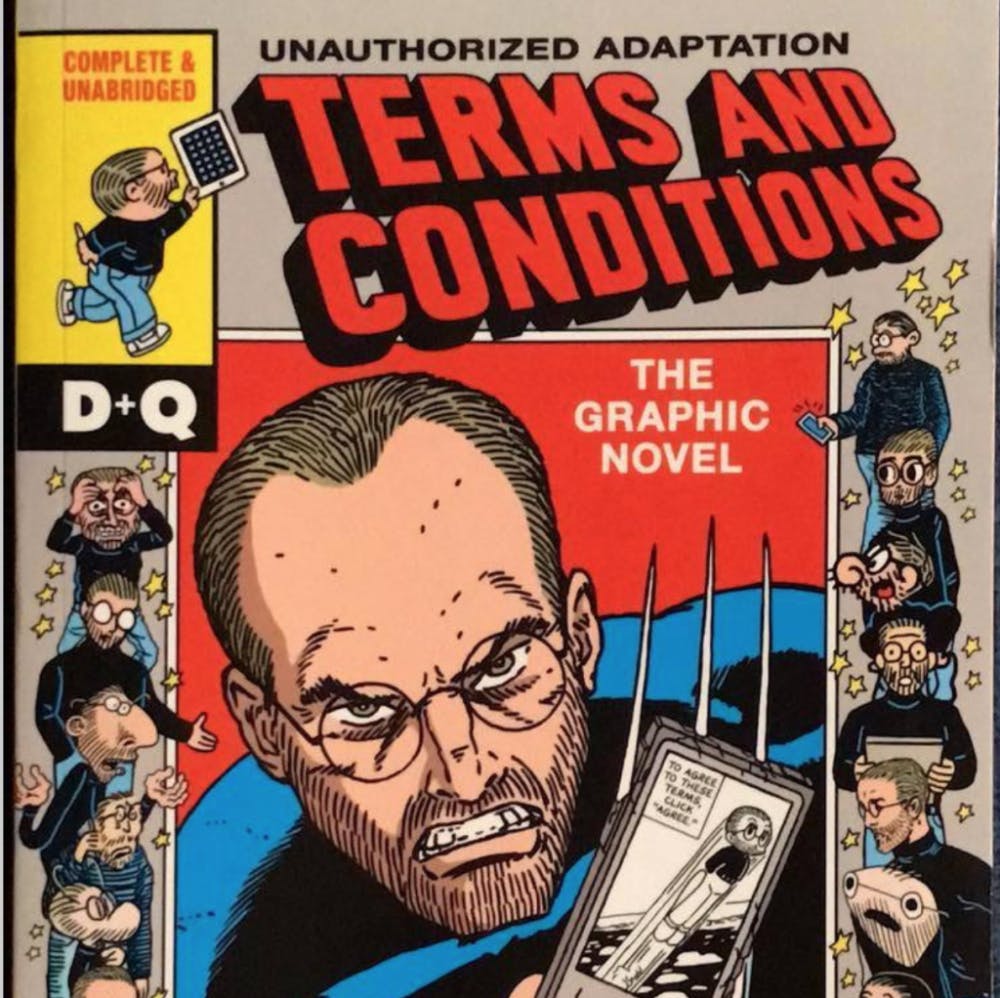 COURTESY OF JACOB TOOK Terms and Conditions is the latest book by cartoonist R. Sikoryak.
It's become a well-accepted part of our culture that nobody reads the terms and conditions contract to which we all consent when using Apple products. After all, why would you? It's long and boring, and it's so much easier to click agree and be done with it. Yet I can now say that I've not only read it but was also compelled and entertained by it. That's thanks to Terms and Conditions, a graphic novel adaptation by cartoonist R. Sikoryak.
Admittedly I wasn't thrilled by the idea at first. After all, there's no narrative or characters to illustrate, so it was difficult to imagine how the contract could sustain such a project. But after starting Sikoryak's graphic novel, I was surprisingly enchanted by an engaging mashup of artistic styles unified by a turtlenecked, bespectacled Steve Jobs rendered on each page. Sikoryak has previously adapted classic literature in parodies of well-known graphic novels.
"My work tended to be very short and very compact," he said. "I was thinking of what would be a good long text to use, and as a joke I thought of the terms and conditions. They're infamously long. And once that idea popped in my head I was very excited."
He spoke about the appeal of adapting such an unapproachable text.
"I liked the idea of a text that wasn't made to be adapted," Sikoryak said. "I like adaptation, but I'm also a little suspicious of adaptation as a way to faithfully recreate a piece of literature. You always lose something in the translation."
Although his previous adaptations followed one style throughout, Sikoryak said that he chose to vary each page as both a way to energize the reader and to create an homage to comic genre.
"I thought the only way to keep myself from going crazy and to keep interest in the reader would be to change the style, and every page was a natural way to break it up," he said. "I wanted it to feel as big as the field of comics feels for me. I tried to represent different eras of comics. I tried to represent the different kinds of comics and also represent the different kinds of the storytelling that you could use in a comic."
Although he cited several well-known comics as influences from his childhood, Sikoryak said that the project was more than just a tribute to them but that it was an homage to modern cartoonists who are taking the genre to new places. He spoke about how comics have changed during his nearly 30 years working in the industry, saying that he embraced the new direction (which I found refreshing as opposed to blaming the internet for killing the genre).
"Comics are in such an amazing position right now," Sikoryak said. "There's so many kinds of comics being made. We're living in a golden age of comic creation, and I want to see what's going to happen next. I've referenced a lot of artists who are younger than me and taking comics in new directions that I find really exciting."
Sikoryak said that working with the text of the terms and conditions allowed him to comment on the new internet age of comics and the possibilities it stood for.
"I was trying to represent the internet in a certain way, and maybe even the iTunes store," he said. "All of this stuff is available in a way that it wasn't as a kid. Comics are this big world and anything is possible within it. The vast amount of material can be overwhelming. I wanted the book to represent that infinite possibility and the infinite amount of material that's in the world."
In incorporating different styles, Sikoryak aimed to make the work accessible to a wider audience who might not have read as many comics. Many iconic characters are parodied, such as Sikoryak's Steve Jobs, almost guaranteeing something familiar to the reader.
Atomic Books is hosting a signing by Sikoryak on Thursday where he will discuss his process further, explaining how he brought Terms and Conditions about. It will be a great opportunity to learn about the world of graphic novels from a master cartoonist and to pick up a signed copy of his new book to enjoy.