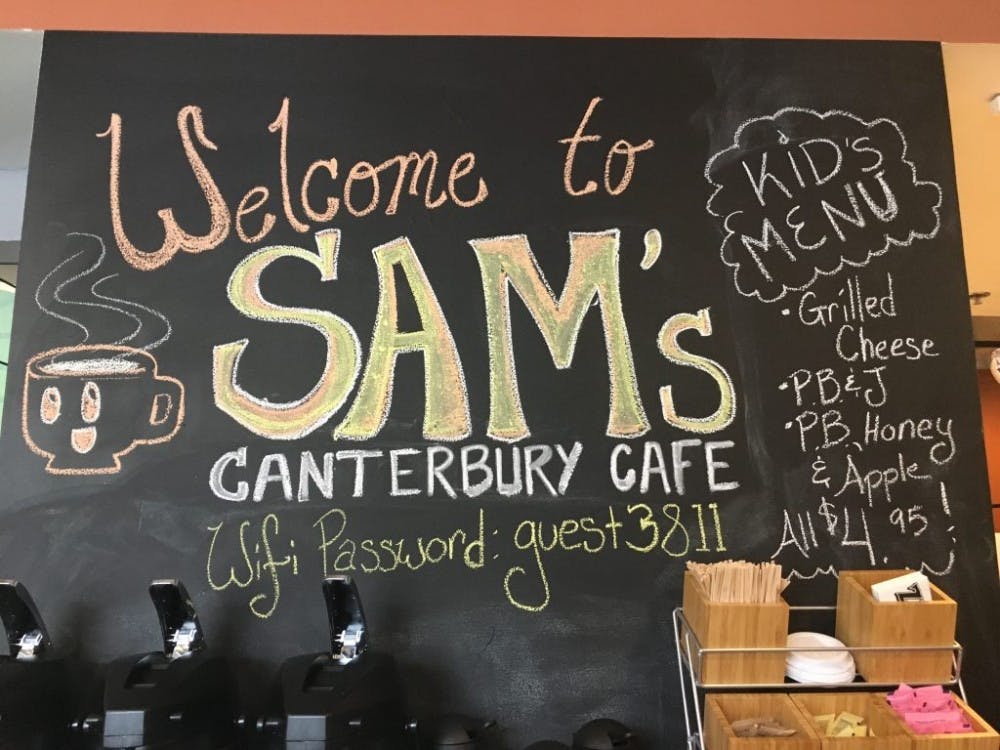 COURTESY OF KAREN WANG Sam's Café, which replaced Chocolatea, hires workers with autism.
Sam's Canterbury Café opened two weeks ago with the mission of providing meaningful employment to adults on the autism spectrum.
The café, located on W. 39th Street and Canterbury Road, was inspired by its namesake Sam Myers, whose parents sought to provide a workplace that was suitable not only for Sam, but for other adults on the spectrum as well.
The Café, which replaced Chocolatea, opened with the help of Itineris, an organization that aims to guide individuals with autism spectrum disorder to develop the skills necessary for an independent work environment. Itineris recognized Sam as a good fit for food service because of his friendly personality. This encouraged Sam's parents to open the café.
Out of the sixteen staff members, the café currently employs six adults with autism, including Sam himself.
The café was designed with the hope of creating a familiar and soothing environment not only for customers, but also for the workers on the spectrum.
The layout, design and colors of the café are purposefully kept uniform and simple. The walls are decorated with artwork from the facility itself to evoke a feeling of comfort.
Elli Straus, the general manager at the café who has known Sam and his family for over 20 years, praised the opportunities it provides for adults with autism.
"Once adults [on the spectrum] age out of the [school] system, there are... most certainly, limited meaningful employment opportunities, apart from doing something very repetitive or monotonous," she said.
Straus said that many employers are hesitant to hire workers with autism.
"Because adults on the spectrum have varied independence levels and different skill levels, it is often difficult for employers to readily accept them into a job. Some may require job coaches, which is what Itineris provides," she said. "Others are completely independent; [They] don't need a job coach. There's that wide spectrum of language and verbal and physical skills, [so] it's often hard for adults on the spectrum to find employment."
Straus further explained the specificity required to teach employees on the spectrum about the work environment and how this differed from instructing the average worker.
"With adults on the spectrum, your language has to be very specific as to what you are referring to or asking them to do. We have trained our staff [not on the spectrum and] we had a presentation from Itineris to help them understand how to interact [with spectrum adults]," Straus said.
Straus said not all businesses may be equipped with the resources necessary to train workers on the spectrum.
"You have to be very specific on what you're asking them to do and demonstrating [the task] very carefully, [otherwise] it wouldn't really mean anything to anyone on the autistic spectrum," she said. "We'll break [jobs] down into very identifiable processes for each step and even put together a series of pictures or a manual. Some employers don't have the time or the resources to do that."
Straus stated that the cafe has helped build meaningful employee-guest relationships, as well.
"We've had quite a few [diners] that have already met Sam, and that interaction on the whole is more intimate than an interaction between a more run-of-the-mill food service person and a guest," Straus said. "It's really no longer about what food they're serving you, or what drink they're serving, you are interacting with them personally at that point and that's what makes it so special to witness."
She also spoke about how some of the other workers overcame their own prejudices after getting to know their coworkers on the spectrum.
"There was perhaps some apprehension in our team about what bringing in adults on the spectrum meant, but now that I think that they've had the opportunity to interact with Sam for a couple of weeks, they understand what it's like," Straus said.
Straus also believes the experience has been rewarding to all of the cafe's employees, including herself.
"It has been truly honoring and very rewarding to have come into a space that was very different and have the honor of renovating it and turning it into something that is more suitable adults on the spectrum," she said.
Looking forward, Straus hopes to expand the cafe's reach and show that it is possible to employ adults on the spectrum. She also emphasized that these adults have skills and capabilities that are often overlooked.
"We really want to be a place that can offer meaningful employment to adults on the spectrum for as long as we can," Straus said. "There are things in every job environment that are somewhat repetitive but not menial, that offer someone dignity and meaningful employment, and it's just a matter of identifying those tasks and offering them to [people] with whatever specialty. It's just a matter of finding that perfect match."
Senior Jennifer Baik praised the cafe's purpose.
"In terms of Sam's Cafe and their mission, I think it's a really good idea. They are providing a really good space for people who are unfairly prejudiced against to find employment," Baik said. "I think that there need to be more spaces like that."
While Baik noted that the food could improve over time, she will return to support the cafe's mission.
"They might need some more time to settle into that," she said. "Because I'm aware of what it does, I'll probably support it a lot more with my business."