materialscientist/CC-BY- 3.0 Charles Burnett, a graduate of UCLA, directed Killer of Sheep in 1978, and it was released recently.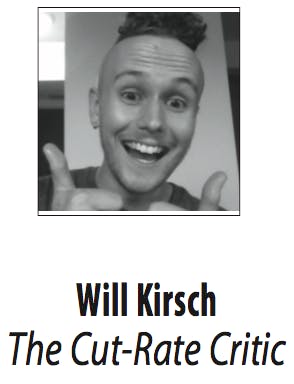 The Johns Hopkins Film Festival got its 20th anniversary rolling on Thursday, March 9 with a screening of the 1978 film Killer of Sheep.

The event was held in Shriver Hall, the ancestral home of on-campus spectacles and horrifying freshmen orientation events. Mercifully, between March 9 and 12, Shriver hosted only quality cinema as brought to you by the Film Society, which tends to do quite a good job with its annual film festival. The movies are generally interesting, and if you fancy yourself an amateur critic you are bound to enjoy a brief respite from your two-hundred-plus pages of weekly reading.

This year's festivities got off to an auspicious start with the showing of Killer of Sheep. Made in 1978 by director Charles Burnett, the film was not actually released until 2007 due to a conflict regarding music rights for the soundtrack, again proving that capitalism is a the absolute worst.
Fortunately, art, like the Geto Boys, cannot be stopped and just shy of its 30th birthday, Killer of Sheep was released to rave reviews.
Charles Burnett is not a name that is familiar to most audiences, nor was it familiar to me before seeing Killer of Sheep. Burnett is a University of California, Los Angeles Film School graduate from the Watts neighborhood of LA.
As a film student, Burnett was part of the Black Independent Movement, a group of filmmakers who tried to portray the lives of African Americans without the traditional Hollywood white-washing. Burnett's films are not the most celebrated in terms of box-office sales, but in general they are critically well-received and often win awards more interesting than the Oscars.
Killer of Sheep is not so much a story as it a non-linear collection of related episodes. Things do not really happen in any coherent order or within a particular structure, but they are all related through common characters. The film documents the life of a working class black man, Stan and his wife and two children in Watts. Stan works in a slaughterhouse, which features prominently and fairly graphically in the story.
If you are a vegetarian or are in denial about where meat comes from, you might find some discomfort in the series of shots showing sheep being literally led to the slaughter. However, it seems like that is the point of that scene: Stan's job is a taxing one, both physically and mentally, and Burnett likely wanted the viewer to share in Stan's burden.
The slaughterhouse, along with the grind of middle-class working poverty, has an effect on Stan's life at home, making him distant and depressed. Those emotions are a constant undercurrent throughout the Killer of Sheep's episodic story. The setting, a broken-down and decrepit Watts, is rife with the same feelings with which Stan struggles. Children play in narrow apartment hallways, run through empty lots full of wasting infrastructure and throw rocks at trains as they pass Watts by. Burnett's landscapes create a sense of tenuous survival, of working poverty: the short end of the stick.
The film's budget was only $10,000, and using that money to make a movie is like telling someone to make an eight course meal with wine pairings and then giving them $2 to buy groceries. However, the tight budget seems to work in the film's favor. Nothing feels fabricated or faked. The absence of a set and recognizable faces among the actors gives Killer of Sheep more of a documentary feel, defying the sense of detachment that often exists in film. It sort of feels like you are just standing in the corner of the room watching someone's life.
Burnett's camera work makes use of a voyeuristic perspective. His shots are largely broad, incorporating background activity into the central action. At times, this has the effect of removing the center from a specific scene, letting the viewer's eyes roam.
The sound is the same: Conversations are at times lost in background noise, leaving the audience to infer what was said or read the body language of the characters to understand what is going on.
Indeed, the body language is likely the actors' most evocative tool. The characters' shoulders sag but their backs stay straight, the weight of suffering and their own pride struggle to win over one another.
Killer of Sheep is certainly a good movie depending on what you hope to get out of a movie. It is essentially free of anything bizarre or abstract. There is not much in the way of dialogue. The plot is, in the best possible terms, convoluted.
But if movies are supposed to mimic reality, then Killer of Sheep is likely a great film. The low-budget feel of the thing makes it more documentary than fiction. Stan and his family's stories are not particularly exciting or action-packed, but in a way that makes them all the more appealing. They are real and common issues that affect a lot of people in the real world in which none of us here at Hopkins exist.
Everything about Killer of Sheep feels real — the emotions, the perspectives, the action — it feels like a well-conceived home movie. For that reason, its worth a watch because it offers a great deal of perspective into reality with enough of a fictional hue to create emotional attachment to the characters.
This leaves me in the position of having to give this movie a good grade, even though I recently realized that I have never not done that. This is probably because I do not watch bad movies because, frankly, why would I? So, whatever. This movie is tight, so watch it and make sure to check out next year's Film Festival for some non-frat-related social activity, as well as the chance to see good films.
Score: 8.95347/10