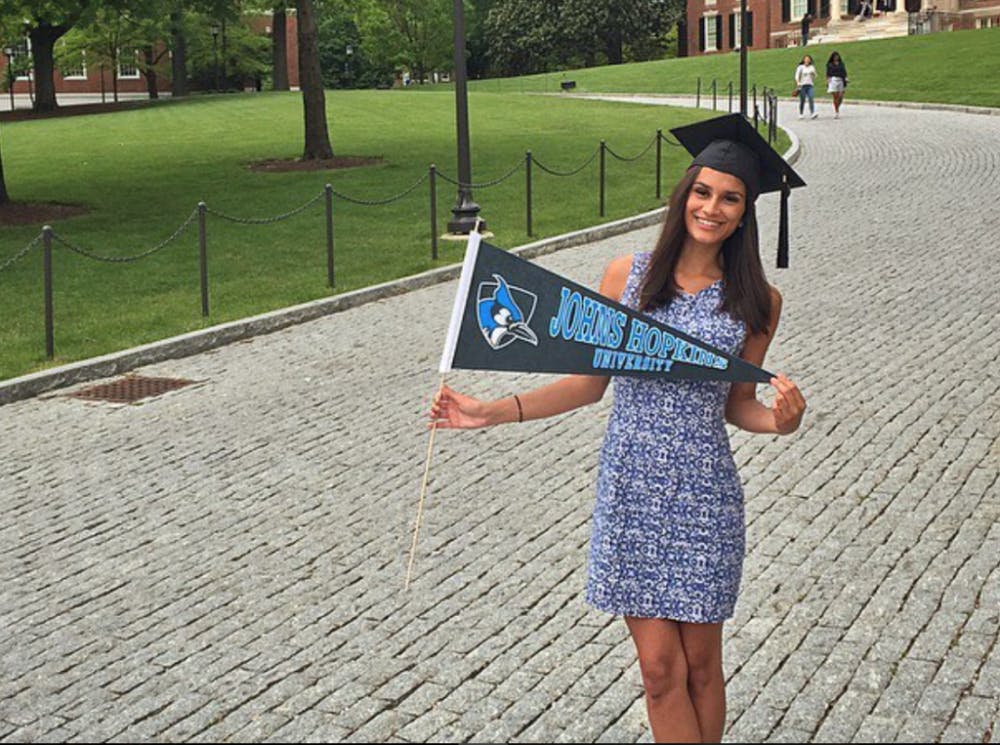 Courtesy of Taylor Nolan Hopkins graduate Taylor Nolan featured on the latest season of ABC's hit reality show The Bachelor.
After graduating this past May with her Masters in Clinical Mental Health Counseling, Hopkins alumna Taylor Nolan decided to go on The Bachelor as a means of pushing herself outside of her comfort zone.
She said that in "going on national television and dating a total stranger," her goal was to "dare greatly." Earlier this week, I had the opportunity to discuss her time at Hopkins, her experiences on the show and her plans to continue her work in the field of mental health.
Nolan lived in Baltimore for six years before going on The Bachelor, as she attended Stevenson University for her undergraduate degree before pursuing her graduate degree at Hopkins. She enjoyed her time in the city and embraced its unique qualities.
"I love Baltimore. It's got a lot of character. It's got a lot of struggle, but it's got a lot of strength as well. It's a nice community to be a part of because everyone is very invested in the community, especially people at Hopkins," she said.
While many of her "In the Moment" interviews featured references to Hopkins, her education wasn't something that Nolan frequently used to identify herself prior to The Bachelor.
"When I tell people what I do, I never name-drop Hopkins," Nolan said. "But that was something on the show that they were very much like 'Yeah, say where you went to school.' So when you see me actually tell Nick [Viall], that was one of the first times that I'd actually fully been like 'Yeah, I completed my Master's degree at Johns Hopkins' by way of introducing myself to someone."
In her interviews, she had often been prompted to tell more about where she had gone to school.
"I think that was something that the show really liked about me. I think they were very much intrigued by that, and it was definitely a selling-point for why they wanted me to be cast," she said.
Nolan felt that what had gone on behind the scenes was intriguing.
"There's so much," she said, "so many conversations that viewers don't get to see. My conversations with him at the beginning were really good. He was very genuine... He definitely has a playful side to him. But there were definitely some concerns for me as our relationship started developing."
"It felt like, knowing what I do in and my background [in mental health counseling], which he very much respected, he was almost taking advantage of that and using it to help him out in a way, very much wanting my advice on things and wanting my observations."
Although Nolan felt that the relationship had started off well, his focus was on her insights rather than her as a person. "Honestly a lot of our conversations became him asking me questions about Corinne [Olympios]. I'd say that was about halfway in that I started to feel a lot less connected, and my excitement and my crush on him kind of started to go down," she said.
This season, there was an especially intense focus placed on the dynamics between the women in the house, but perhaps no relationship was scrutinized more intensely than that between Nolan and her fellow contestant Olympios. In an "In the Moment" clip shown prior to her two-on-one date with Olympios and Viall, Nolan questioned whether Viall wanted "a woman with her Master's degree from Johns Hopkins or a girl with a nanny?"
Ultimately, Viall chose to continue his relationship with Olympios. As a feminist, I couldn't help but feel that decision sent an interesting message to young women watching the show, and Nolan agreed.
"When I hear that clip or when people talk about that clip, there's this automatic sense of guilt that comes over me: 'Oh, how dare I flaunt or be proud of my education and my accomplishments?' I was speaking to the basic facts of who we are as people and how we're different. He was making quite a statement with whom he sent home that day," she said. "I don't think that there's any right or wrong way to go about forming a relationship, and I think Nick based [his] decision off of how strong of a connection he felt with Corinne."
Despite this connection, Nolan wondered whether younger viewers might have benefitted from seeing a deeper relationship.
"I think [theirs] was also more of a playful, flirtatious, sexual energy-based connection," she said, "which sucks for a lot of viewers who are a lot younger that are looking up to the show. Now, they're worshipping those behaviors of Corinne, which may be right for her but may not be right for a 10-year-old girl that's watching the show and trying to figure out how to get her crush to notice her."
Fans of the show have come to expect dramatic, dejected shots of the woman that doesn't receive a rose, juxtaposed with shots of the bachelor and the other contestant riding off into the sunset. Nolan described what it was like to have to go through the process of filming her post-break-up scenes.
"It was a little uncomfortable. They leave, and then I'm surrounded by a bunch of crew members and producers. I got up from the table, and I was like 'Alright, what do we do now? Can I go?" They were kind of like 'Oh no, can you sit back down at the table for a few minutes? Just look down.'" Nolan said.
She described having been ready to leave but needing to do a final interview and a local voodoo cleansing ritual.
"I was so ready to get out of there," Nolan said. "The women though were so nice and so supportive throughout the whole day. The cleansing ritual was a really weird thing, but it was another new experience, and I was like 'Just be present. Be vulnerable. Go with it. It's really weird, but it's part of your experience.'"
Nolan herself didn't drink during filming but highlighted the role that readily available alcohol plays behind the scenes in the dynamics amongst the women in the house.
"I think an important piece for people watching the show to remember is that there's a lot of heavy drinking on the show," she said. "I don't drink alcohol. In the kitchen there's a bunch of liquor; There's a grocery list, so you can put on whatever you want."
While the way the season was edited may have highlighted the drama amongst the women in the house, Nolan said that a lot of them actually got along and formed really strong friendships over the course of the season.
"Frankly, it's really sad that the show doesn't showcase that at all, even on 'The Women Tell All.' I get that it looks like everyone apparently hated me for some reason, but that wasn't the case at all," Nolan said. "I would say there were probably three relationships where there was clear tension there between one or two girls where people just didn't click and didn't really like each other, including the one between Corinne and I."
"Other than that, there are some super strong relationships that are built from the show. On 'The Women Tell All,' there were a lot of really great logical, valid, reasonable points that women made in support of me and how I was in the house, and none of that got aired," she said.
Adjusting to life in the public eye after appearing as a contestant on The Bachelor has been challenging, but Nolan remains focused on the impact she can have within the field of mental health, especially given the new platform the show has given her.
"People don't really understand the emotional toll that the show takes on you. For me the experience was a lot. Not even just doing it, but then coming home and then waiting for it to air and then it airing and processing that. Now you're a public person. You're totally entering a different part of your life and almost accepting a new identity overnight, so it's a lot to process. I'm trying to reevaluate how I can use this new platform because it's a platform that not a lot of mental health counselors have to reach a larger audience. I just haven't reached that point yet of knowing exactly what that is."
Her positive attitude with regards to embracing the unpredictability of life and focusing on self-care is one that struck me as especially relevant to many students at Hopkins.
"You have to have faith in things and lean into the discomfort of not knowing what the future holds or what the next step holds. I think it's really important for people to have self-compassion on not knowing what you want to do and not putting that pressure on yourself," Nolan said.