COURTESY OF MINDY FARBER At first, male and female students didn't mingle, but that soon changed.
Finding a place at Hopkins in 1970
In 1969, the University began its transition from an all-male to a co-educational school. Women started attending Hopkins as undergraduates in 1970. That September, 90 female students enrolled, including 21 freshmen women who joined the Class of 1974.
Among this first group of women was freshman Mindy Farber, who later went on went on to become valedictorian of the Class of 1974 and earned a B.A. in History. After graduating, she became an employment and labor law attorney.
The founder of the University's first Women's Center, Farber pushed for developments such as establishing on-campus medical facilities for women, making the Rec Center more gender inclusive and trying to get more female professors and speakers on campus.
Farber explained why the University decided to enroll women.
"Other schools that Hopkins wanted to be competitive with were admitting women, and the thought was that women would be flocking into the social science and humanities majors, which would give Hopkins a more full encompassing reputation, not just a pre-med reputation," she said. "It didn't work out that way. Most women who were admitted went into the same majors as men did."
The facilities at Hopkins were not ready for female students at the time, and the dormitories for undergraduate women were still undergoing renovation.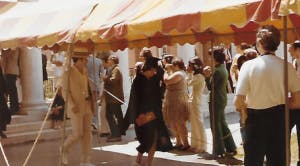 "The dorms still had urinals," she said. "The women obviously didn't know what to do with them. They decorated them. It was funny. The mirrors were so high that you had to be such a tall girl to look into them. If you were combing your hair, you had to jump a little bit to get your full face in the mirror."
No sororities or organized sports were available to women. The Rec Center also separated men and women.
"They had to set up certain times for women to go swimming, men to go swimming," she said. "It was a stuffy time period. The only athletics they had for women was cheerleading. In my sophomore year, a co-ed soccer team formed. That was really the first foray into athletics that the women had."
Farber recalled that in class, men and women avoided interacting with one another.
"When women went to class, it didn't matter whether you were quiet, outgoing, beautiful, not so beautiful," she said. "As soon as a woman sat down in class, it was some weird phenomenon. The men wouldn't sit next to the women. So the men would sit in the back of the class, and the women sat next to women. It wasn't hostile. It was weird. It was awkward and strange."
There was one exception in her sophomore year. When attending a social psychology class with her roommate, she was surprised to see two men come and sit down beside them.
"It was me and my roommate and this guy and this other guy. It was so unusual that the guy who sat down next to my [roommate] actually became her boyfriend and then her husband," Farber said. "She's been married to him all these years."
She also stated that the small number of women meant there was little sense of close-knit community among them, and the University fell short of fostering that positive environment for them. In 2012, when the alumnae of the Class of 1974 gathered for a reunion, every woman got up and introduced herself to the others.
"It was a very galvanizing moment, to have that reunion," Farber said. "And it was interesting to see how many people responded to it. Everyone had this need, in a way."
Nevertheless, Farber described the social life outside of class as 'incredible.'
"It was a big deal [for women] to be around campus," she said. "Even though men didn't sit next to you in class, socially everyone had about 85 boyfriends at the same time. It was very funny."
Gail Kelly, Class of 1974, now works in the United States Department of Health and Human Services. She was one of the first three African-American women to attend Hopkins as an undergraduate. Having gone to an all-girls school prior to Hopkins, she was excited to finally socialize with men who were not her brothers.
"Usually, in order for boys to mingle [with girls], they'd have to take the bus to Goucher," she said. "All of a sudden, you have women in class, women around. We were a novelty. I think the guys were most polite. Very courteous. I didn't feel intimidated."
Kelly felt that in class she experienced a smooth transition. However, she said that some of her female peers sometimes felt tension in these co-ed classrooms.
"Those classes where there was competition, maybe there were problems because we had some very dynamic women in our class who were incredibly accomplished," she said. "And it could be the competition that sometimes made them get into competitive situations, because of their talent. There's a little clash sometimes."
However, Senior Director of Alumni Benefits and Services Marguerite Jones, who transferred to Hopkins in 1972 and majored in the humanities, said that she heard from her peers that female students in the sciences were not recognized as equals by the men. She also said that the male-dominated staff and advisers were somewhat distant with female students.
"It was not a place where they would hold your hand," she said. "You were pretty much on your own to figure it all out. There was no coddling, whether you were male or female."
According to Kelly, however, the Hopkins staff was very supportive.
"The school had a commitment to you," Kelly said. "No matter what, if you were admitted, you will graduate. Whatever support you needed, it would be put in place. The school made a commitment, particularly to minority students. I did have a girlfriend who graduated a year later because she had a baby, but she was still part of the class, and she graduated. My scholarship was always maintained. I felt really comfortable."
Farber agreed that the majority of her professors, most of whom were male, were very understanding.
"There was one guy who made some really bad comments, and this other guy who'd say: 'Are you sure you want to take this class? It's very demanding,'" she said. "But most of the professors adjusted very quickly and were very fair about it."
However, Farber went on to reflect upon what she described as an undercurrent of sexual exploitation by the professors.
"It had no name then," she said. "But there was a tremendous amount of pressure by male professors on the women students to get [sexually] involved, if you know what I mean. There was a lot of that. It was a dark secret."
At the time, it was something that students did not fully grasp and therefore kept quiet about.
"Nobody thought of [sexual exploitation] as a concept then," Farber said. "Nobody thought of it as a legal issue. It wasn't. Nobody thought of it. It was like a way of life. I can't imagine that would be going on now, but it sure went on then. It was rampant."
Farber recalled a time when shortly before a meeting with a professor whom she wanted as her senior thesis adviser, other female students gave her advice on how to dress.
"[They said,] 'Really dress modestly with him, not provocatively,'" she said. "I had a tendency to run around all the time in those days wearing really tight cut-off shorts. 'Just dress very conservatively when you go to see him. You don't want him to notice you anyway.' This would go on, so I remember to this day what I was wearing. I remember wearing this cute dress, this white sweater. Very proper. I acted very professionally with him."
In her senior year, however, Farber found herself pressured by a male professor. She was not fully conscious of it at the time.
"There was a professor there who was illustrious, and he was there until he retired a few years ago. And I never said a word. When I look back, it was wrong, the things that he did," she said.
The professor, who was in his 30s then and taught what she described as a particularly challenging course in her junior year, did not try to get involved with her until her senior year.
"He waited until I was no longer in his class," she said. "It's interesting that there I was, a feminist. I'd organized the Women's Center and I was considered the 'feminist' on campus. I thought about it over the years. I could have ruined his career. But I never said a word."
She described how these encounters that female students had with male professors would come about.
"You'd run into [the professor]. He'd say: 'Oh, how was your summer?' 'Summer was fine.' 'Oh you look so nice. You want to have dinner? I want to catch up with you.' You're so flattered, you know," she said. "You'd have dinner, and then after, then it really started. It was a weird thing. Because it was like, 'What do I do?' It was so weird, it didn't even occur to you to say something."
Farber also refrained from telling her family because she was afraid it might have prevented her from continuing her education at Hopkins.
Despite this, Farber felt that Hopkins was a very valuable academic and social experience for her, and that many of her professors were both sympathetic and encouraging. She said that about 10 percent of her graduating class of women were in Phi Beta Kappa, a prestigious honors society.
Farber felt that the challenges the women at Hopkins had to overcome were what made them so successful.
"There were so many obstacles, and you really had to develop a thick skin in order to survive there," she said. "I think [the women] pushed themselves harder."
While sexual exploitation remained unaddressed, she and other female students were very vocal about other issues.
"At our graduation, there was a woman's speech, and somebody spoke about the war in Vietnam," she said. "The '70s, for Hopkins, was a very politically-charged era. There was always something going on."
In light of this political climate, she was at the forefront of trying to get Alger Hiss, an accused Soviet spy, on campus, as well as actress and anti-Vietnam War activist Jane Fonda, feministsGloria Steinem, Pulitzer Prize-winning poet Anne Sexton and writer Anaïs Nin. Steven Muller, who was president of the University at the time, gave his consent, and she invited the speakers.
The visits — particularly those of Hiss and Fonda — did not sit well with alumni, who sent Muller a torrent of letters. Muller, however, was pleased.
"I got really nervous and upset," Farber said. "I thought he was going to yell at me. And he said, 'This is what you call alumni engagement. And any alumni engagement is good. You women have managed to shake this campus up.' It was very touching. He said, 'We'll never forget this. You managed to take social issues and bring them into the classroom.' He was very gracious."
Looking back, Farber felt that she and her peers had accomplished so much in four short years.
"At the time it seemed slow," she said. "But when I look back now, we got an awful lot done."