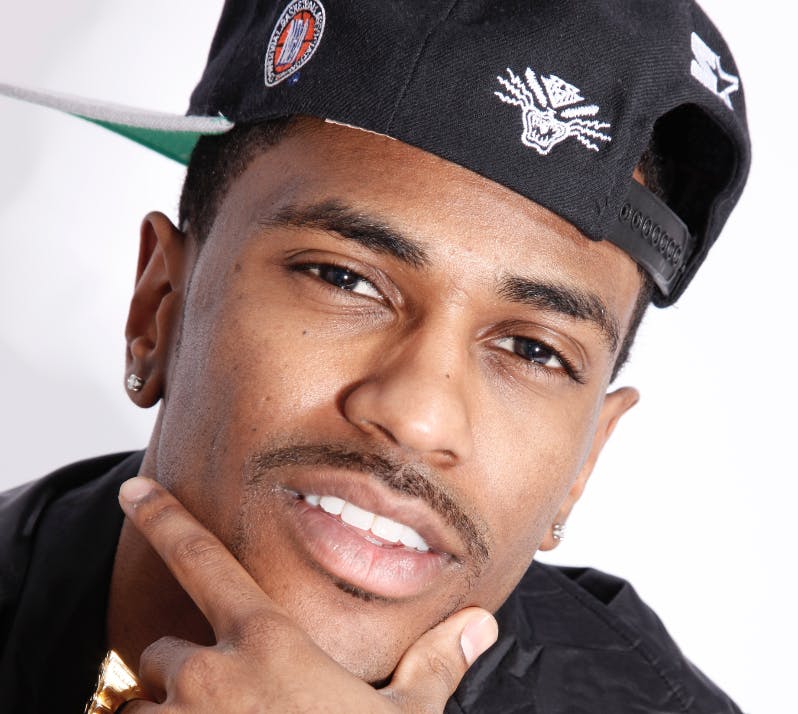 DANTE MARSHALL/CC-BY-2.0 Sultry rapper Big Sean returns with his newest album, I Decided, which was released last Friday worldwide.
I have never been a fan of Big Sean. While Lil Wayne would occasionally rap a couple lines or verses where the punchlines were corny or stale, those kinds of lines are a staple of Big Sean's rhyme book. He has stumbled with lines like "I make like the universe and plan it (planet) out," and "I'll be there for you, I'm all ears, in other words, I'm here (hear) for you." Whenever I see a Big Sean feature on a song, I expect an okay but forgettable verse.
Over time though, it seems that Big Sean has been growing and developing as an artist. Songs like "Control" and "For Free" both showcase some of Sean's ability to write phenomenal verses and catchy, fun flows. Big Sean has grown into his identity as a goofy and fun, but also introspective and thoughtful rapper.
Big Sean's upswing accelerated even further in the run up to this project. "Bounce Back," the first single from I Decided, has since become a worldwide hit, and with good reason. With a great hook, a phenomenal beat, and a couple of good verses, Big Sean crafted another one of his rare gems.
"Moves," the second single, is one of my favorite songs of the year. The lyrics are fun and flow well, the beat hits hard, and the bassline that has a heart of its own. The crazy video with Sean dancing on a white background is required viewing. It doubled my enjoyment of the song instantly.
While listening to those two songs on repeat for a couple of weeks, my excitement grew and grew. I'm happy to say that Big Sean crafted his best album. I Decided is a cohesive and pleasing project.
I think that Sean's greatest accomplishment on this album is the definition of a cohesive theme. From the choice of CMYK colors, which flood the cover, the music videos and all of his performances to the eerie, tinkling sound of all of his records, Sean seems to have meticulously crafted a vibe for this album.
Each song on I Decided flows logically from the last one without making the whole album sound like one long improvisational session (e.g the Travis Scott, Birds in the Trap effect)
The songs on this project are introspective contemplations of Big Sean's life. Is the lyricism great? No. But Sean manages to create lines that are at once clever, reflective and funny. Also, Sean seems to have pored through his songs to make sure that none of his trademark super-corny punchlines remain.
Even so, he still lets a few slip through the bristles of his fine toothed comb. "You bought the watch but can't afford the time," and "Big face like Zoron," are examples of such gems, but because there are so few of them, these lines come off endearing rather than annoying.
My favorite part on this album is a short, specific moment. It happens in-between "Voices in my Head/Stick to the Plan." As Sean's verse from "Voices in my Head" becomes a half-hearted mumble, the rattling beat slows. Sean murmurs along with the slowing beat, then goes silent. The beat falters, like a music box running out of energy, then resurges.
Metro Boomin drops his tag here — another great placement of "If Metro don't trust you" — and suddenly "Stick to the Plan" booms through the speakers. This is my favorite recent beat switch. Ever since the oversaturation of beat switches around the classic and influential "0 to 100" by Drake, including a beat switch is a risk. Sean succeeds on this project.
Along with the best part, I feel that I must mention the worst part of the album, which is undeniably Eminem's verse. Now, for complete authorial honesty, I feel obligated to say that I have never been a huge Eminem fan.
I understand his influence and his skill, but I never found his music pleasing to listen to. Nonetheless, I think that his verse on this project is more than just something I subjectively dislike: They are an objectively terrible piece of work. The lyrics are vile and disgusting for no purpose other than to shock.
They don't even flow together. Eminem seems to say things just because he knows that they will create assonance, even though the actual idea is meaningless. His fascination with rape and murder, something that shocked back in the 2000s, now feels forced and uncomfortable.
Even the very recording and mastering of his voice is bad. He sounds like he's rapping from behind the locked door of a freezer at Walmart into a bass boosted microphone. Overall, it seems like Sean plastered the verse onto "No Favors," just for the name value.
Besides that, I Decided runs fairly consistently. There are times when it is easy to tune out; Big Sean doesn't do much to alter his flow or his delivery, but he always brings the listener back with a truly clever punchline or an interesting thought.
I recommend that people check out the singles, and if they enjoy them, listen to the whole project straight through. It creates a very immersive atmosphere and is worth checking out.