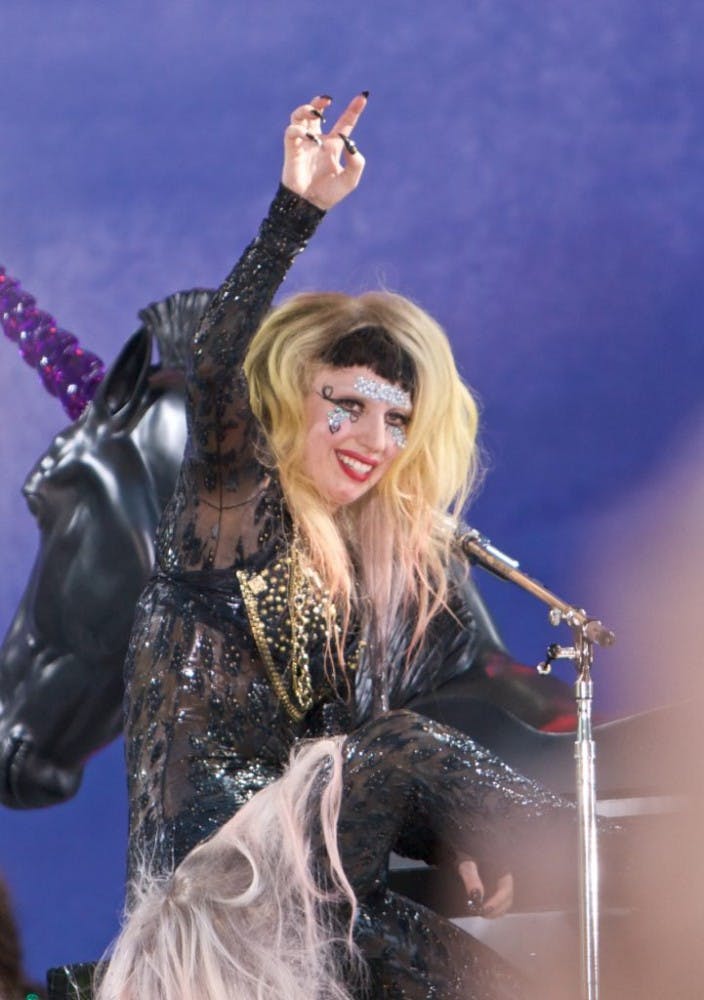 TJ SENGEL/CC-By-2.0 Lady Gaga's tour for Joanne will be kicking off in the latter half of 2017.
Recently, Lady Gaga earned acclaim for her performance at the Super Bowl LI halftime show. In the days following, she announced a global tour to promote her most recent album Joanne and unexpectedly dropped a music video for her latest single "John Wayne."
Throughout her career, Gaga has faced ups and downs. Her early albums were critically lauded while some of her later projects received mixed reactions. With her spectacular performance at the Super Bowl as well as the popular and critical success of Joanne, it's easy to see just how different the pop icon has become since her early years.
The Fame was Gaga's breakout album, with singles like "Just Dance" and "Poker Face" rocketing to the top of charts all around the world in 2008. It was comprised of the synth pop sound that became so strongly associated with Lady Gaga. 2009 saw The Fame Monster, a follow-up that was a distinctly more impactful project, moving away from bouncy pop hits to explore the darker side of fame.
Both albums were critically acclaimed, and The Fame Monster spawned her best lead single to date, "Bad Romance." This was the height of the Gaga craze, when the internet obsessed over her eccentric and outrageous outfits and her singles dominated mainstream radio. These years solidly tied Gaga to the synth pop genre that currently defines popular music.
And yet, the indications of her greater success as an artist rather than as a passing pop culture phenomenon were already starting to take root. The Fame and The Fame Monster earned her five Grammy awards as well as dozens of other awards and nominations, and she was highly ranked on Forbes' Celebrity 100 and World's Most Powerful Women lists.
Hot on the heels of her massively successful debut, Gaga's next album Born This Way built on the glamorous persona that she'd so firmly established. The project also propelled her to front of the LGBT+ rights movement. With lead single "Born This Way," Gaga embraced her bisexuality and became a gay icon in the likes of Freddie Mercury or Elton John.
Some criticized "Born This Way" as pandering to the gay community, but Gaga has consistently been an activist for LGBT+ rights, from her action against the Don't Ask, Don't Tell policy in the early stages of her career to her more recent responses to the Orlando Pulse shooting in 2016. After Born This Way, she launched the Born This Way Foundation to promote anti-bullying and empowerment for struggling adolescents.
Despite the global impact of Born This Way, Lady Gaga began to move out of the mainstream with Artpop. Her next project was more experimental, and many critics considered it a flop despite its reasonable commercial success.
Artpop saw a distinct break away from Gaga's cultivated style, but its inability to fully shed this stylistic influence undercuts the album's confidence. The project didn't quite find its footing and was without a doubt Gaga's weakest to date.
However, the album reflected the beginning of the singer's maturation as an artist, from the eclectic opener "Aura" to the reductive ballad "Dope," some of her all-time greatest tracks. With "Dope," Gaga began to realize the full impact of her vocal power when paired with just a piano, which was hinted at earlier in her career with tracks like "Speechless" and "Brown Eyes."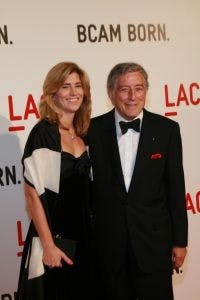 Exploring her newly recognized vocal prowess, she released the Grammy award-winning Cheek to Cheek, a collaboration with jazz legend Tony Bennett (who himself was known for his hits in the '50s-like "Rags To Riches"). The project marked the most dramatic shift in Gaga's career, which some critics considered an attempt to distance herself from Artpop.
Cheek to Cheek accomplished what Artpop strived for but ultimately fell short of. It takes a decisive step away from Gaga's eccentric legacy as the queen of synth pop. Fans embraced the new direction because they recognized that it was true to the artist they loved, just in a new, more mature form. Anyone who doesn't consider Cheek to Cheek to be a "real" Gaga album either didn't listen to it seriously or never listened to her previous projects closely enough.
Gaga returned to music in full force last year with Joanne. Despite its undeniable influence from country and rock genres, the album still hints at the synth pop that rocketed her to success. Elements from her previous work can be identified throughout Joanne. Tracks like "Million Reasons" follow the reductive style of "Dope," while "Just Another Day" draws from Cheek to Cheek's jazz sound. "Dancin' In Circles" is reminiscent of The Fame era, while "Sinner's Prayer" would easily fit on the track list of Born This Way.
The culmination of Joanne, and indeed of Gaga's musical career to this point, is "John Wayne," which is easily her most visually powerful music video. Fans who watch closely can't help but notice Gaga's previous stylistic personas represented in the video. As it progresses, the Gaga of the Joanne era kills her personas from Artpop, Born This Way and The Fame.
With "John Wayne," Gaga demonstrates that she is consciously moving away from her legacy to a new place in music, something she's been trying to do since Artpop. The artist shows that she is in full control of her musical evolution, that she is now distinctly separate from her early years and, most importantly, that she is confident in her new direction.
In many ways, Joanne feels like Gaga's swan song, but I don't think she'll be done with music anytime soon. With her ever-changing style, it is impossible to say what her next album will be, but after the mature precision of Joanne, it's certain to be equally, if not more, successful. In the meantime, her Joanne world tour will visit the Verizon Center in Washington, D.C. this November.
Lady Gaga's world tour will also hit a number of other venues and locations in the latter half of 2017, including Vancouver and Philly.