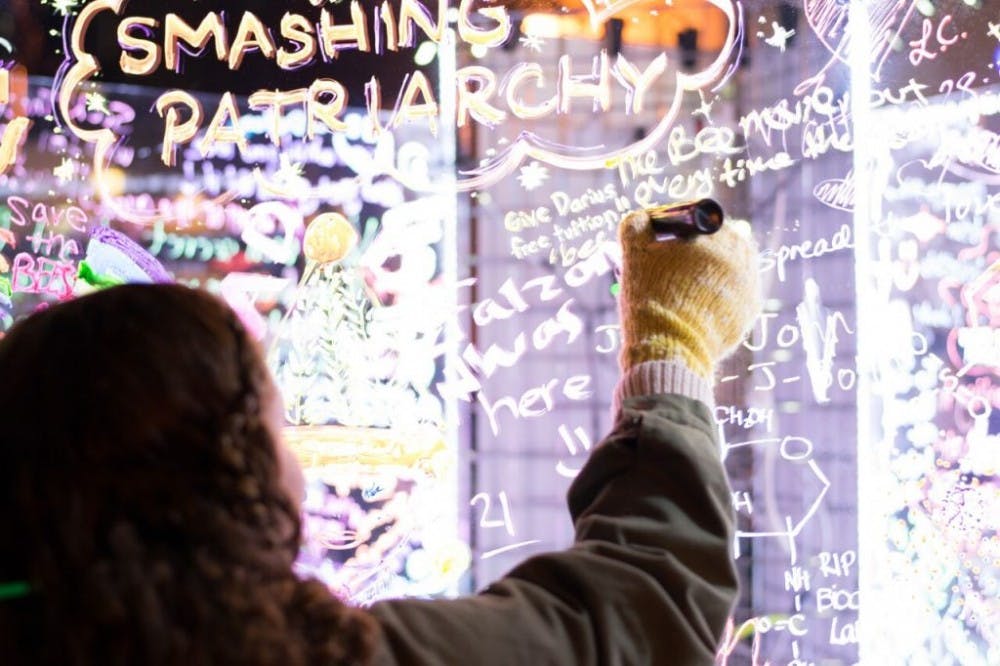 KAREEM OSMAN/PHOTOGRAPHY EDITOR Students were disappointed that this year's lighting did not take place on Keyser Quad.
Check out more photos from Lighting of the Quads in this week's photo essay.
The annual Lighting of the Quads took place in front of Shriver Hall on Wednesday, Dec. 7. The event was moved to Wyman Quad because of the construction taking place on Keyser Quad.
This year's event featured a roller skating rink, created by reflecting light off of an assemblage of plastic squares on Levering Courtyard, and the traditional lighting ceremony. There was a Prize Wheel hosted by Student Financial Services, a fire spinning performance hosted by the Entertainer's Club, a penguin ice sculpture and two art installations. The 2017 Spring Fair theme, "Funkytown" was also revealed.
The ceremony began with an introduction by Student Government Association (SGA) Executive Vice President junior Anna Du, and featured performances by the Hopkins pep band and acapella groups the Sirens, Ketzev, and the AllNighters. Du then welcomed Provost Sunil Kumar, who spoke on behalf of University President Ronald J. Daniels. Daniels was unable to attend the celebration.
Kumar focused his speech around a 2,700 years-old Hindu document included in the ancient sanskrit traditions. Kumar quoted three lines from the document, which read "Lead me from untruth to truth / Lead me from darkness to light / Lead me from mortality to immortality."
"Part of this lighting is more than just turning on a fake switch, maybe this is a symbol of all of us trying to go from less truthiness to more truthiness," Kumar said. "Aren't those what traditions are all about? Isn't that what community is all about? Even when we are gone, we will have a mascot, we will have acapella groups and we will have the Lighting of the Quads."
The celebration also featured refreshments like donuts, kettle corn, hot chocolate and decorate-your-own gingerbread cookies. The Office of Multicultural affairs provided students with miniature bamboo plants, the Office of International Services gave Chinese lanterns as gifts for answering a Jeopardy question, and the Faculty-Student Interaction program rewarded students with chocolate and Silly Putty for writing down faculty members whom they believed made a difference.
Many students were disappointed, however, with this year's Lighting of the Quads. Students cited the lack of fireworks, the lack of SGA class gifts and the location change from the Keyser Quad to the Wyman Quad as key differences from previous years. Junior Rachel Krieger expressed dissatisfaction with the change in scenery.
"It's less iconic. I feel like the view of Gilman is very quintessential Hopkins," Krieger said. "That's the background of so many profile pictures, [and] they don't have the class gifts, which is kind of sad."
Freshmen experiencing Lighting of the Quads for the first time were also dissatisfied by this year's celebration. Many thought that since the event took place at a different location, it would not live up to the expectations of prior years. Freshman Jeffrey Wang echoed Krieger's sentiment about the event not taking place in front of Gilman Hall.
"I'm pretty disappointed that [SGA] is not giving out any [class gifts] this year, but moreover I'm more disappointed in the fact that we're having Lighting of the Quads in front of Shriver instead of Gilman because it's under construction," Wang said. "Hopkins is traditionally known for the Gilman building. It's the trademark of all the Snapchat filters and all the popular tours. Shriver is just kind of another building; It's not really anything special. But at the same time it's not too bad because I'll have a greater appreciation for [the event] next year."
Freshman Francesca Kroll would have preferred if this year's celebration had followed tradition.
"It would have felt like it was more connected to everyone else and to tradition and what people were used to," Kroll said. "Gilman is what this school is known for on our campus, and that's the main hub usually."
The absence of SGA class gifts contributed to a general feeling of disappointment with the event. Sophomore Emma Lee felt that critical parts of the event were omitted.
"I think it was to the detriment of the whole event that it didn't really follow what has traditionally happened, like the class gift and the fireworks. Hopkins students have come to expect a show to be put on. That was unfortunate, and I was disappointed," Lee said. "A lot of people, especially sophomores through seniors, were expecting an upgrade from the gift they got last year because they've moved up a year in seniority and then [SGA] just didn't give any out."
Responding to this disappointment, SGA Sophomore Senator AJ Tsang attributed the change to the smaller size of Wyman Quad.
"Class councils were told they couldn't provide physical gifts this year because the school was concerned about safety on the smaller Wyman Quad," Tsang wrote in an email to The News-Letter. "In previous years, the beginning of gift distribution has led to some swarming and physical harm to the students giving out gifts, as well as [to] the students [who] receive gifts first. Oftentimes, these two groups of students are compressed by the crowd's forward momentum. With the Keyser (Gilman) quad, this was a less of a concern because there's more space to let people fan out."