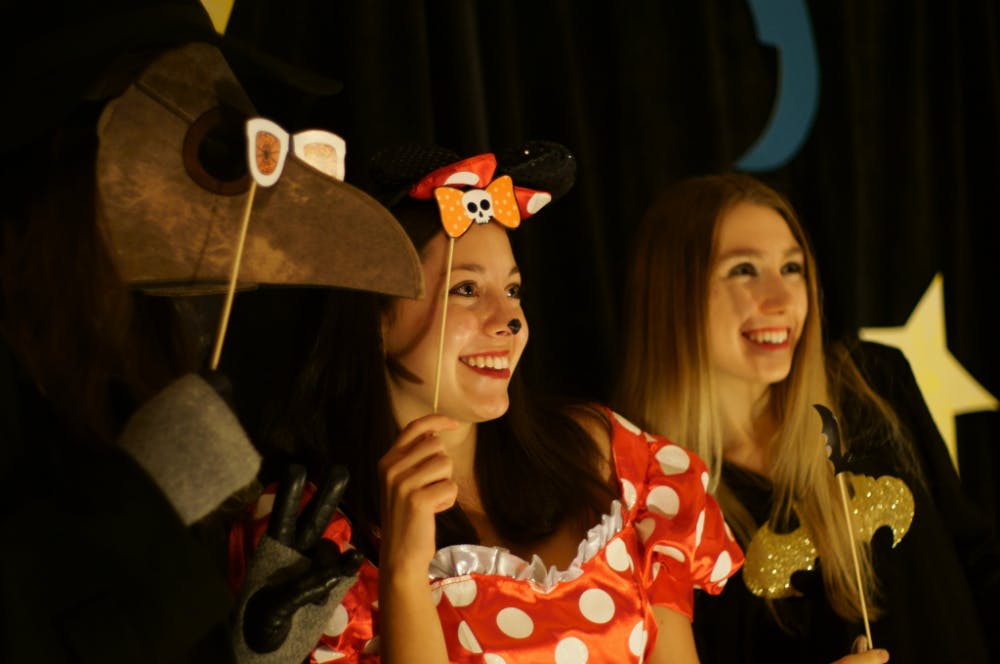 COURTESY OF KUNAL MAITI Students dressed up in Halloween costumes on Monday night.
Special Collections hosted its third annual Undergraduate Halloween Bash at the George Peabody Library in Mt. Vernon on Halloween night.
Students came dressed as their favorite literary characters and authors, and participated in Halloween activities at the library. Partygoers could enter a costume contest, decorate marshmallows, color monsters and carve pumpkins. Students could also take photos at the selfie booth, play with a Ouija board and enjoy a silent movie.
Event coordinator Heidi Herr enjoyed seeing groups of students representing their favorite Harry Potter and comic book characters. Herr gave tours of the library's third floor to attendees.
"Paul Espinosa, the curator of the Peabody Library, and I thought that hosting a Halloween party would create a new tradition at Hopkins and give attendees a unique opportunity to explore one of the most beautiful interiors in Maryland, participate in throwback activities like marshmallow decorating and see performances by local artists," Herr wrote in an email to The News-Letter.
She believes that it is important for Special Collections and the Peabody Library to use events like the Halloween party to showcase local artists and student talent.
"Hosting a Halloween party at the historic Peabody Library is part of a broader undergraduate outreach program we have in Special Collections, which includes fun and whimsical events like the Edible Book Festival and academic opportunities like Freshman Fellows," Herr wrote.
Herr mentioned that the Neo-Gothic Peabody Library, with its tall ceilings and countless books, attracts many students on Halloween.
"We know that lots of undergraduates want to visit the Peabody Library, but given their course schedules, they simply do not have the time. Plus, the library looks rather creepy late at night in all its Victorian splendor, so it is the perfect backdrop for a memorable visit," Herr wrote. "I love it when students who have only ever seen the Peabody Library via Instagram finally cross the threshold, gasp, and then immediately take tons of selfies to commemorate the occasion."
Freshman Cecilia Vorfeld enjoyed her first visit to the Peabody Library, and spoke about how she found out about the Halloween Bash.
"I heard about the event over Facebook and through friends. I had never seen the library before, I wanted to do something for Halloween, and I heard from a junior that it was actually really worth it and good fun," Vorfeld said.
Sophomore Raven Wright mentioned that the Peabody Halloween Bash was a good alternative for students who didn't want to go out and party on a Monday night.
"It's really fun, it gets us out of our dorm rooms and it's something to do on Halloween. It's a very good alternative for Halloween, if you don't want to go down to Fell's Point, especially considering today's a Monday," Wright said. "That's really far to go on a weeknight, so coming to Peabody is a really good thing to do to still celebrate the Halloween spirit without having to go really far out."
Herr thinks that the Halloween Bash is important because it helps students get in touch with a historical building they normally would not visit.
"Overall, I suppose the best thing about the party is seeing how students connect with a 19th century building and its collections. It is an absolute joy to see a historic space come to life," Herr wrote. "I am sure that even the esteemed George Peabody, if he were alive today, would approve of our Halloween extravaganza. He is totally not rolling in his grave over our hijinks."