COURTESY OF KUNAL MAITI The University held an open forum to evaluate the Vision 2020 Report.
The Krieger School of Arts and Sciences (KSAS) Committee on the Status of Women hosted "Where We Stand: Women at Hopkins," an open forum where participants reflected on the 10-year anniversary of the Vision 2020 Report.
Published in 2006, the report highlighted why the University's policies and culture must change in order to create an environment where women feel just as valued and visible as men.
Students evaluated the University's commitment to empowering women, relating it to their own experiences at Hopkins.
Wendland opened the forum by expressing her excitement for the committee's accomplishments thus far. She highlighted the Women of Hopkins exhibit on display outside of the Mattin Center, which showcases 23 of the University's most accomplished women, as a strong indicator of the school's commitment.
Wendland referenced a talk by Jo Handelsman, associate director for science at the White House Office of Science and Technology Policy, who spoke at Hopkins in March. She elaborated on the ways that universities can overcome gender and race inequalities, as well as individual biases.
"By continuously showcasing images of high-achieving people from groups like women and underrepresented minorities, these frequent and highly visible showcases can actually help put the brakes on unconscious bias," Wendland said.
Junior Linda Horn, who is co-president of Hopkins Feminists, responded to Wendland's remarks by agreeing that the opening of the Women of Hopkins exhibit was a powerful symbol of the University's desire to increase female visibility but that the administration could be doing more to support women.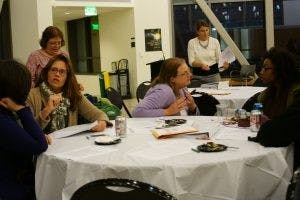 "When you walk around campus, you see mostly portraits of men being honored, and so it's great to see the University taking steps towards more representation of successful women around campus. That being said, I think therecould be more overall representation for non-male and non-white people," Horn wrote in an email to The News-Letter. "Representation needs to go further than art, eventually. I don't know if you've seen the reports, but Hopkins has 1044 full professors, and only around 250 are women."
The Committee on the Status of Women was founded in 2002 to write the Vision 2020 Report. Dean of KSAS Beverly Wendland oversees the committee with co-chairs Karen Fleming, a professor of biophysics and Anne-Elizabeth Brodsky, a senior lecturer in expository writing.
Brodsky explained that the committee's overarching goal is to have a campus presence that is committed towards empowering women. The specific task that the committee has been charged with is the evaluation of the Vision 2020 Report.
"The report was written in 2006. It's 10 years later. The deadline is coming, and Dean Wendland wants us, as a larger Hopkins community, to start paying attention to what we need to be working on in the report because it gives a concrete thing for people to look at and point and think about," Brodsky said.
At the forum, attendees sat at tables that discussed different themes and topics. A facilitator took notes on the shared experiences, suggestions and questions raised by participants. Each group member was also asked to grade how the University is doing in terms of achieving the goals set forth in the Vision 2020 Report.
Carolyn Norris, senior lecturer in the department of biology, said one of the suggestions her group had was to alter the University's institutional culture by highlighting the role that men can also play in empowering women.
"One effective way to change culture is to get peers on board because people listen to peers. That's at all levels — undergraduates on up," Norris said. "Also, to have men involved in the cultural change, because if they aren't, then it's just women pushing. Men making choices that support the institutional culture we want to achieve is one way to achieve this change."
Freshman Class President Anthony Boutros believes that while men can play a role in the change that needs to occur, women sharing their experiences can be more powerful than men speaking on the matter.
"I don't know if I am qualified to describe another's sense of belonging on campus," he wrote in an email to The News-Letter. "I think that asking women of multiple races, backgrounds, religions, etc. is more conducive."
Sophomore Ben Huang, on the other hand, felt that women at Hopkins were being treated fairly for the most part.
"Other than the occasional complaint of some annoyingly sexist instance, I haven't heard of any significant discriminatory cases," Huang wrote in an email to The News-Letter. "I don't know where the statistics lie, but I'm sure there are fewer women in engineering majors.
Huang emphasized that this disparity between men and women in STEM fields is not necessarily the University's fault.
"However, this difference is the result of many different factors and Hopkins isn't really responsible for this," Huang wrote. "I guess overall, I'd say that the status of women is sufficient; I'm assuming that nearly all of the opportunities afforded by Hopkins are reasonably open to every student."
Sophomore Stephanie Carr also felt that Hopkins had done well in terms of improving the quality of life for women on campus.
"I think Hopkins is a great place for women to be, we have several female faculty members who are passionate about the subjects they teach, and students and faculty alike are sensitive to issues women face in today's society," Carr wrote in an email to The News-Letter.
The disparity between the number of female professors and students in science, technology, engineering and math (STEM) fields versus the humanities was a recurring topic that arose at the forum.
Senior Sara Jordan Chadwick discussed her desire to see more female role models in the sciences at Hopkins, drawing on her own undergraduate experience in the STEM field.
"I think the representation of women at Hopkins and in higher education is much better in the humanities than in the sciences," Chadwick said. "The fact that I haven't had a real woman mentor in the sciences by my senior year speaks a lot to the lack of representation of women in the sciences. I know that it's a harder field to be able to integrate into, but I would like to see more women in the field."
Junior Christopher Cardoz shared his experiences related to gender discrepancy within the computer science major, offering his opinion on ways to improve this discrepancy.
"There are significantly less female computer science majors than there are male [computer science] majors at Hopkins. To my knowledge, this is a national trend, rather than something just at our school," Cardoz wrote in an email to The News-Letter.
Cardoz has noticed that there is a lack of female representation in the computer science department at Hopkins.
"However, I also noticed that the majority of the CS professors are also men," he wrote. "I think if students were exposed to computer science earlier in their education, then more female students would pursue CS in college. In 2016, you can be a CS major without being the typical male tech nerd."
Junior Paul Watson added that he finds the attitudes of some of his peers in the computer science program surprising, given that it is known as one of the best in terms of gender representation compared to other universities.
"Apparently JHU computer science has a better ratio of sexes than most programs, but I certainly know sexist people in the program," Watson wrote in an email to The News-Letter.
Sophomore Student Government Association (SGA) Senator AJ Tsang emphasized the role that students must play in advancing the status of women at the University.
"Coupled with last semester's opening of the Office of Gender Equity, I think this forum is part of a crucial journey for our University," Tsang said. "There's still a lot of progress to be made, and it will take years, but we're moving in the right direction by having dialogue like this. What could catalyze this process is if we have more opportunities for students to get involved. We saw a lot of faculty at last night's forum, but not too many undergrads or even grad students. Once we loop in more student voices, I think that we can really make progress."
For those that are interested in getting involved in this process, Professor Brodsky highlighted two potential ways for them to participate.
"One way [to get involved] is through Jeannine Heynes' Office [of Gender Equity]. She's sort of the hub on women's issues for undergrads right now; That's her top focus," Brodsky said. "The other is, if people would like to email myself or Karen, we would love to be working with undergraduates on these issues, recognizing your time constraints. I think it enriches everyone to think about it from different directions."