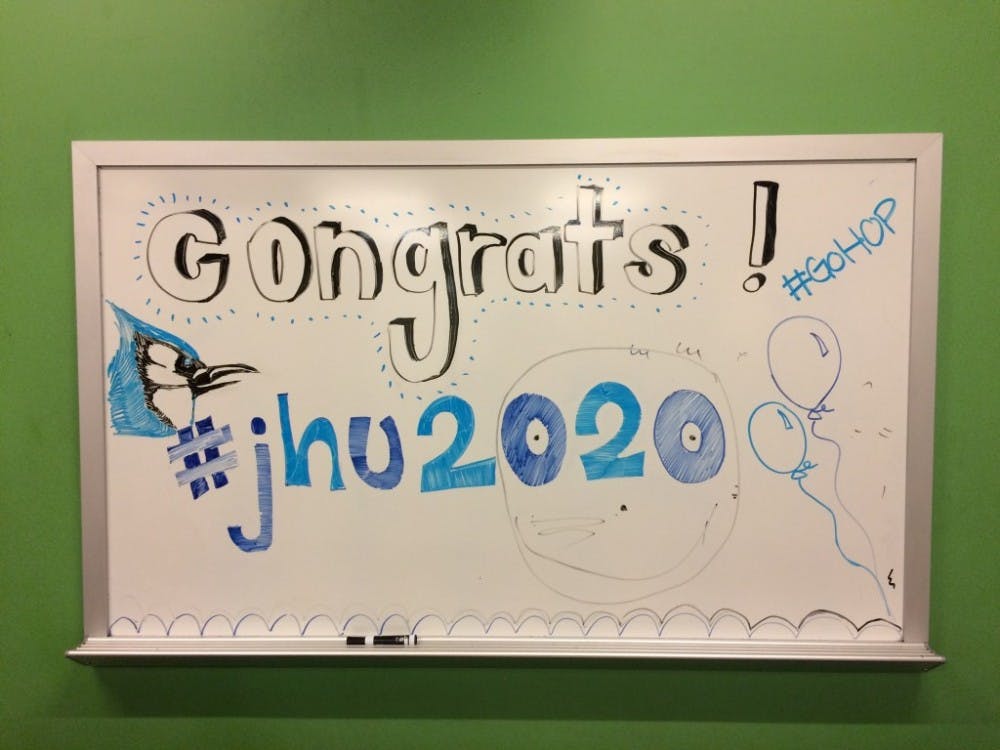 COURTESY OF ABBY BIESMAN Hopkins welcomed potential members of the new class on Friday.
On Friday, 2,539 out of 25,188 applicants were admitted to the Hopkins Class of 2020.
Joining the 559 admitted in December, the prospective students who received an online acceptance letter last week make up a record applicant pool totaling 27,095 — a 9.6 percent increase from last year. The acceptance rate for the combined early decision and regular decision applicants is 11.4 percent.
"It's not surprising to me at all that the rates of applicants have increased," sophomore Anna Garcia said. "Students want to come to Hopkins, now more than ever, because there are boundless opportunities here. And I definitely think that [the Office of Undergraduate Admissions] does not admit students that aren't capable of handling all of the stress of this school."
Not only does this admitted class beat other years academically, with 95 percent of students in the top 10 percent of their high school class and an average GPA of 3.93, it also breaks University records in terms of diversity: 37 percent of accepted students identify as underrepresented minority members and 52 percent are female.
The admitted class hails from 49 states and 57 countries. The most represented states are California, Maryland, New York, New Jersey, Florida and Texas. The most represented countries are Canada, South Korea, China, India and the United Kingdom.
Sophomore Will Whalenbridge commented on how impressive this year's accepted students are.
"I read that people in this class have created patented inventions and someone won a film award, which is crazy," he said. "But even though it's crazy, it's not super surprising because this is Hopkins and smart people want to go here."
This year's admissions additionally recognized 33 students as Clark Scholars, a newly implemented scholarship platform created in a conjunction between the Clark Charitable Foundation and the Whiting School of Engineering. The Clark Scholars Program distinguishes talented engineering students and presents them with enriched academic programs and service opportunities, including faculty mentors, leadership seminars and chances to network with professional engineers. If these students qualified for financial aid, the scholarship provides a generous grant to those in need.
Sophomore Ariana Sherman, a Chemical and Biomolecular Engineering major, thought that the new scholarship provides these students with an unparalleled opportunity.
"It's great to hear that talented engineers are being recognized for their efforts," she said. "The one-on-one opportunity is great, because there is nothing like having a mentor with tons of experience help you out. I'm jealous that the Class of 2020 as this available to some of them."
Admitted students have until May 2 to secure a spot in the official Class of 2020 and in the meantime can visit the University in tours reserved for only admitted students, along with the Spring Open House and Overnight Program (SOHOP), which will take place this year on April 6-7 and April 13-14.