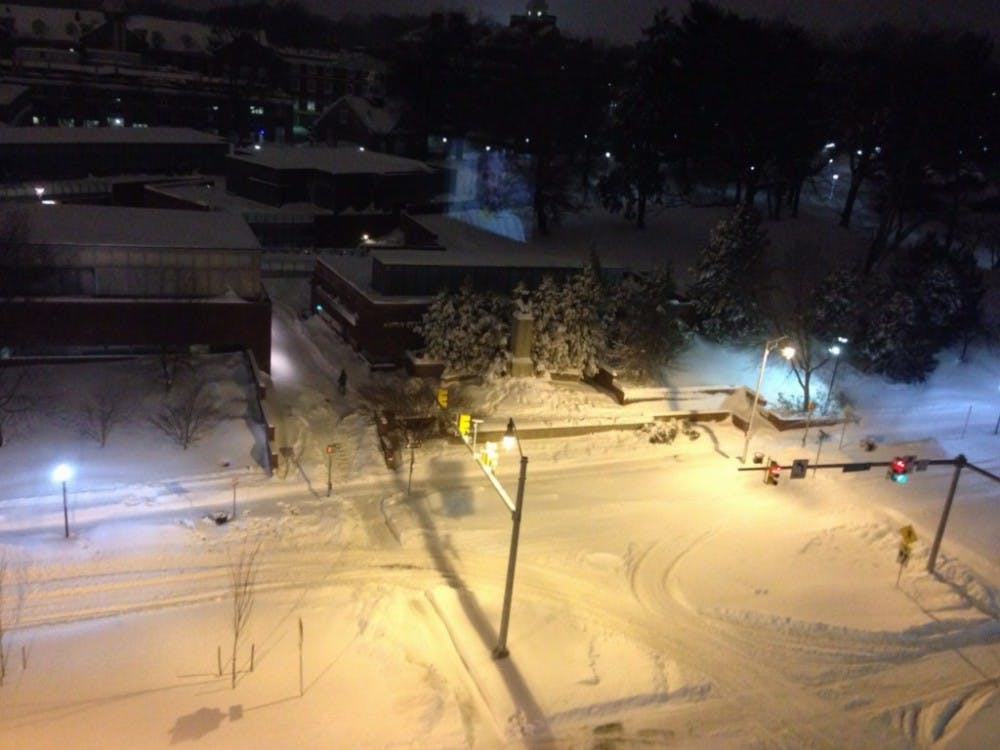 COURTESY OF SARI AMIEL
Do you remember when the ground was covered in a fluffy blanket of snow? The time when all you could see was white while the sounds of giggles and laughter rang throughout our campus? Over the weekend, Hopkins students braved the cold and made (or at least attempted to make) snowmen; Students spent hours sliding down the Beach and making fun of that random kid who was still wearing cargo shorts. Those of us who were less courageous chose to curl up on the couch with a delightful cup of hot chocolate. Four days later, things were back to normal and students are once again heading to class at 9 a.m. with cups of coffee in hand. The snow was but a fond memory of laziness.
I was walking through Hampden this Saturday, and I was astonished by the fact that the avenue was just getting cleared out. Cars were still snowed in and some stores barely had a walkable path. To be honest, Hopkins had spoiled me. I went out for a snow fight, went back in when I got tired, went to bed and when I was awake the roads were cleared and breakfast was waiting. Almost as if it was magic. When you do not need to do something, it is too easy to forget what goes behind it.
The SGA organized Thirty Minutes of Thanks to remind us of the labor taken on our behalf. We see security guards developing eye bags, cafeteria workers running ragged and Plant Operations workers working around the clock to ensure that we had a safe campus. Many of us who live in the dorms stayed in the entire time and even though we witnessed the labor of the dorm workers, our vision is sometimes too narrow and cannot see through things beyond our immediate surroundings. We know intellectually that we should appreciate everyone who made the campus safe, but we appear to have a problem grasping the scale.
Knowing and seeing is very different.
We complain about having to walk across campus to Bloomberg in the snow; We complain about the small patch of ice in front of the FFC; We complain about a miserable selection of food in the cafeteria because of the snow. We complain about the smallest things, but have we actually slowed down to reflect how blessed we are? It took me a long walk to understand how long it must have taken to clear off all the paths. It took me a lunch to realize what it means for 40 people to do the job of 200 in feeding the student population.
I am sitting in the Computer Science Undergraduate Lab as I write this. I look around me and all I can see are happy students enjoying our lives, heads buried in work, completely oblivious to what is going on outside how secured little bubble. I am guilty of this as well. When work piles up, it just seems so easy to wallow in a hefty dose of self-pity. Perhaps we should pause for a moment and reflect on the world, to truly show gratitude to those around us. May this new semester be one full of love and gratitude.
Christy Lee is a sophomore computer science major from Hong Kong.