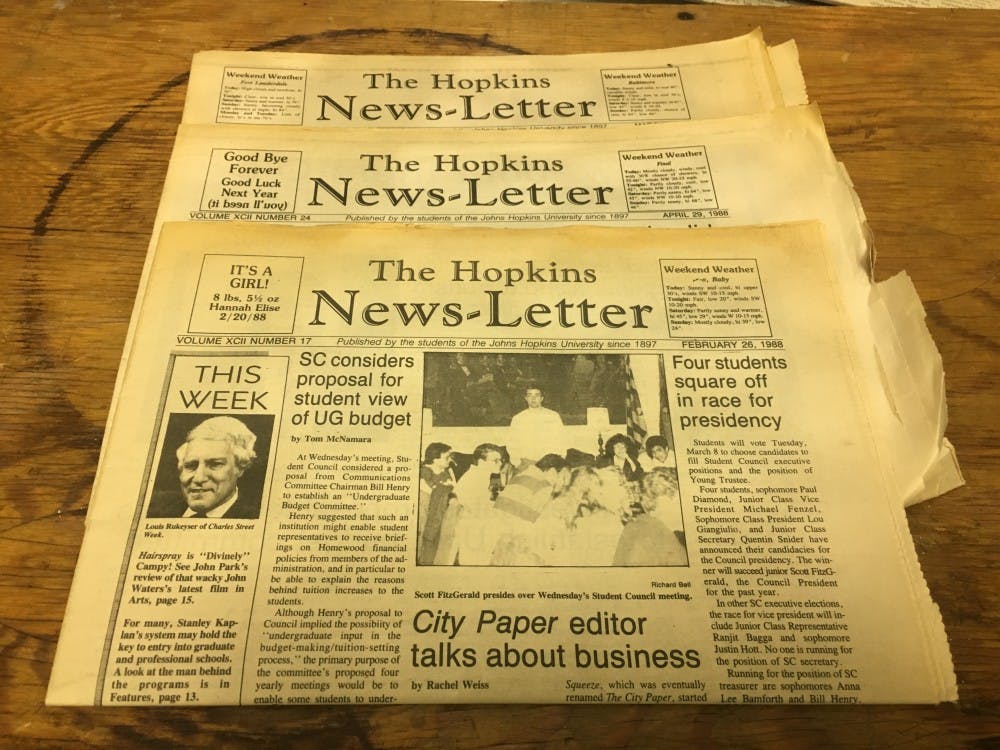 Just 30 years ago, News-Letter editors produced a paper every week without templates, computers or even the internet. Production was a physical process, according to former Editor-in-Chief Brad Handler, who graduated in 1988.
"You literally were cutting and pasting," he said. "We would sit there and take an exacto plate and cut and lay it in. Sometimes it didn't work so you would have to go print it again. It was clearly not as efficient and neat looking as what you do now."
On the main floor of the office, the editors would use a typesetting machine to print out the text. They would either compose articles directly at the machine or transfer files from floppy disks, a type of disk storage. The machine would print out long strips of text, which were then cut up and brought to the basement.
Editors would spread large, newspaper-sized white sheets of paper over the illuminated, glass top of a light table, and they would arrange articles, headlines and photos. Once all the components were precisely aligned, each piece had to be glued down.
The physical laying out of pages could take hours, and if the pieces did not fit together, they would have to print, cut and arrange the text from scratch.
Vandana Kumra, class of 1988, edited the Books section for the paper. After publishers sent in new releases for The News-Letter, Kumra would assign writers to review the books, then edit the articles and lay the text out.
"Sometimes, we'd have to change the size of the columns and we had to work with each other to figure out what would go on the first page," she said. "A lot of it was just trying to figure out how to make things fit."
Since laying out each page of the newspaper was a time-intensive task, production was stretched over Wednesday and Thursday nights in time for print on Friday mornings. In the wee hours of Friday morning, Handler and his co-Editor-in-Chief would place the pages into a large envelope, and a student employee would drive the newspaper out to a printer near Towson.
"As long as we were done by two in the morning, then we would have it back by 7 or 8 a.m.," Handler said.
Frank Wu, class of 1988, wrote a column for The News-Letter during his senior year. At the time, most Hopkins students used electric typewriters or notebooks while attending school, and very few had their own personal computers. Wu bought his first computer in the fall of 1987 with money he had saved from working at the Detroit Free Press during the summer.
"For The News-Letter, I wrote on an Apple Macintosh, using the built-in word processing program," he said. "It hardly had any memory. My iPhone now has 10 times more memory than that first Mac."
At the time, Wu also worked as an editorial assistant at the Baltimore Sun where he wrote obituaries and laid out the Sunday weather map. After cutting out the symbols of suns and clouds, he would use paste to glue them onto a map of the entire country.
Newspapers were often people's fundamental source of information, Wu said, whether they were looking for a weather forecast or just staying up to date on current happenings.
"Everyone read The News-Letter," he said. "Every educated person back then read a newspaper."
The future of print journalism is uncertain, with many publications slashing circulation and opting to adopt digital platforms. On Nov. 1 the City Paper, an alt-weekly newspaper in Baltimore, printed its last issue after running for 40 years.
Craig Hankin, class of 1976, co-founded the City Paper with other News-Letter editors. They produced their first issues of the City Paper in the Gatehouse.
As an undergraduate, Hankin wrote for the Arts section of The News-Letter and was a member of the production crew. For Hankin, being a part of the News-Letter community helped him find a community of lifelong friends; he even met his wife at the paper.
Since The News-Letter was published twice a week when Hankin was a student, he would stay up late at night to lay out the paper. He enjoyed the process
"It was very tactile; that's what I liked about it," he said. "You got to stay up all night playing with rubber cement and razor blades — what could be better?"