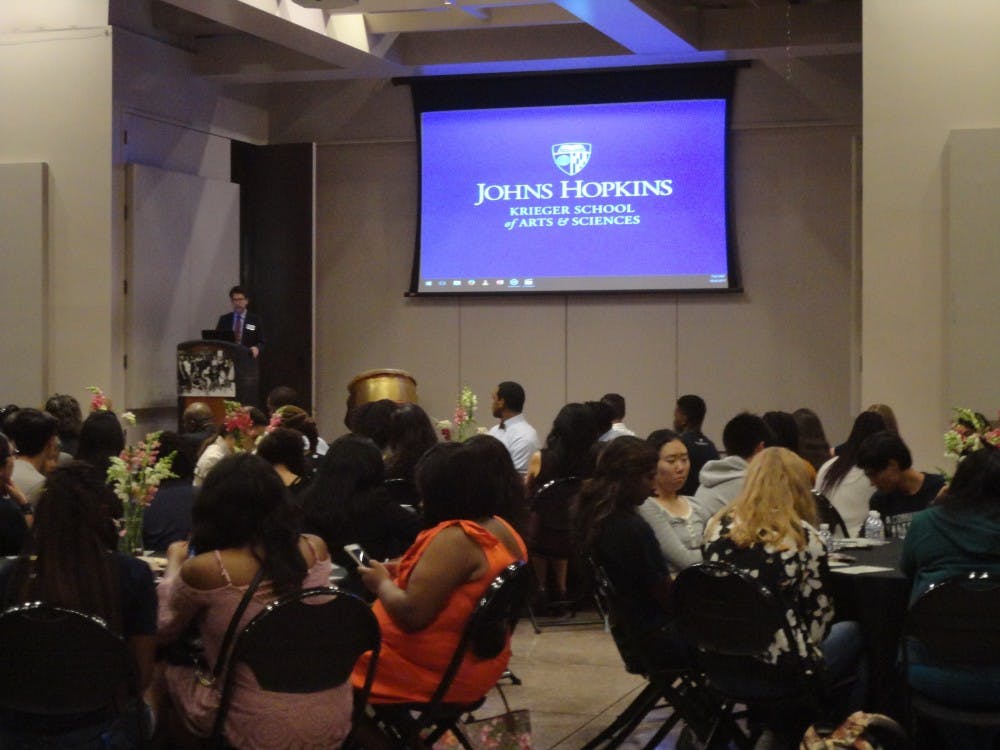 SAMANTHA SETO/Photography Staff OMA's 25th year celebration took place in the Glass Pavilion last Friday.
This year marks the 25th anniversary of the Office of Multicultural Affairs (OMA), which provides resources and support for underrepresented communities at Hopkins. It oversees a number of programs that aim to connect students with one another and help them navigate college life.
To commemorate its anniversary, OMA hosted a celebration in the Glass Pavilion last Friday.
According to OMA Director Joseph Colón, OMA formed in 1992 after the Black Student Union (BSU) demanded a space where underrepresented students could feel supported.
Since then, OMA has added programs like the Mentoring Assistance Peer Program (MAPP) in 1994, which helps first-year students in their transition to Hopkins. MAPP has expanded from its founding group of 15 student mentors to over 40 mentors today, along with 123 freshmen mentees. More recently, OMA created Students Educating and Empowering for Diversity (SEED), which seeks to make the campus community more inclusive and engaged in conversations about diversity.
Though OMA primarily provides resources and programs for underrepresented students, Colón said that OMA has grown over the years to better serve the entire Hopkins community.
Many students describe OMA as their second home. They say that it provides support and resources where other University services are lacking. Class of 2017 graduate Erica Lee described why she joined OMA.
"I got involved with OMA because as a multiracial first-generation student, I went through my entire freshman year kind of lacking a community," Lee said.
Lee later took on leadership roles in OMA.
"I saw that there was a really big benefit in giving underrepresented students a helping hand in figuring out their pre-med lives and transitioning to Hopkins, because I myself didn't have that," she said.
Colón and Associate Dean for Student Success and Former OMA Director Irene Ferguson addressed some of OMA's other goals for the next few years, which include fostering more dialogue around contentious subjects and encouraging students to develop more confidence in their identities. OMA also hopes to further expand its outreach.
At the anniversary celebration, Vice Provost for Student Affairs Kevin Shollenberger addressed the parallels between the political climate today and that of 1992, OMA's founding year.
According to Shollenberger, from the end of 1991 to 1992 onwards, national foundations responded to widespread protests and demonstrations by helping fund diversity initiatives at various colleges and universities all over the U.S.
"Johns Hopkins followed suit, putting institutional resources and funding to support the voices of social justice," Shollenberger said.
During the celebration's opening remarks, Shollenberger emphasized the importance of looking at OMA's past in the context of the present.
"While we rightfully and joyfully celebrate all that OMA has accomplished over the last quarter of a century, I do think it's important to acknowledge that we do so at a time when our nation is embroiled in very difficult conversations about diversity and inclusion," he said.
During the celebration, senior Kwame Alston emphasized the importance of OMA for students who may feel overwhelmed at Hopkins.
"It's important that we have a resource like OMA for students of color. My whole life, I'd always been in spaces surrounded by people that look like me," Alston said. "I'd never been in a place where I was actually the minority."
Class of 2010 graduate Brandon Simms, who founded the Men of Color at Hopkins Alliance (MOCHA), agreed with Alston, discussing the academic challenges he faced as a Hopkins student.
He explained that OMA inspired him to form MOCHA and motivated him to work hard at Hopkins.
Junior Karissa Avignon stressed the need for OMA to continue serving as a safe space, despite other University programs that exist to promote racial awareness.
"A good chunk of Hopkins students are just uncomfortable and unwilling to get into discussions and debates regarding race and culture," she said. "Spaces like OMA are definitely needed to provide more of a safe space for students to go to."
Avignon was a MAPP mentee her freshman year and then went on to become a mentor as a sophomore. Although being a mentor is rewarding, Avignon mentioned that her former mentor was often too busy to make time for her and should have been held more accountable.
Class of 2010 graduate Karlene Graham, however, focused more on the mentorship network she created during her interactions with her peers and the staff at OMA.
"I still have relationships with Mr. Colón and Mrs. [Carla] Hopkins if I need mentorship," she said.
Colón and Ferguson added that what makes OMA mentorship unique is that OMA staff members try to holistically understand a student's character and build lasting relationships with them.
"We're interested in students enough to challenge them," Ferguson said.
Junior Mika Inadomi, who was formerly involved in SEED, described how the motivation and passion of OMA students and staff made the experience worthwhile for her, but she wishes OMA had a bigger reach and impact on campus.
"There's some resistance on the faculty side to really let SEED do what it's capable of, which is understandable because it is such a small group," she said.
Inadomi highlighted the difficulties any diversity initiative has with drawing in people who don't have a prior interest in such conversations.
"If students are already interested, they'll self-select to be a part of it," she said. "If they don't have the natural desire to educate themselves and have those difficult conversations, they won't."
Graham agreed that all students should pay attention to and be involved with an organization like OMA.
"It's not only important to see people like you [succeed] as a student of color," Graham said. "It's also important for majority population students to see representation of different minority groups in leadership."
Colón also acknowledged that engagement is an area where OMA can improve.
"We know the academics can pull you away from a lot of the stuff that's important to talk about, but I think we need [students] to be a part of the conversation," he said.
Inadomi stressed that OMA is a crucial part of the Hopkins landscape and encouraged students to understand the importance of inclusivity.
"OMA is extremely necessary because Hopkins alone doesn't really provide resources for students of all backgrounds to feel welcome," she said.