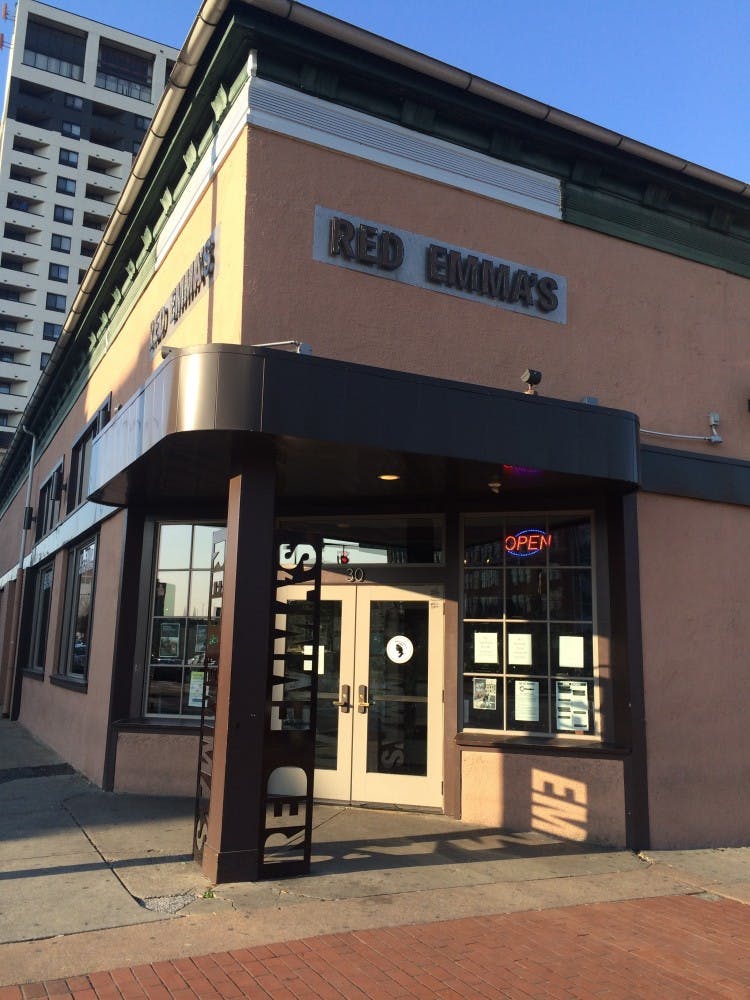 SIANKEVINS/CC BY-SA 4.0 Joshua Davis discussed various activist-entrepreneurs at Red Emma's.
Red Emma's Bookstore hosted a talk on the history of social enterprise and fair trade in Baltimore, on Oct. 5. The event was centered around a new book titled From Head Shops to Whole Foods: The Rise and Fall of Activist Entrepreneurs written by Joshua Clark Davis, a professor and researcher at the University of Baltimore.
According to the University of Baltimore's website, Davis' work focuses on 20th century U.S. history. Specifically, he is interested in capitalism, social movements, urban history and African American history.
The event began with an introduction by Cullen Nawalkowsky, one of the co-founders of Red Emma's. Nawalkowsky introduced the topic of the evening: current businesses profiting off of the progressive, community-minded language and ideas of past enterprises.
He also posed a central question: How can local businesses seek to serve communities rather than exploit them for profit?
After Nawalkowsky's introduction, Davis began his talk by describing the unique benefits of Red Emma's in the city of Baltimore.
He stressed how fortunate Baltimore is to have a center for community discussion and dialogue, since many cities do not.
Davis then launched into a discussion of the topics detailed in his book, starting with the history of small, radical businesses in Baltimore.
He first spoke about W. Paul Coates, the founder of the Black Classic Press in 1978 and father of the well-known author and educator Ta-Nehisi Coates.
He then told a short anecdote about how a male Washington Post reporter was rejected by the all-female staff of the Diana Press, a feminist press once based at 25th Street and N. Charles Street, where a CVS Pharmacy now stands.
Continuing on the topic of progressive enterprises, Davis spoke about headshops, as mentioned in the title of his book. For those in the crowd who were not familiar with the term, Davis explained that they were small smoke shops founded by hippies in the mid-20th-century.
One example he gave was the Pratt Street Conspiracy, a co-op that sought to provide low-income residents with an alternative to shopping at expensive stores downtown.
Davis emphasized that these small shops run by "activist entrepreneurs" prioritized social and political change over profit.
He elaborated on three key elements where they had hoped to bring change: products, places and process.
While "products" related to selling items that advanced fair trade and other political agendas, "places" referred to creating a "free space" — a modern-day "safe space" — for marginalized groups who were often turned away from other establishments.
Due to economic strife, many of these bookstores, presses and headshops were forced to close down or transition into more mainstream, capital-minded businesses.
In their place are companies that, as Davis explained, rely on progressive language to draw in customers without truly seeking to benefit communities or bring about change.
Davis sees many modern-day companies like Whole Foods, which capitalize off of these notions of fair trade and community, as the antithesis of what the "activist entrepreneurs" had sought to create.
He pointed specifically to the conservative views of Whole Foods co-founder John Mackey, as well as the expensive and exclusive nature of its stores.
He also pointed to tech companies like Apple that falsely market themselves as moral and progressive with ads that include images of Dr. Martin Luther King Jr. and Gandhi.
The event concluded with Davis opening the mic to community members. Some audience members asked questions while others offered their own insights into the issues at hand.
One comment was made by a retired mechanic, who explained that Red Emma's welcomed him and provided him with work, which had been difficult to find at his age.
Another community member inquired about the race and gender identities of the staff at the early radical presses Davis had described.
His response was that, as the audience member had suspected, many of the feminist presses and bookstores were run by white women, while those focused on black power were predominantly run by black men.
At the same time, Davis noted that there were a number of important exceptions to this overall lack of intersectionality, like the Kitchen Table: Women of Color Press, a feminist press founded by black lesbian women.