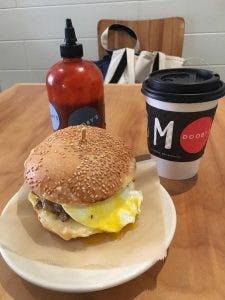 Courtesy of Morgan Ome Dooby's serves Korean-style food with a twist.
Once you've exhausted the normal Charles Village haunts (i.e. Carma's and Bird in Hand) you may want to venture out into Baltimore and explore all the delicious restaurants that the city has to offer. Avoid the tourist traps and instead try something from this list:
Dangerously Delicious Pies
Come to this homey spot in Hampden for decadent pies both savory, like chicken pot pie or vegan chili, and sweet, like chocolate peanut butter chess or apple crumb. Grab a friend (or three) and go for their date night special, Monday through Thursday. You get two slices of sweet pie, two slices of savory pie, two side dishes and two drinks all for $22 + tax.
Dooby's
This coffee-shop/restaurant hybrid in Mount Vernon does Korean-fusion and does it well. Try the breakfast sandwiches with spicy gochujang sauce, miso caramel lattes or kimchi fried rice. Weekend brunch is also exceptionally good. My favorite dish is their pork belly eggs benedict with fluffy steamed buns.
Mi & Yu Noodle Bar
This isn't your usual ramen shop, but it is a tried-and-true favorite for many Hopkins students. With two locations in Mount Vernon and Federal Hill, you can tuck into Mi and Yu for a heaping bowl of noodles, loaded with delicious fixings. Build your own bowl by choosing the type of noodles, broth and meat. With topping options like pork belly, carnitas duck or buttermilk fried chicken and broths such as adobo duck and spicy kimchi, you are guaranteed a delicious meal.
Pete's Grille
This small diner, located in Waverly, is a favorite for many students craving a hearty breakfast. The pancakes are hot and fluffy — try the blueberry ones — and their standard breakfast fare — eggs, bacon, sausage, toast, coffee — will never disappoint. Note: Pete's Grill is a cash only establishment, so make sure to hit up the ATM before you go.
B'more Greek Food Truck
If you ever spot a bright blue food truck parked on the corner of 33rd and N. Charles, skip the FFC or Levering and order something from B'more Greek instead. You can't go wrong with the gyros, but my absolute favorite is the lamb burger with a side of feta-topped fries. Note: During Spring Fair, you can find the truck parked right outside the library.
Ceremony Coffee Roasters
This is the perfect off-campus study spot and is now in two locations, one in Harbor East, the other in Mount Vernon. The minimalist architecture and large windows make this place bright, light and relaxing. Dig into a goat cheese and mushroom grilled cheese sandwich or avocado toast with bacon jam and poached egg, and of course, try the coffee — it's superb!
Arthouse
Enjoy solid, thin-crust pizzas in this cozy Hampden gallery decorated with paintings and pictures made by local artists. Start with the Sicilian olives and boquerones (anchovies), and then order a pie to share. Choose from classics like margherita, or be adventurous and try some of their crazier offerings like the spicy blueberry and brie pizza. My favorite is the wild mushroom and arugula pie — it's creamy, rich and flavorful.
Indochine
If you're craving pho, there's no better place than this Vietnamese restaurant in Mount Vernon. The pho is flavorful and filling, the banh mi's are fresh and full of crunchy vegetables and the rice platters are solid. A great budget spot for both meat eaters and vegetarians.
Taco Fiesta
Tucked away in the Harbor East neighborhood are some of the best tacos in the city. Whether you like steak, chicken, pork, fish or veggie tacos, there is something here for everyone. Come here before heading to a movie at the nearby Landmark Theater. The salsa bar and agua frescas are an added bonus.
One World Café
Located on the first floor of the 100 West apartment building, this is the restaurant of your vegan/vegetarian dreams. Even meat eaters love One World for its tempeh reuben and portobello mushroom sandwiches, the extensive brunch offerings (waffles, omelettes, etc.) and fresh smoothies.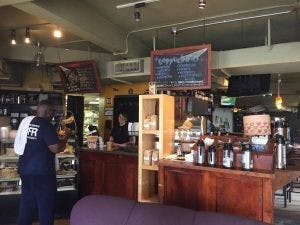 Next time you have a free afternoon or evening, hop on the JHMI, Charm City Circulator or take a walk to one of these restaurants. While we're lucky to have great food on campus, it's also fun to venture out into the city and become better acquainted with Baltimore and its tasty eats. Soon you'll have your own go-to places and favorites to share with your friends!