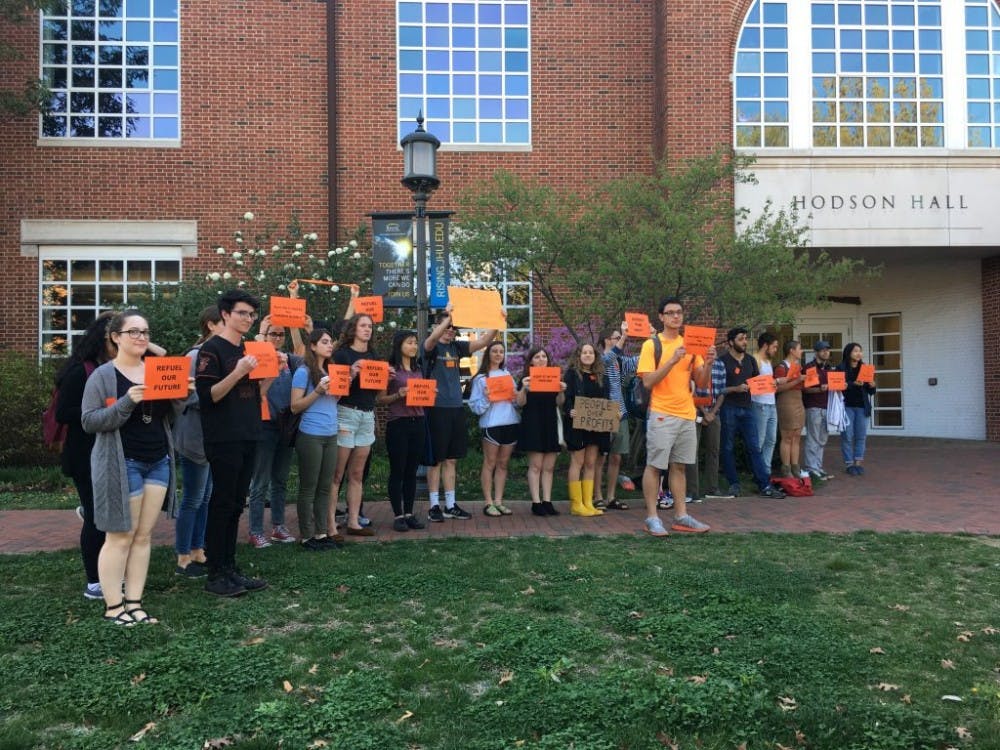 COURTESY OF MORGAN OME Members of Refuel Our Future, the student-led fossil fuel divestment campaign, staged a demonstration before the forum began.
A panel of four experts discussed the ethical and financial consequences of divesting the University's endowment from fossil fuel companies.
Refuel Our Future, a student activist group, has been pressuring the University for six years to divest. The Provost's Office organized the forum on Monday to help inform the Public Interest Investment Advisory Committee (PIIAC), which will make a recommendation to the Board of Trustees.
Refuel submitted a proposal to PIIAC in 2015 calling on the University and has been waiting to hear back since. Refuel members staged a demonstration outside Hodson Hall before the forum began.
Demonstrators chanted "Divest the nest" and held signs with slogans like "Vote yes on divestment." Many wore orange, the color of the divestment movement.
Administrators who attended the forum included University President Ronald J. Daniels and Provost Sunil Kumar. When they made their way from Garland Hall to Hodson, the demonstrators fell silent.
At the beginning of the discussion, moderator and Bloomberg Distinguished Professor Paul Ferraro explained the University's history of divestment: a partial divestment in 1985 from South African companies during apartheid and a full divestment from tobacco in 1991.
He said that the University needs to take both economic and moral arguments into consideration when making the final decision. He hoped the panelists would shed light on two key questions.
"Should Johns Hopkins divest from fossil fuels?" he asked. "And if we are going to divest, how do we do it?"
Panelist Ellen Dorsey, executive director of the Wallace Global Fund, a private foundation that has fully divested from fossil fuels, argued that the University has a responsibility to the world and its students.
"Johns Hopkins University should divest its assets from the largest fossil fuel companies not just for moral reasons, but also for financial and fiduciary reasons," she said. "You have an opportunity to divest and to do this in partnership with your students and [be] consistent with your mission."
She emphasized that in addition to ending investments in fossil fuel companies, the University should also invest in climate solutions like sustainable energy and clean technology.
According to Dorsey, fossil fuel emissions result in loss of life.
"[The University's] medical statement and mission is to improve the health of the community and the world," she said. "Bankrolling an industry that today is killing over 7 million people is, to put it mildly, hardly to square with that goal."
Panelist Frank Wollak, the director of the program on energy and sustainable development at Stanford University, disagreed with Dorsey. He proposed a carbon pricing mechanism as an alternative to divestment and urged students to focus on monitoring their carbon footprints.
He asserted that divestment would be economically ineffectual and that the harms of divesting outweigh the benefits.
"Even if all universities decided to divest, this would have no effect on global equity markets and no effect on the ability of these companies to raise capital," he said.
Without citing any evidence, Wollack argued that divesting in fossil fuels will likely increase tuition and reduce financial aid levels. He also warned that fossil fuel companies such as ExxonMobil may stop funding research at universities that have divested.
Similarly, panelist Rafael Castilla, director of investments and structuring at the University of Michigan Investment Office, was hesitant to back divestment. He said it was problematic that so many demonize the fossil fuel industry while remaining dependent on it.
"The civilization that we live in has been built, for better or worse, off the back of fossil fuels," he said.
Castilla felt that people are too reliant on fossils to switch to alternative energy sources like wind and solar power. He thinks that divestment does not fully address climate change.
"I don't know if this is a Nancy Reagan type approach where all you have to do is 'just say no' and sometimes I feel like the fossil fuel debate has that quality to it," he said.
Panelist David Powell, the co-portfolio manager of the Large-Cap Sustainable Growth Strategy for Brown Advisory, did not have an opinion on whether the University should divest from fossil fuels, but spoke about the benefits of investing in sustainable companies.
"We're playing offense with sustainability," he said.
Powell believes that sustainable energy is a growing industry. He cited sustainable companies that have worked with Brown Advisory and have flourished, profiting from LED light bulbs and water and waste conservation.
"There are many vehicles and many investment managers like us out there," he said. "The investment community is becoming more sustainable."
In the question and answer segment, panelists fielded questions from Ferraro and audience members.
One student asked if Wollak and Castilla were opposed to divestment in general. In response, Wollak drew distinctions between divestment in different scenarios.
"We're the reason that there are greenhouse gases," he said. "It's not that we're the reason there are investments in South Africa. I think that's something where divestment, symbolically and economically, could work."
Wollak reiterated alternative solutions to divestment, while Dorsey argued that alternative solutions and divestment do not have to be mutually exclusive.
"I think the idea of a university-wide project for pricing carbon is a great idea, just like I think a university can be zero carbon emissions in its operations," he said. "That doesn't negate that you can also divest your assets from fossil fuels."
Castilla expressed concern over whether poor populations can afford sustainable energies.
"I think you would find there are a lot of situations and points in the world where coal is still substantially cheaper," he said.
Students responded positively to the panel discussion. President of Refuel Our Future Maggie Weese thanked the Provost's Office for hosting the panel and commented on the event's significance.
"It meant a lot that the University hosted this forum because it showed us that they took our demands last November seriously and are open to having a dialogue about fossil fuel divestment," she wrote in an email to The News-Letter.
Weese hopes that the panel provided enough information for PIIAC to reach a decision on the divestment proposal. She said that Jeffrey Kahn, head of PIIAC, promised that the event would determine their final decision on the proposal.
"If they hold true to their commitment, we believe this means we will soon be getting an answer on fossil fuel divestment," she wrote. "We have waited over a year now and believe that PIIAC has been provided ample amount of time and research to write their report."
Refuel Our Future member Hannah Lin is optimistic that the University will be more inclined to support divestment.
"I feel like this panel has presented a very clear argument for why fossil fuel divestment should take place," she said.