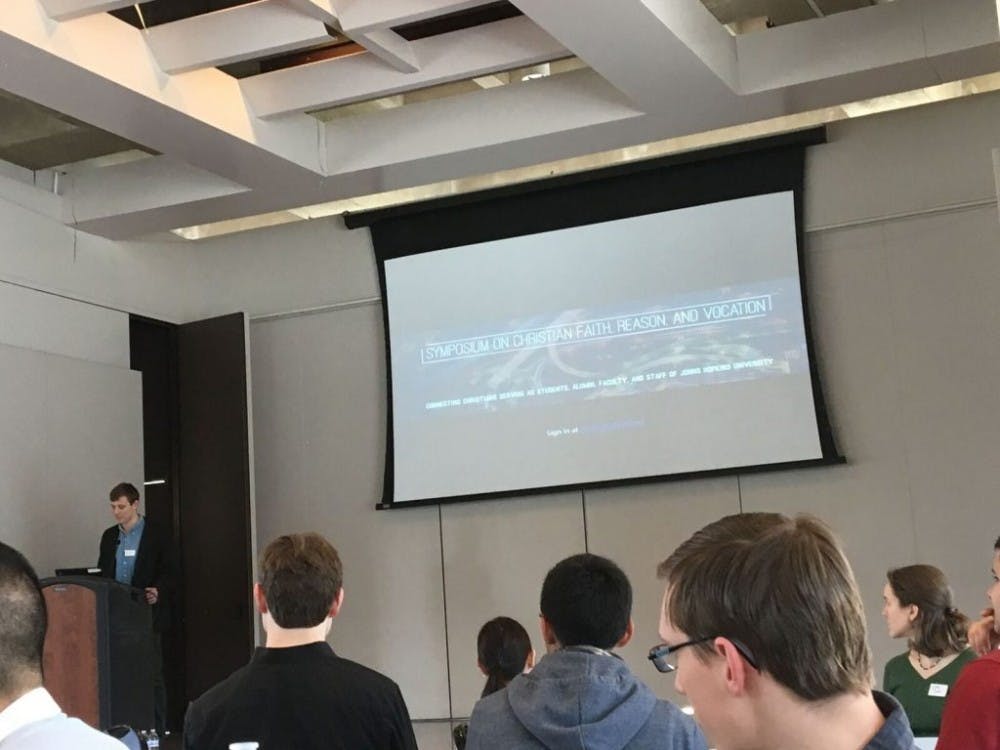 COURTESY OF SAMANTHA SETO The 8:32 Society held its first symposium on faith and scholarship.
The 8:32 Society, which strives to provide a network for Hopkins affiliates to understand their professions in the context of their Christian faith, hosted its inaugural Symposium on Faith, Reason and Vocation last Saturday. Students, alumni, faculty and staff gathered in Levering Hall to discuss the challenges and opportunities that Christians face in different academic disciplines and career fields.
The 8:32 Society is a new organization that is in the process of becoming a University affiliated group. The Symposium was a collaborative effort between the Hopkins Dialectic, the Public Health Christian Fellowship and the Graduate Christian Fellowship.
Junior Karl Johnson is one of the founding members of the 8:32 Society. The name of the group comes from the Bible verse John 8:32, also the University's motto "Veritas vos liberabit," which means the "truth will set you free."
Last year, Johnson also began the Hopkins Dialectic, which is a journal that aims to explore how faith intersects with areas of academia. He explained that the inspiration for the 8:32 Society came from similar organizations at other universities and his desire to generate more discourse on campus about the relationship between faith and scholarship.
"When I came to Hopkins I was really excited to talk about my faith and religion in intellectual terms with people, both people who shared my faith and others that didn't," Johnson said. "It's a fun philosophical tradition, but when I got here, that tradition wasn't as alive as I would have liked."
The group's main objective is to establish connections between Christian students, alumni and faculty across the University's different schools. 8:32 plans to do so by hosting events like the Symposium, establishing an online platform where people can connect and eventually developing a Christian study center on campus.
The symposium opened with an address from keynote speaker Lawrence Principe, a professor in the departments of Chemistry and History of Science and Technology. Principe opened the Symposium by discussing the long-standing tension between science and religion.
He outlined how the 19th century philosopher Auguste Comte first began to distinguish science and religion as being two distinct, separate fields.
"In the 1820s, [Comte] was looking for ways to reground society in a logical, rational basis and he invented this idea of the three stages of human development," Principe said. "He saw the Enlightenment of the 18th century as the end of the theological, Napoleon's attempt to reconstitute law and society on a secular basis as philosophical, and he believed his own day, the 1840s, was the dawn of this scientific age where society would be rationally grounded on a new science called sociology. So he implied that theistic religion belonged to a primitive state, and science to a mature state of humanity."
He outlined various texts that have been published over the years on the relationship between science and religion. He said that dichotomy is a construct that is often fictionalized.
For example, Principe described how American chemist John William Draper wrote a widely-circulated book called History of the Conflict Between Science and Religion, which he says is not valid because of its xenophobic undertones.
"His law of development guides everything but it's combined here with a specifically anti-Catholic rant that becomes hysterical," Principe said. "His ideas are in part [due to] 19th century American xenophobia about recently arriving immigrants... He declaimed against what he calls the 'insidious agency of immigration' that would lead to a hybrid population, degrading society into, I quote, an 'adulterated, festering mass.'"
Freshman Angela Zhu explained what she liked about Principe's talk.
"I think it was really interesting how the narratives of the past were formed by people's agendas later on," Zhu said.
After the opening remarks, the Symposium broke off into panels where experts and attendees discussed the role of their faith in their various careers and disciplines. Panel discussions topics included public health, STEM, medicine and the humanities.
Senior Dan Ju shared his thoughts after attending the Symposium. He feels that there is no conflict between Christianity and science but that there are unique challenges to resolve.
"I feel like science and faith or religion run in parallel or, well, maybe not parallel, but they are not overlapping. Most of the issues I think don't overlap," Ju said. "And we have these conflicts between Creation. I'm still grappling with that. I believe in evolution, that's kind of a fact, but also I very much believe in Christianity."
The goal of the 8:32 Society is to allow for a platform for Christians in the Hopkins community to network and engage in such discussion about the role of faith in their work and education.
Teresa Yeh, a graduate of the Bloomberg School of Public Health and one of the founding members of the 8:32 Society, said she was happy to see a larger turnout than expected at the Symposium.
The group plans to make the Symposium an annual event.
"I'm excited that this is happening, and that so many people have come. It's pretty encouraging to see people engaging and asking good questions and thinking thoughtfully," she said